The margarita is a Texas tradition and Houston has no shortage of restaurants and bars serving this simple but refreshing libation. Just last month Food & Wine named Hugo's as one of America's top margarita bars and earlier this year the Food Network named The Pastry War's frozen margarita as one of the 50 Best Cocktails in America.
Kehlen Selph, The Pastry War's general manager, attributes the margarita's popularity to its simplicity and balance. "It just tastes so good. It's refreshing, it's light, it has that kick of citrus. It's such a balanced drink. Even if you go to that terrible little Mexican bar in your neighborhood and it's a $1.99 margarita, it still tastes good. It's hard to pass one up," she said.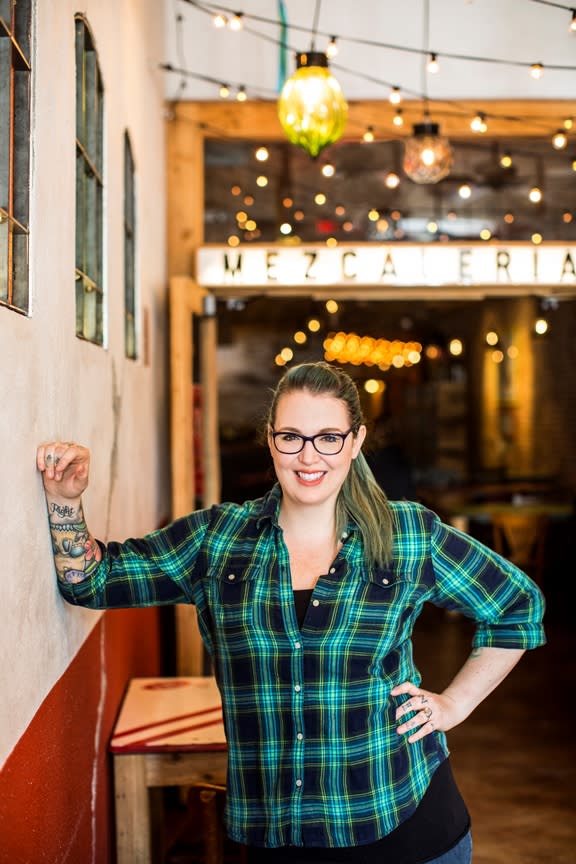 We asked Selph to share her tips for making a killer margarita and lucky for us, she shared her favorite places to drink them and a few recipes, too.
Use fresh juices
"Juicing limes is kinda annoying but Whole Foods, Central Market and a lot of HEBs will have fresh lime juice already pre-squeezed. That is a great avenue. If you're close to those grocery stores, use them because using the fresh juice is so much better especially if you don't have to juice them yourself. If you have any leftover juice, freeze it in an ice cube tray and then put the frozen cubes in a ziplock bag. Always have fresh lime juice on hand!"
Find a good tequila
"It doesn't have to be expensive. One of my favorites is Cimarrón. It's a really, really great tequila. They do a really great job, the distillers there are very passionate, very knowledgeable and you can get a one-liter bottle for $13 to $15. Otherwise if you want to do an aged tequila, the Pueblo Viejo Reposado makes a really mean margarita and also not very expensive. You're more than welcome to use the $50 bottle of tequila -- I'm not going to tell you how to live your life -- but I'd prefer to drink that by itself. Use something that's made for mixing. Then if you're doing mezcal, I always go with Del Maguey Vida."
Add flavors
 "It's always fun especially if you're doing a frozen margarita. If you have strawberries, throw some strawberries in there, or blueberries. It's always fun if you have little bottles of liqueur at home. So if you have some green chartreuse, it makes an excellent margarita, or raspberry liqueur, there are always fun ways to jazz it up. You can basically put any flavor with a margarita and it's delicious. One of the flavors on our menu right now is a grilled spiced beet and we're working on an orange mole for the winter."
Check out the The Pastry War's margarita recipes below. If you don't feel like making your own, try some of Selph's favorite places to drink margaritas (aside from The Pastry War, of course): "One of the places where I probably drink margaritas the most is El Big Bad. I like that they focus on doing infused tequilas so you can get a little crazy and do a PB & J margarita with peanut and strawberry infused tequila. My personal favorite over there is the vanilla habanero. It is really spicy but it finishes really nice in Madagascar vanilla. Another great place is Ninfa's on Navigation, I mean they're the originals. La Grange has really great people and brilliant bar program, it's definitely a place I'd recommend. And El Tiempo if you kinda want to get plastered because they're really fun.
Margarita de la Casa
2 oz Pueblo Viejo Blanco (can also use Reposado tequila)
1 oz Persian/key lime juice blend
½ oz agave nectar (light not dark)
Shake with ice and dump into a rocks glass, salt/sugar rim optional. Garnish with a lime wheel.
Fun flavor! We make a house made habanero/Serrano tincture that is so easy to make at home and has an indefinite shelf life. In a mason jar fill half with sliced fresh habanero peppers and half with sliced Serrano peppers (don't pack it, just lightly fill) and then fill with whatever cheap vodka you may have. Let it sit in a dark place (cabinet or pantry) for one month, strain out and either put back in mason jar or put in a shaker bottle or dropper bottle. Add a few drops/shakes to any margarita to give it a nice kick.
Mezcal Margarita
1.75 oz Del Maguey Vida Mezcal
1 oz Persian/key lime juice blend
½ oz agave nectar
Same method as margarita de la Casa
Kentucky Club Margarita
Our inspiration for the Kentucky Club is from the bar of the very same name in Juarez Mexico. It is rumored that the bar was the first to add an orange liqueur to their margarita recipe, so this is our only margarita with an orange liqueur. It makes it a touch sweeter but incredibly smooth and silky.
1.75 oz Pueblo Viejo Reposado
.75 oz Pierre Ferrand Dry Curaçao
.75 oz Persian/key lime juice blend
.25 oz agave nectar
Shake with ice, either dump into a rocks glass or strain into a cocktail/martini glass garnish with a lime wheel (no salt needed).