Photo Credit: Dolce Designs

There's a common misconception that cakes baked to meet dietary restrictions can't be as good or as pretty as regular cakes. That's not the case, says Jody Stevens, owner of Jody Cakes in Houston. "I go out of my way, especially for brides, to do whatever it takes to make it as normal as possible," she said. "I have people come back all the time and say, I can't believe that was gluten-free or I can't believe that was vegan."
In other words, just because you have a special dietary need doesn't mean you have to expect a less-than-amazing wedding or groom's cake. Following are four Houston bakers that can make a wedding cake that meets your dietary needs and doesn't skimp on flavor.
Lety's Gluten Free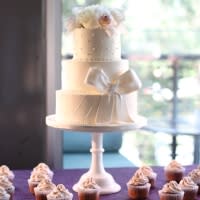 Leticia Womack has a dedicated gluten-free bakery where she specializes in baking custom cakes and cupcakes for special events. Often, when a bride or groom has celiac disease or a gluten sensitivity, they think about getting a cake for them and a separate cake for their guests. Once they have a taste of Lety's cakes, however, they usually change their minds. "A gluten-free cake can taste just as good as a regular cake," says Womack. "After we do the tasting, brides see that the cake is really good and realize their guests will like it." Lety's menu includes flavors such as Madagascar vanilla, mocha latte and pink strawberry shortcake. Soy- and dairy-free cakes are also available by request. Womack suggests booking a consultation three to six months in advance.
 
Stevens started her Houston business in 2008 and has since specialized in custom cakes to meet various needs. Whether you're looking for a cake that uses only organic ingredients or one that meets your dietary restrictions, Stevens can make it happen. Jody Cakes makes vegan, gluten-free, dairy-free, eggless and gluten-free vegan cakes. She doesn't make sugar-free cakes but she does offer some sugar alternatives. While her menu includes the vanilla and chocolate standbys, Stevens brings different spices and flavors to her recipes. Her menu includes flavors such as a cardamom spice cake, a chocolate chilli cake and her famous Texas red velvet.
Jea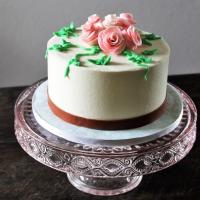 nne Price started baking gluten-free cakes after she was diagnosed with celiac and couldn't find a decent cake. The Gluteny Bakery operates from her gluten-free and peanut-free kitchen. Price offers brides a consultation where they can taste four flavors and go over design and other specifications. Half of the $50 consultation fee is applied toward the order if the bride decides to book Price. Flavors range from snicker doodle, to pink velvet strawberry and coconut cream. Some flavors can also be made free of soy and dairy, and Price can also make egg-free cakes.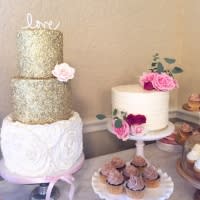 Dolce Designs owner Jesi Celeita creates beautiful dessert tables that will surely wow your guests. While most of her business comes from regular cakes, Celeita started out as a gluten-free baker and offers a wide array of gluten-free treats, including cakes, cupcakes and cake pops. Also available are gluten-free decorated sugar cookies. Her most popular flavors are vanilla cake with white chocolate-raspberry buttercream and chocolate cake with Nutella buttercream. For groom's cakes, a popular choice is chocolate cake with mint chocolate chip buttercream. Celeita offers brides consultations that include a tasting of three flavors and frostings at no charge.