The food you serve at your wedding reflects your taste and personality as much as the other details of your big day. If you're looking for something a little different from your traditional caterers, consider hiring a food truck to cater your reception or cocktail hour. Not only will these restaurants on wheels bring a cool and fun twist to your big day, they'll also leave your guests feeling satisfied. Here are four Houston food trucks that are sure to make an impression on your guests.
The Lucky Fig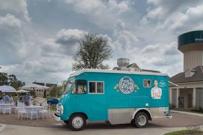 Chef and Master Chef season 4 winner, Luca Manfe, roams around Houston serving Italian meatballs, paninis and pastas from his "farm to truck" mobile restaurant. And he'll bring his tasty dishes to your wedding and serve your guests as you choose: from the truck's window, family style, buffet style or even in a more formal sit-down setting. The most popular choice is serving guests from the window, but couples should be aware that guests might end up waiting in line for their food. If that's something they don't want, Manfe suggests opting for family style. It's not too formal or too casual and people will still have fun.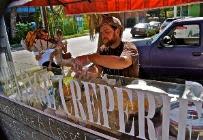 While his Melange Creperie isn't a food truck per se, owner Sean Morrissey will bring his crepe cart to any indoor or outdoor venue as long as it has electricity. He offers two standard flavors -- ham and cheese or banana and nutella -- but will work with couples to create a menu depending on what's in season. Morrissey can serve his crepes as a main entree in smaller weddings, but because he can only prepare two crepes every three to four minutes, couples often hire him for their cocktail hour or as a late-night snack during the reception. Not a bad way to add a special touch to your party.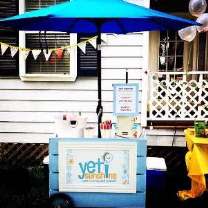 Snow cones at your wedding? Now that's something your guests will remember. The folks at Yeti Sunshine make refreshing icy treats using real fruit juices, water and cane sugar. Choose five flavors from their menu -- which includes options such as lime-Thai basil, hibiscus mint and Vietnamese coffee -- or work with them to create a customized flavor for your big day. For an adult spin on this childhood favorite, buy and chill your favorite liquors and Yeti will pour them into any of their snow cones for a boozy treat.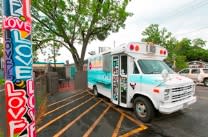 Even though Good Dog now has a brick-and-mortar location, the food truck that started it all is available to cater your wedding. Good Dog owner Daniel Caballero says they cater weddings often, bringing their locally sourced hot dogs and homemade condiments to your guests. Good Dog offers two catering options for weddings: an open, all-you-can eat menu or a "boxed type" menu, where guests get a hot dog, one side and one drink. For the full menu, guests can choose from Good Dog's nine signature dogs or they can build their own. Everything is made to order and while guests may sometimes have to wait, Caballero says the experience adds to the coolness factor that comes with having a food truck to your wedding.