Photo booths are a good way to add whimsy and fun to your wedding reception. They give guests something fun to do and they capture silly faces and poses in photos that become treasured keepsakes for guests and the couple alike. For couples who want to get a little creative and not use the traditional black or pipe-and-drape photo booths, we found four fun and unique photo booth options that we're sure you'll love.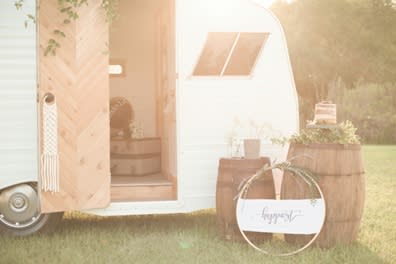 Named after her two ginger-haired daughters, Jamie O'Gorman's gorgeous "photo camper" will be the talk of your wedding. Launched in May, the 1967 retrofitted camper has a clean, vintage look that will blend in beautifully with your wedding decor. O'Gorman says guests are typically "awestruck" by the camper and love the experience of getting in and out of it. It also serves as an air-conditioned escape at outdoor weddings in the hotter months. Packages start at two hours of usage and all include unlimited prints and customized branding for your event.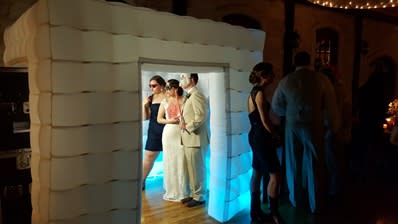 Call it a square igloo, giant marshmallow or cloud, this inflatable photo booth from PB & DJ Productions adds a sleek and futuristic touch to your reception. Measuring about 8 cubic feet, the booth is lit with fixed or changing LED lights in your colors of choice. You can also choose to have your photos in color or black and white, have them shared directly on social media and customize your print layouts. Also included in the rental is a scrapbook for the couple to keep and look back at their guests' photos.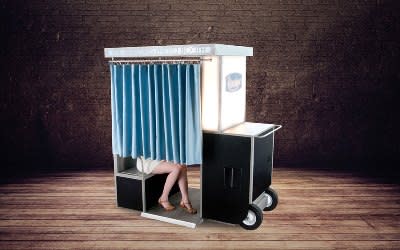 This photo booth is more like the photo booths you might be used to but we love its retro look and long list of features. It's nicer looking booth than your average plain, black photo booth but not too out there if you want to retain a classic feel. With features such as video preview (so you're certain your hair looks just right), choice of tones (sepia, retro, black and white and color) and the option to create shareable animated GIFs, you and your guests are guaranteed loads of fun. The company also offers a photo stand, which allows you to create more of a red carpet type experience for your guests.
PhotoMoto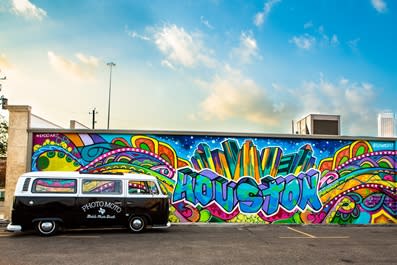 Houston couple Corey and Brea Walton are passionate about hospitality and they wanted to bring something a little cool and different to their native city. That's what got them into capturing moments on camera aboard a restored 1987 Volkswagen bus. PhotoMoto won't go unnoticed at your wedding and guests will surely love to get on the glossy black bus to pose for pictures. Photos are printed instantly in four-photo strips and are uploaded into a social media gallery for guests to see. The Waltons are happy to customize backdrops, add a guest book or make custom photo slipcovers for the bride and groom.