It's the hap-happiest season of all, and that's especially true for Houston and its 15 surrounding cities. Towering evergreens, ribbon-adorned wreathes, and spectacular sparkling lights have spread throughout the entire Greater Houston area creating a magical wonderland of holiday cheer. Ready to build an itinerary that's sure to leave you merry and bright? Then read below to journey through some of our beloved area's most exciting holiday displays!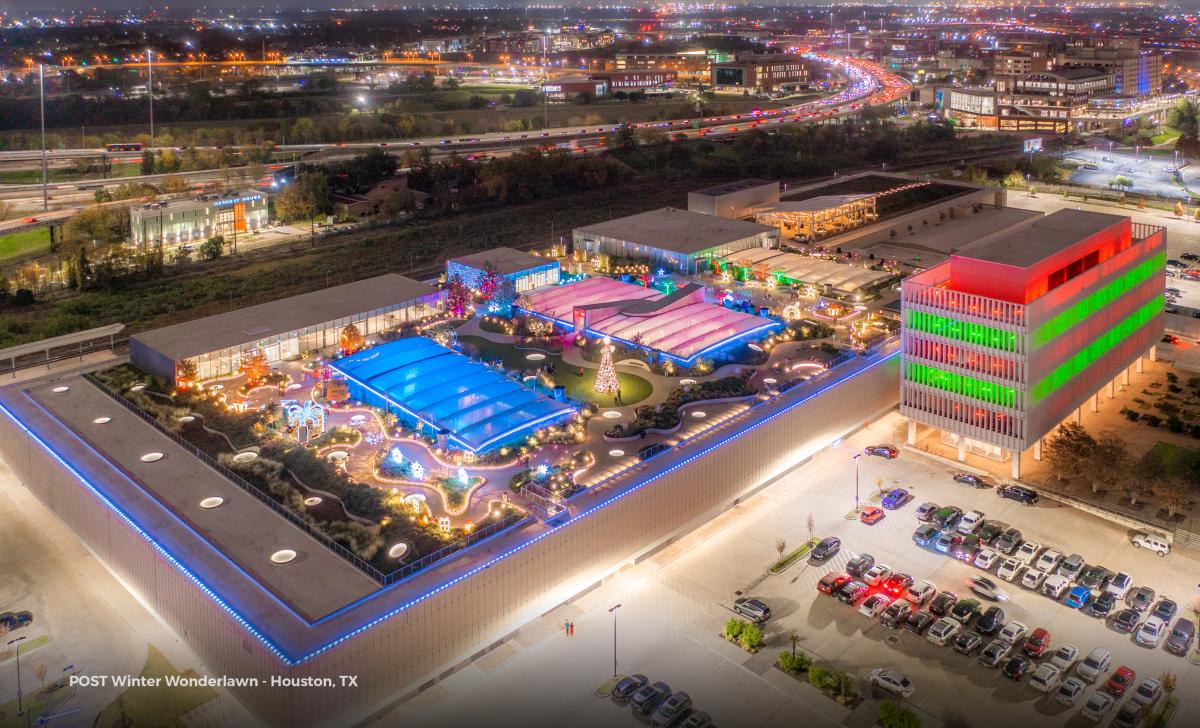 Houston is already a colorful and glittering city year-round. Massive murals are woven into the fabric of our urban landscape, and the downtown skyline looks like a postcard from any angle. In December, however, our city glows even bigger and brighter with lighted displays galore. Start your exploration downtown and discover the holiday magic of City Lights. Eight unique themed villages create the perfect winter wonderland with ice skating, lights for gazing, and plenty of uniquely instagrammable photo-ops. Grab a Bites & Lights Pass to experience this attraction fully and enjoy some delicious eats from nine participating restaurants. More exciting holiday favorites can be found inside the loop at destinations such as Houston Zoo's Zoo Lights and Houston Botanic Garden's Lightscape. If you're searching for the perfect holiday date night, take a stroll through POST's rooftop Winter Wonderlawn with unparalleled views of downtown.
Now that you've toured some of the merry magic in Houston, it's time to ride and sing a sleighing song out to a few of our surrounding cities. Let's blast off the quest with a trip to Bay Area's Space Center Houston, home of the beloved Galaxy Lights! This truly unique holiday adventure can't be found anywhere else and has become a long-standing fan favorite. State-of-the-art installations are added annually, so there's something new to discover each year. Shoot an intergalactic photo in Independence Plaza, experience a high-tech kinetic light show over the central plaza, and explore Lights Around the World surrounding the twice-flown SpaceX Falcon 9 rocket. Galaxy Lights offers worlds of radiant entertainment, so plan to spend some time gravitating toward each exhibit.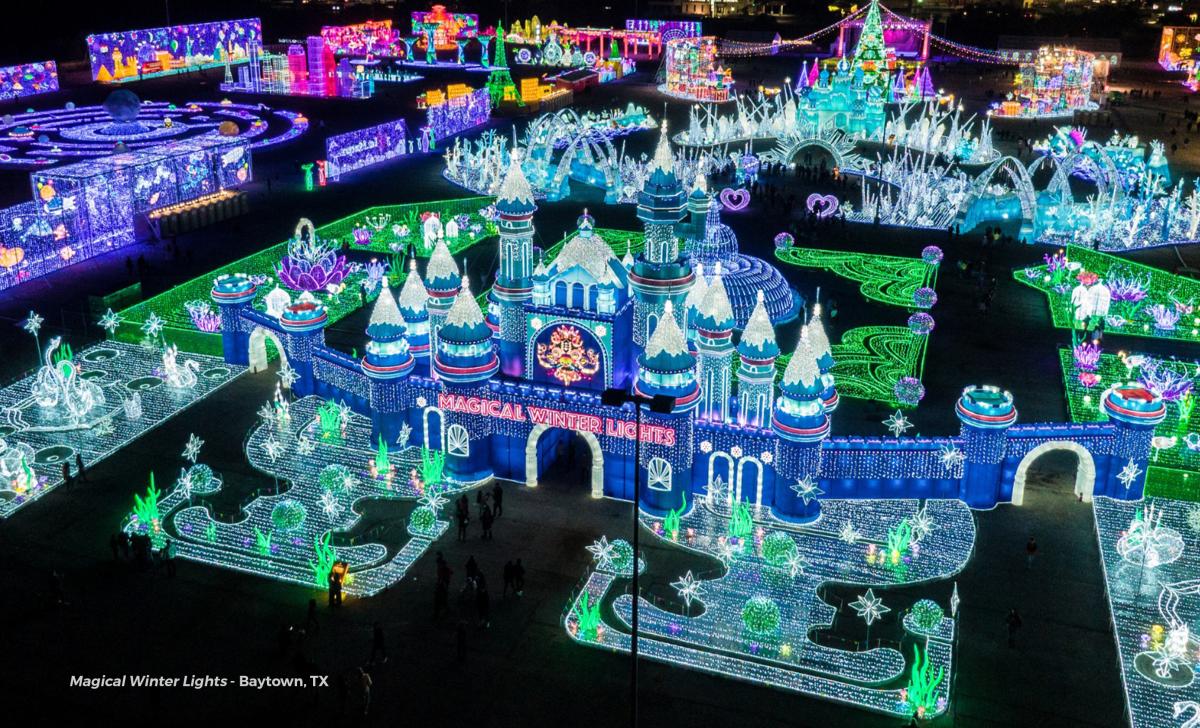 Next up, deck the halls and trim the tree, then head to Baytown and journey through the annual Magical Winter Lights festival. Explore illuminated global landmarks, imaginary lands of delight, and sparkling deep-sea scenes, unlike anything you've seen before. Encompassing more than seven dazzling themed displays and more than six million lights, the 2022 Magical Winter Lights festival lasts from November 18, 2022, to January 7, 2023, including Christmas Eve, Christmas Day, New Year's Eve, and New Year's Day at Houston Raceway Park in Baytown.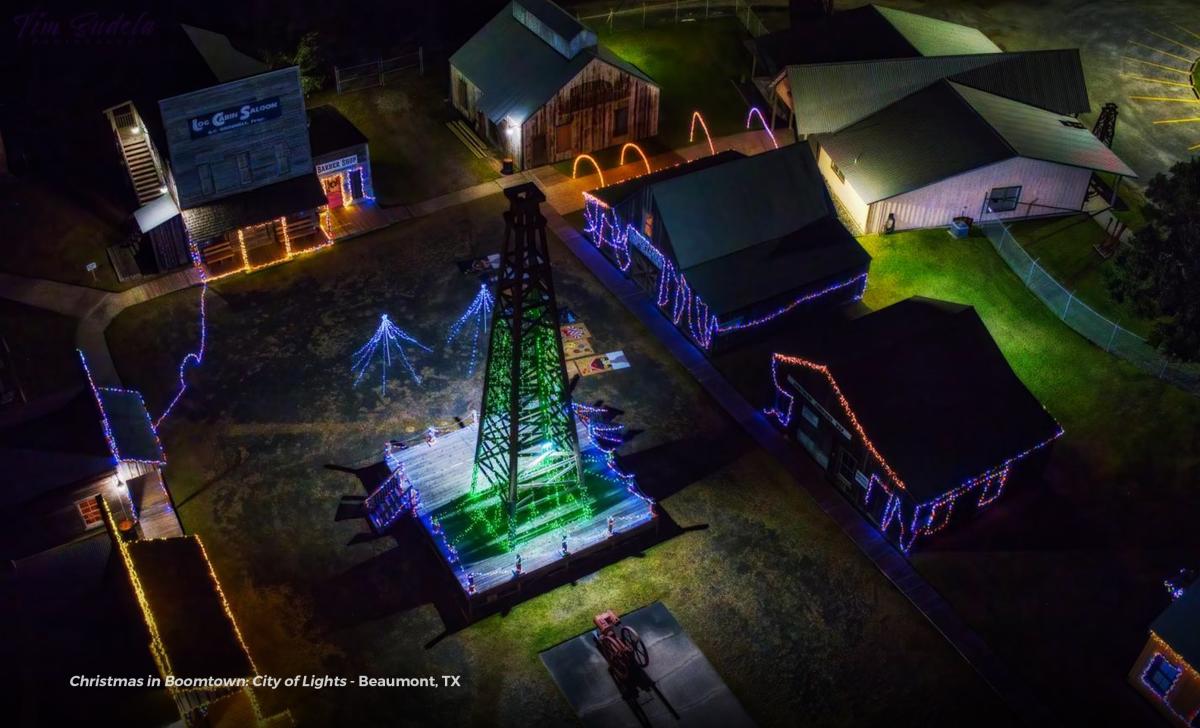 Continue navigating toward the eastern edge of the Around Houston circle, and you'll find Beaumont, home of the world's first major oil discovery. It's no wonder this historically significant event is beautifully honored during the holidays with Christmas in Boomtown: City of Lights. Housed at the Spindletop-Gladys City Boomtown Museum, the brightly-lit display features photo-ops with Santa, hot chocolate, live carolers, and more. The event runs through December 30, and guests are invited to explore the museum from 1:00 p.m. to 9:00 p.m., Tuesday through Sunday. This historical city's holiday fun doesn't stop here. Ford Park is hosting their inaugural Magic of Lights featuring scenes as high as 32 feet, including Big Foot Monster Trucks, Prehistoric Christmas, and Barbie! Gates open at 5:00 p.m. daily, so buckle up the kids and bring the entire family for an exciting drive-through experience. Before dashing through the snow to your next Around Houston destination, make sure to check out Cardinal Lights at Lamar University. Thousands of multi-colored lights twinkle in the trees and illuminate buildings around Jimmy Simmons Boulevard, Jim Gilligan Way, and Rolfe Christopher Drive. Take a slow drive through campus to enjoy the lights and other holiday-themed decorations for the entire month of December through the new year.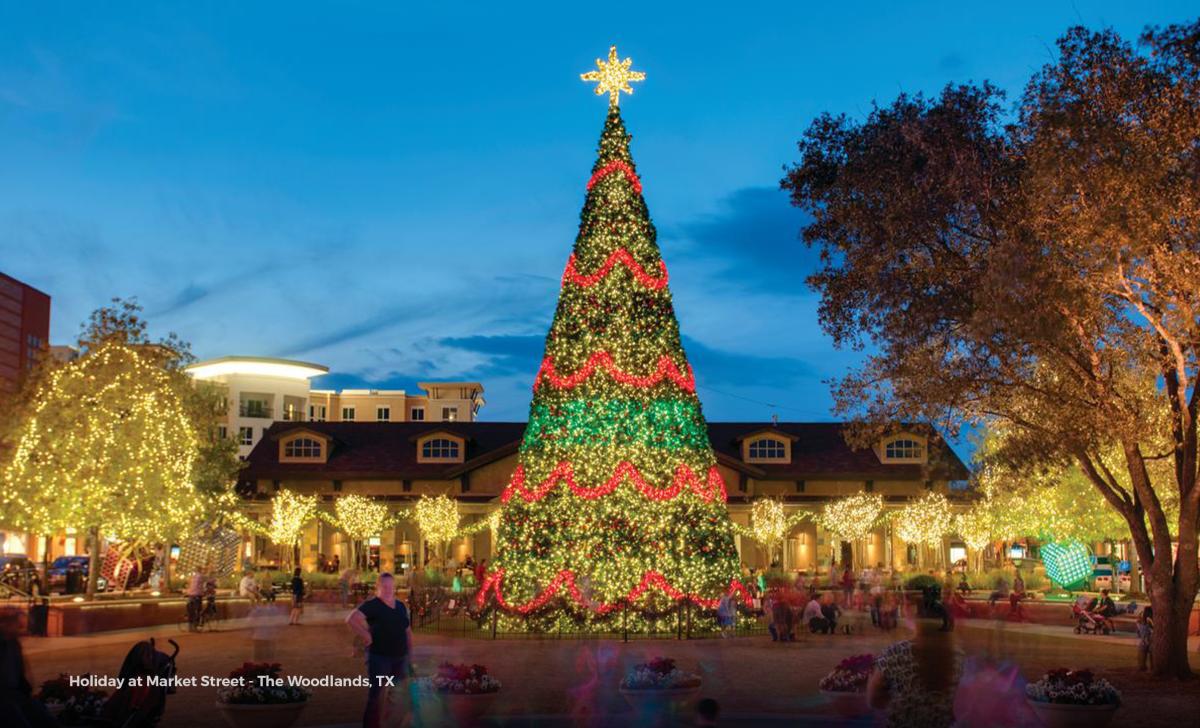 Now it's time to jump in the sleigh and let Rudolph lead the way toward the glittering light displays of The Woodlands! Begin your visit here along the water's edge at The Woodlands Waterway. After sunset, the waterway is magical year-round. Still, it's all the more enchanting during the holiday season, with twinkling lights reflecting off the water and unique light displays showcased at Town Green Park. Take care of those on your nice list and experience even more holiday cheer at Market Street. The luxury shopping destination shines bright with a 75-foot tall Christmas tree coming to life and performing a light show every half hour between 5:30 p.m. and 9:30 p.m. Last but not least, make sure to take a spin on The Woodlands Ice Rink. Located in the heart of Woodlands Town Center, the rink is open through January 16. Stop and admire the lights before heading inside to lace up your skates and hit the ice.