Sure he is busy making a list and checking it twice, but that doesn't mean Santa doesn't have time to have some extra fun! From pictures with Santa to breakfast on the Boardwalk, there are plenty of places where you can spot Santa at events around the Houston area. So, you better not shout, cry or pout 'cause Santa Claus is coming to town!
Sit on Santa's lap and take the perfect picture for this year's holiday greeting card! Stop by for pictures with Santa at South Shore Harbour Resort Dec. 7, 8, 14 & 15 6:00 pm to 8:00 pm. Come by the Resort with your own camera to take pictures with Santa in front of our life-size Gingerbread House. Cindy Thomas will be performing live music to set the perfect setting as well! 
Even Santa knows breakfast is the most important meal of the day! Pile on the pancakes and enjoy breakfast and coffee (or hot chocolate) with Santa at the Aquarium Restaurant on the Kemah Boardwalk December 8th, 9th, 15th, 16th, 22nd, 23rd and 24th from 8:00 am to 12:00 pm. After you fill your belly and hug Santa, take a stroll around the shops on the Boardwalk to find Christmas goodies to fill your stockings!
At Christmas in Boomtown in Beaumont see Santa, enjoy carols and make crafts. This Southeast Texas attraction on December 8th from 10:00 am to 1:00 pm is combining tradition, local history and fun to make for a unique holiday celebration. At "Christmas in Gladys City" visitors will be able to make a cinnamon stick reindeer that is pretty and smells good, too. You can also write letters to Santa, hear Christmas stories and sing carols.
Even Santa enjoys a good boat ride. You might just spot Santa chilling on a boat at the Christmas Boat Parade of Lights on Lake Conroe on December 8th. This family tradition in Conroe is a true community event where everyone comes together to decorate boats and yards for the beautiful parade along the waterway.  Mark your calendars!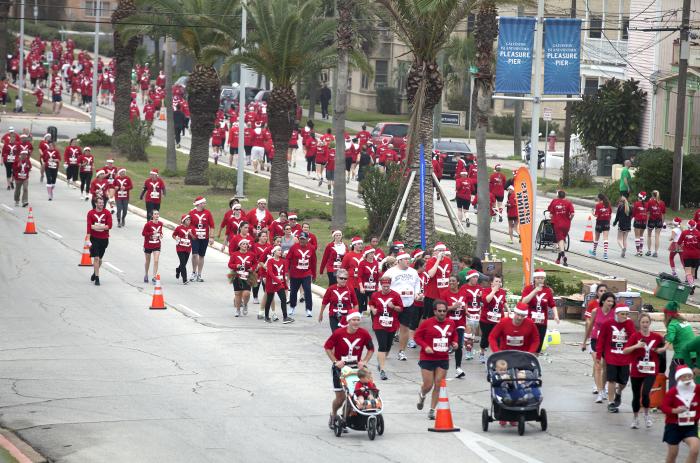 Santa knows how to prepare for his annual cookie binge! The Santa Hustle 5K and half marathon is December 16th in Galveston. You don't want to miss this magical race which begins and ends at Moody Gardens. The Santa Hustle creates an exciting environment for participants and spectators of all ages, while embracing the reason for the season! Cookie and candy stations along with holiday music and cheer will abound along the course. After the race will be an awards ceremony where awards will be given for the best costumes, as well as winners in each of the race categories who can boast, toast and sing holiday carols off key!
Ever wonder how Santa gets around in the marsh in Southeast Texas to visit the good little boys and girls? By air boat of course! Santa and Mrs. Claus have booked Sea Rim State Park's cabin and will be arriving by air boat on Saturday, December 15th. Children may get a photo made with Santa beginning at 3:00 p.m. when he arrives on the marsh side of the park. Bring your camera to capture the day and warm up with hot chocolate and cookies. Children are invited to create their own ornament and take it home to spread holiday cheer. Entrance fees are waived for the event. Santa and Mrs. Claus will be at Sea Rim from 3:00 to 6:00 p.m. Saturday, December 15th. Learn more here!
Planning on taking in some Christmas lights this holiday season? We can do better than that! Tour four of the finest homes in the Brazosport Area decked out in their Christmas best. There's no set order, tour-takers can go to homes at their own leisure. Tickets are $20 and are available around town at various locations. To find out more click here!
Look forward to in 2019
Mark your calendars for the largest cat show in the South Central Region sponsored by the Gulf Coast Feline Foundation! The "Felines, Football and FUN!" TICA Cat Show is January 26 – 27 from 9:30AM – 4:30PM at the Jimmy Burke Activity Center in Deer Park. Your family can also adopt a cat or kitten on-site from either the Deer Park or La Porte Animal Shelter. Tickets are now available.