With Houston being the most diverse city in the country, you bet we have a culturally diverse culinary scene too. Did you know that over 25% of H-Town residents have heritage linked to Mexico, Central America, or South America? During Hispanic Heritage Month, from September 15 - October 15, we celebrate all the contributions that the Hispanic community makes in our city, including their delicious cuisines. From tacos to empanadas to pupusas, you'll definitely find them in Houston. Here's our guide to Latin American Cuisine in Houston. 
DOWNTOWN/EADO/EAST END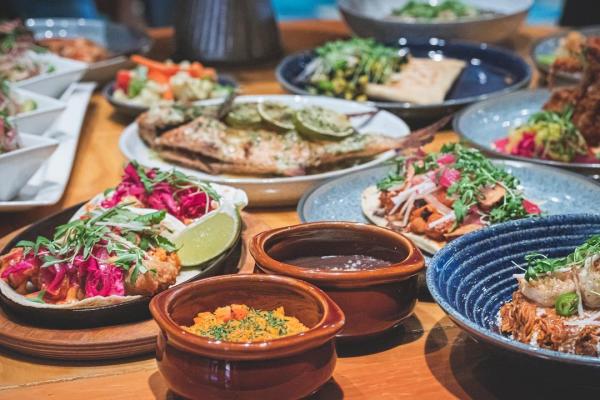 Courtesy of @lafisheriahtx on Instagram
Get a taste of Mexico right in downtown Houston. La Fisheria offers tasty Mexican coastal cuisine, with a variety of large seafood dishes and soups like Tacos de Pescado, Vuelve a la Vida ("hangover soup"), Mojarra Frita, grilled octopus and ceviches. 
Visit award-winning Chef Hugo Ortega's Xochi to experience delectable indigenous dishes from Oaxaca like housemade masas, moles, tlayudas and more. Pair your meal with their mezcals, tequilas and Mexican craft beers from the Oaxacan region for the perfect dinner. 
Next, head to The Original Ninfa's on Navigation Boulevard in Houston's East End, known for great Tex-Mex cuisine. It is where "Mama" Ninfa Laurenzo first created the 'fajitas' in 1973! Be sure to try their wide selection of fajitas, queso, margaritas and homemade tortillas (they have an Uptown location, too!). 
---
MONTROSE/MIDTOWN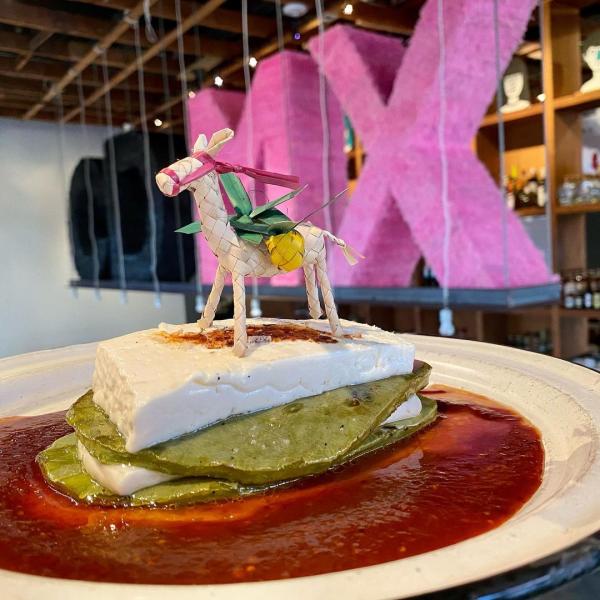 Courtesy of @cuchararestaurant on Instagram
Montrose's Cuchara has been serving authentic Mexico City cuisine since 2012. You'll be greeted with colorful murals, paintings and delicious foods like Esquites, Ensalada CDMX and Mole negro.  
Enjoy date night at Gloria's Latin Cuisine, a Salvadorian restaurant in Midtown with a variety of latin-inspired dishes like Pupusas, Lechon Asado and Plato SalvaTex. After dinner, dance the night away with live local Latin bands and DJs until 2:00 a.m.!
Since 1988, locals and visitors have dined at Churrascos, a Latin American restaurant with multiple locations in Houston. Here you can taste flavorful empanadas, ceviches, signature plantain chips and chimichurri marinated center-cut tenderloin. 
---
NORTH HOUSTON/HEIGHTS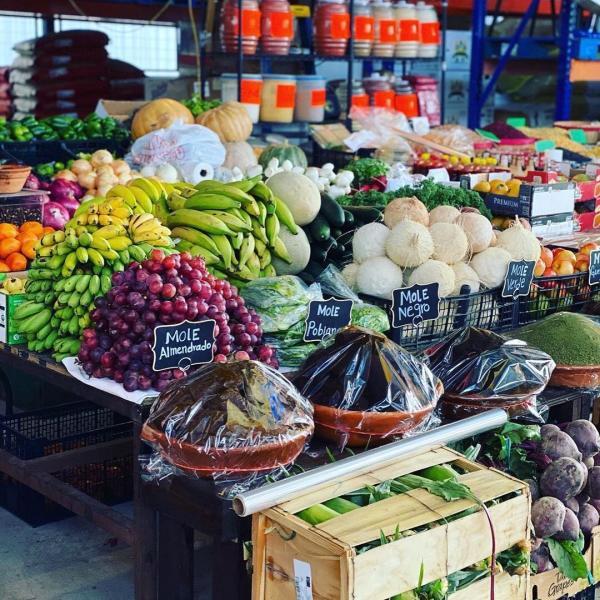 Courtesy of @houstonfarmersmarket on Instagram 
Visit Houston's oldest and largest farmer's market, the Houston Farmers Market (formally Caninos Produce) for the freshest produce, like chiles and tropical fruit from Mexico, Central and South America. Locals have been enjoying shopping and cooking with these ingredients since 1942! The market is open daily from 5:30 a.m. - 6 p.m.
Right across the street, you'll find El Bolillo Bakery, known for their freshly baked small French baguette-like bolillos, perfect tres leches cakes, Mexican sweet bread, churros and more. For great fajitas, carnitas and street tacos, try Teotihuacan, a casual restaurant and the popular Taconazo Food Truck. 
---
MEMORIAL/WASHINGTON AVE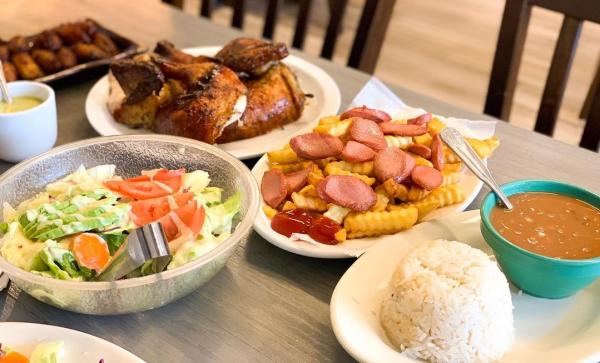 Courtesy of @atastefultrip on Instagram  
Can't decide on Mexican or Peruvian for dinner? At Pollo Bravo, you can have both types of cuisine! This restaurant serves a mix of Mexican dishes like Camarones a la Brava and Peruvian dishes like Lomo Saltado. We also recommend their incredible rotisserie chicken, one of the best in town! 
Another great option to try is Pollo Campero, a fast-food restaurant chain that has been serving flavorful breaded chicken dishes since first opening in 1971 in Guatemala. With more than 300 locations throughout Guatemala, Honduras, El Salvador, Ecuador and Nicaragua, this is definitely a staple in the Hispanic community.  
---
GALLERIA/UPTOWN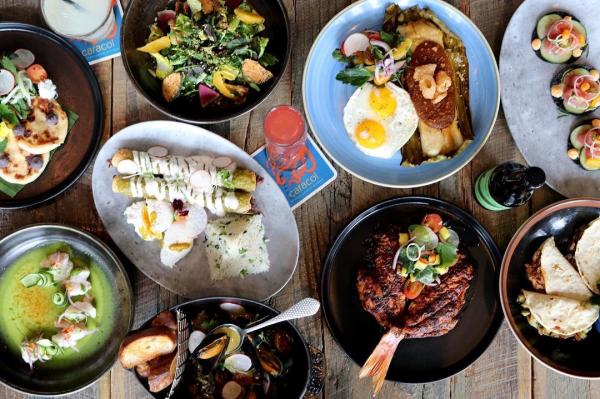 Courtesy of @caracol_houston on Instagram 
Go on a culinary tour along the Mexican coasts at Caracol. Dishes like Ceviche de Langosta, Ostiones Asados and Pescado Zarandeado are inspired by cuisine from 16 Mexican coastal states. We also recommend tasting their amazing brunch menu. 
Looking for more Guatemalan food options? Visit El K'iche Bakery for delicious meals like Estofado de Res and Pollo Milanesa. Also in the Galleria area is the popular Guatemala Restaurant that offers meals like Tamal de Arroz and Chile Relleno that will have you coming back for more.
---
WEST HOUSTON/WESTCHASE/SOUTHWEST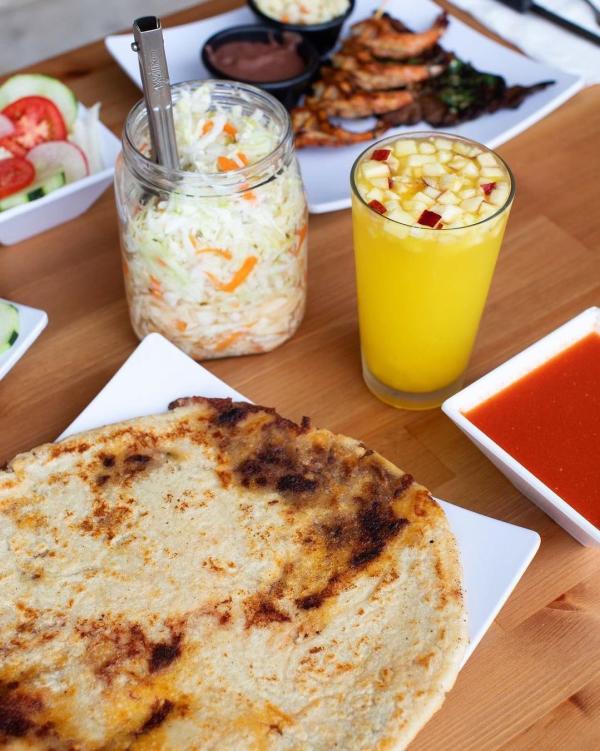 Courtesy of @latinrestaurantweeks on Instagram 
Can't get enough of Salvadorian food? We recommend La Pupusa Loka near Westchase where they serve extra large pupusas stuffed with cheese, pork, loroco, beans, chicken and beef and of course, the traditional pickled cabbage and homemade tomato salsa to top it off.
Do you love empanadas as much as we do? Head over to The Original Marini's Empanada House in Westchase Houston for some of the best Argentinian-style empanadas with traditional ingredients like ground beef, hard-boiled egg, olives, onions and spices. This spot is so good, it's been featured on multiple national cooking shows! 
West Houston is home to many Peruvian restaurants as well. You really can't go wrong with the traditional dishes at Lemon Tree, Inka Restaurant, Chick Houz and Peru Gourmet Restaurant.