What better day to celebrate National Champagne Day than on December 31st! It's officially the best day of the year to enjoy bubbly! While there are plenty of events going on for NYE you can celebrate the day of champagne in a more low key way at various spots around town.
The Dunlavy
The Dunlavy is a beautiful space with floor to ceiling windows right on the banks of Buffalo Bayou. To celebrate champagne, try the seasonal cheese tray with options from Houston Dairy Maids, served with Verve Brut Rose. The Dunlavy also features The Kitchen, a "glass tree house dining room" restaurant with a SoCal-inspired menu of fresh breakfast and dinner options.
This European Wine bar and cafe in Downtown Houston has a full menu of wines from all over the world, curated and chosen for this specific location. When it comes to champagne, there are dozens of choices in True, Vintage and Rose varieties as well as many sparkling wines. Dynamic cheese and charcuterie plates complement the wine selections along with other small plate options and even handmade truffles.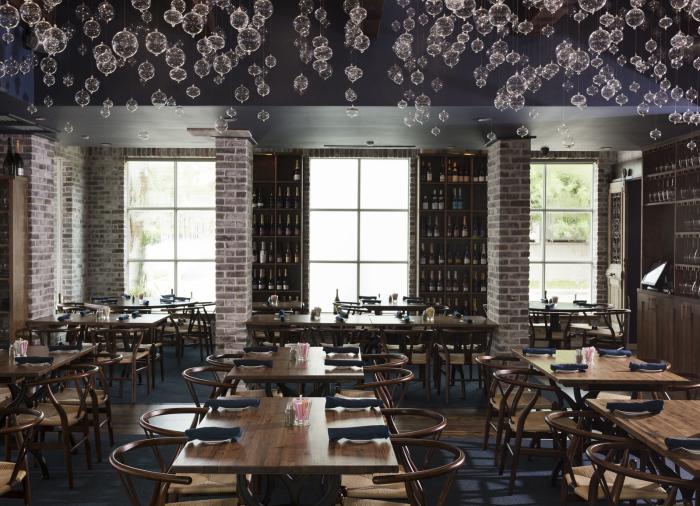 If there is anywhere you need to go to celebrate National Champagne Day, it's here. a'Bouzy (pronounced "ah boozy") in Upper Kirby pairs menu items with a wide variety of bubbly drinks. They have more than 250 champagnes and sparkling wines on hand. The robust menu includes a large raw bar, Alaskan King crab, Maine lobster, pickled vegetables, prime cut meats, salads, sandwiches and a variety of seasonal items.
Dedication goes into making sure the bar is fully stocked at Anvil Bar and Refuge on Westheimer. They have a "Champagne Service" with several favorites that you can order by the glass or bottle. There's also a list of 100 classic favorite cocktails on the menu along with a monster cheese and meat tray served with warm fennel honey for snacking.
Bayou & Bottle at the Four Seasons Hotel is the perfect place to celebrate Champagne Day, as they have an outstanding curated list of champagne to offer on their menu, such as Louis Roederer, Dom Pérignon, Perrier-Jouët and Moët et Chandon to name a few. Bayou & Bottle also has the "world's first Top Golf simulator" room where you can spend time with friends and take a swing in the cool indoor golf room.
Sipping on champagne while eating oysters is one of the best ways to enjoy a chilly Houston afternoon. The two go together just right! Brasserie 19 offers guests a well-executed menu of high-quality French fare, with a twist, of course. Don't forget to try the Texas Sweet Onion Soup and Steak Frites.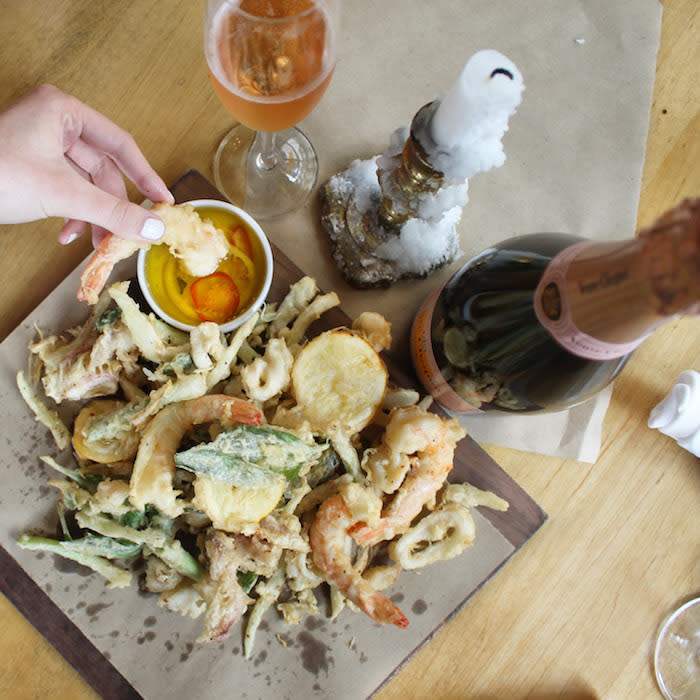 Ah, pizza. Coppa Osteria has your pizza fix, and why not pair it with champagne? The 5,000 square-foot restaurant in Rice Village has meat and cheese boards, sandwiches and of course, pizza that all pair perfectly with a light glass of champagne. Try Fritto Misto & Veuve Brut Rose – but the pizza also pairs well with traditional champagne.
Celebrate National Champagne Day with a little sweet treat. The Chocolate Bar features solid chocolate champagne Magnums, splits and mini-splits. They also have champagne creams and champagne jelly bellys. The candy creations are perfect for topping off an afternoon out, or for a surprise treat for someone special in your life.
La Lucha in the Heights pairs menu items like Fried Chicken and Roasted Oysters with a variety of bubbly drinks and cocktails including The Why Not, which draws inspiration from the original champagne cocktail with bitters and grapefruit essences. Conceived as a neighborhood living room, meshing timeless and industrial components with a few nods to the 70s, La Lucha guests enjoy a decadent menu of Gulf oysters, seafood, made-to-order fried chicken and snacks served late into the night. 
This cool dinner spot in the Heights offers locally sourced American fare with a focus on seafood and local products. They swear seafood is best with a bubbly drink and have great champagne and sparkling wine selections on the menu. Field and Tides is also open for weekend brunch, which we agree is always better with a glass of sparkling champagne. Enjoy!