Houston would not hold the coveted title of "Most Diverse City," without celebrating and lifting up each other. Recent unrest has rallied the city together to support the local Black community but giving an emphasis on African American-owned restaurants and businesses. It's safe to say the soul of Houstonians has dug into the beauty of soul food, and boy does it taste good. We encourage visitors to seek out and amplify these Black-owned restaurants.
Breakfast
Start your day at The Breakfast Klub. It's is not just a breakfast restaurant, it is a Houston institution, famous enough to entice the Queen B herself. Every weekend, lines of hungry diners wrap around the corner for a taste of The Breakfast Klub's Southern fried catfish and of course, chicken and waffles with crispy chicken atop fluffy waffles, smothered in maple syrup.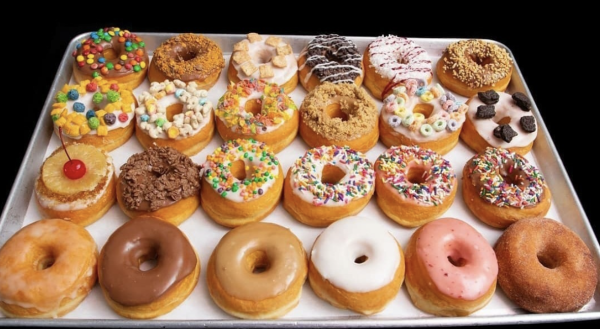 Courtesy of @eatglazed on Instagram
Shipley's, who? The popular doughnut chain doesn't hold a candle to the creative concoctions at Glazed the Doughtnut Café. The normal glazed, sprinkles and chocolate-covered doughnuts are on the menu but we suggest channeling your inner child and devouring one of their candy bar doughnuts topped with Kit Kats, Butterfingers, M&Ms or Fruity Pebbles.
---
LUNCH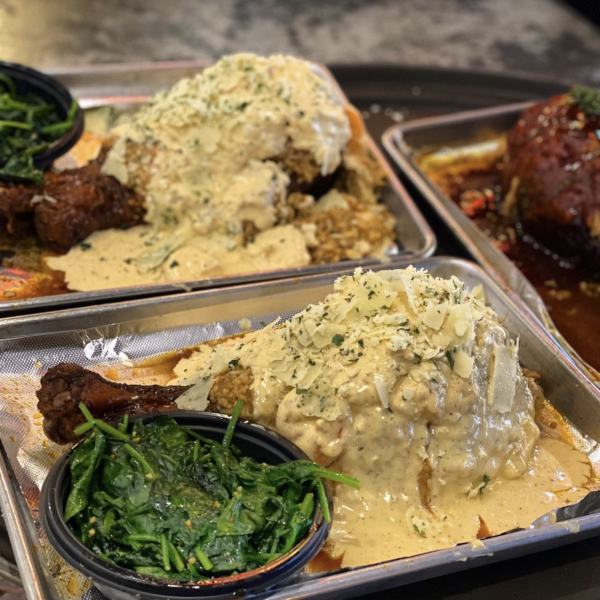 Courtesy of @turkeyleghut on Instagram
The Renaissance Fair is not the only occasion you can rip into one of those giant turkey legs.  While any leg is good at The Turkey Leg Hut – you can choose to have yours slathered in more than 10 different flavors – if you are going to go to the hut, go big or go home, and try the famous stuffed turkey leg that is overstuffed with homemade dirty rice.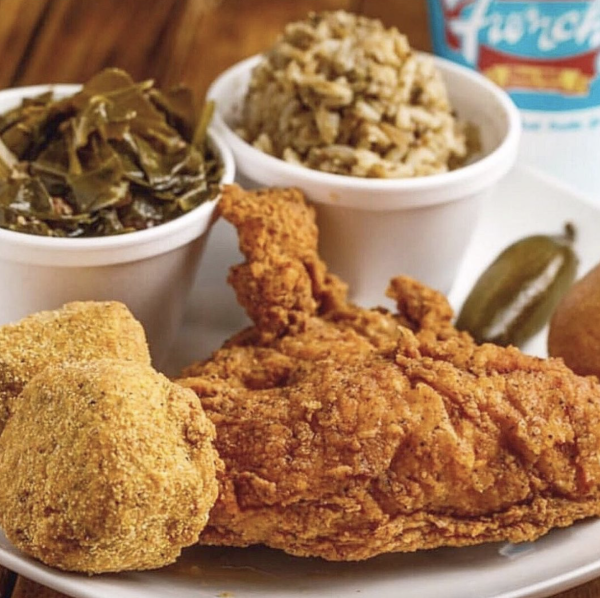 Courtesy of @frenchyschicken on Instagram
In Houston, when you say, "fried chicken," most will respond, "Frenchy's," and with good reason. Established in 1969, Frenchy's has been the first name in Louisiana Creole cuisine with finger-licking fried chicken served alongside collard greens, jambalaya, gumbo or dirty rice.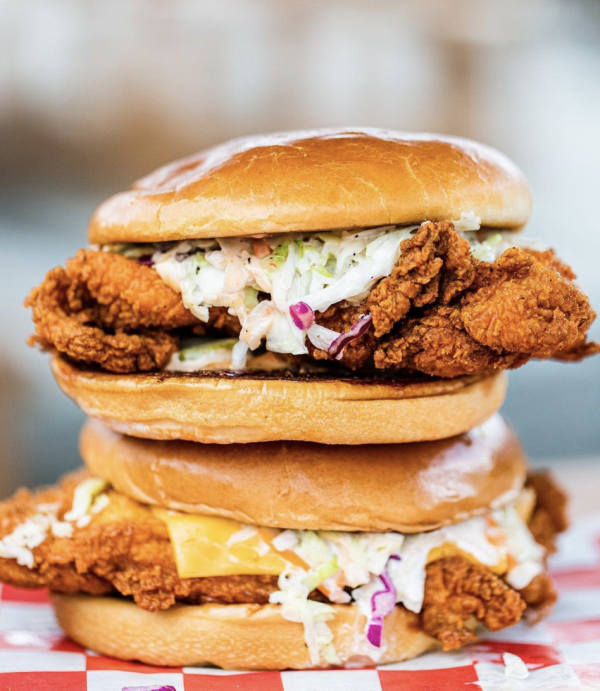 Courtesy of @micoshotchicken on Instagram
Get ready to sweat! Mico's Hot Chicken brings all the spice from Nashville to the Lone Star State. The twist on fried chicken takes the heat up a notch with their chicken tender baskets and chicken sammich with coleslaw and pickles to lighten the spice. Not into spicy food? Don't worry, Mico has got you covered with levels of spice allowing you to get as hot as you want.
---
Happy Hour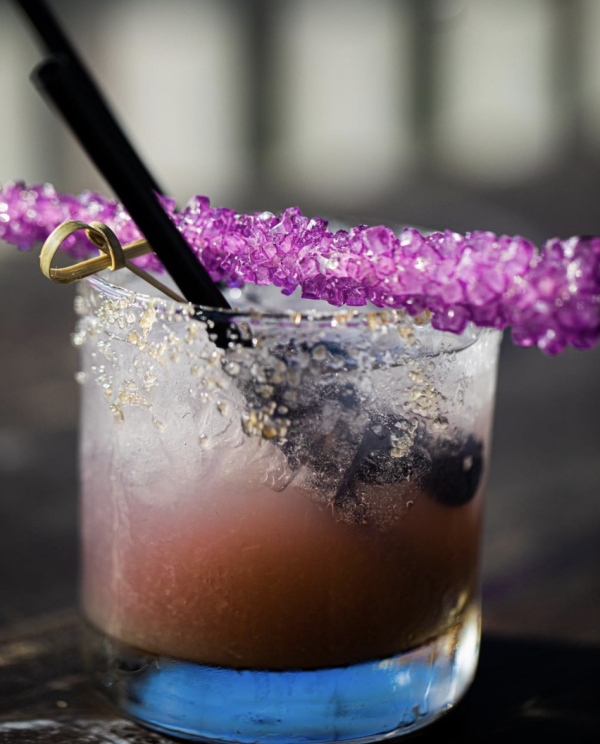 Chef Don Bowie has cultivated a Midtown restaurant into a lively and upscale place that cannot be missed. If you need a bite during happy hour, the stars of the menu at Taste Bar + Kitchen are the unique twists on chicken and waffles, with flavors like General Tso's chicken, Cajun-fried chicken and chicken-fried lobster resting on crisp waffles. Wash it all down with one of their specialty drinks or dessert cocktails in flavors like apple pie, pecan pie, cotton candy and Southern peach cobbler.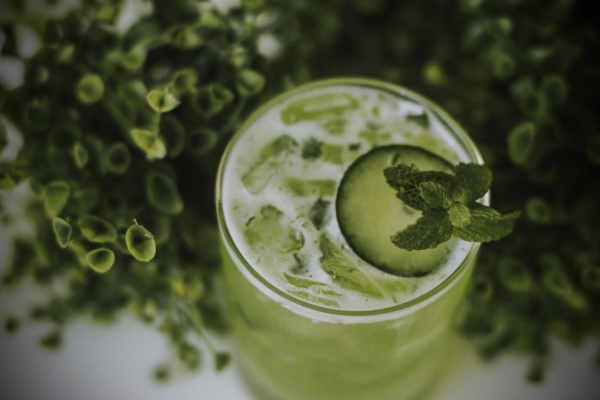 Courtesy of Five Central on Instagram
Restaurateur Jason Howard created not just a restaurant but a full dining experience at the expansive Five Central. The five distinct concepts illuminate food and fun with:
Jaxton's World Flavors: a casual neighborhood restaurant;
Presidential Cigars: a cigar bar with a members-only smoking lounge;
Elie: a wine bar and cafe with live music;
XX3: a craft cocktail bar; and
The Red Peacock: an ambitious restaurant with a theatrical component.
This playground is one of the hottest spots to enjoy cocktails, good food and live entertainment.  
---
DINNER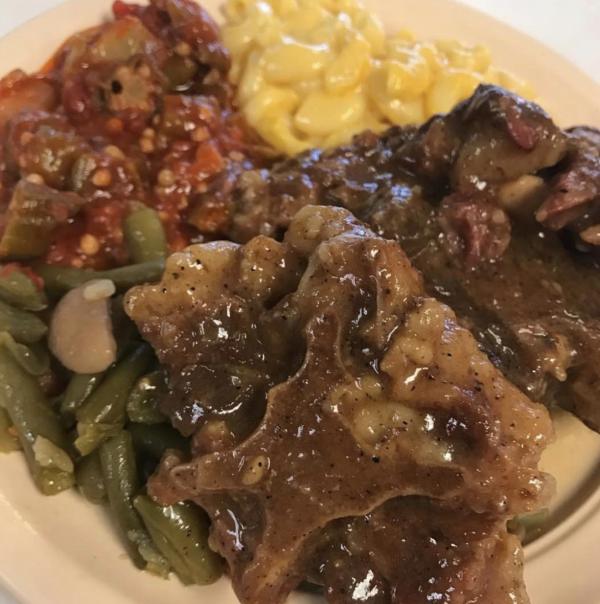 Courtesy of @houston_thisisit on Instagram
This Is It Soul Food is the quintessential Southern cafeteria. This no-frills establishment has been a neighborhood institution since 1959 and is currently operated by the founders' grandson and keeps lines movin' with their downhome charm. Stop by for old-fashioned braised oxtails, smothered chicken plates, and sides like black eyed peas, mac & cheese, and okra. Don't forget to grab a slice of cobbler for the full Southern experience.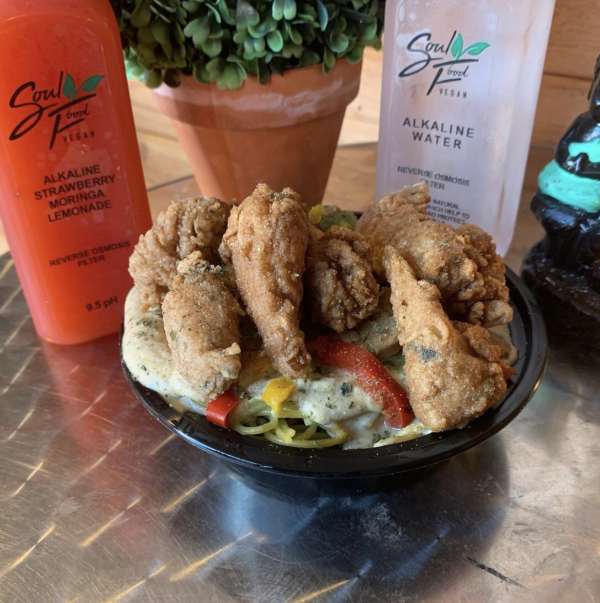 Courtesy of @soul_food_vegan on Instagram
Who says soul food has to be breaded and fried all the time? Soul Food Vegan is here to satisfy those looking for non-meat, non-dairy soul food, without sacrificing any of the flavor. A nutritional twist is given to dishes like boudin balls, jambalaya and Cajun spaghetti.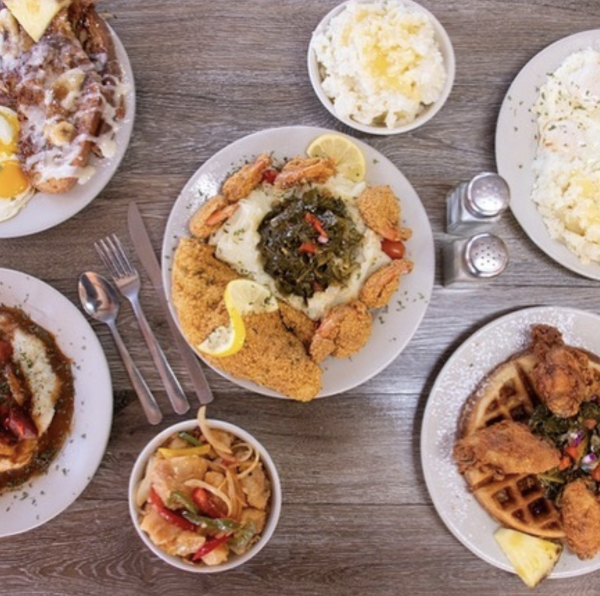 Courtesy of @alfredassoulfood on Instagram
After one visit, it should come as no surprise why Alfreda's Soul Food is the oldest soul food restaurant in the Museum District. Since 1964, this cafeteria-style restaurant not only features a gorgeous patio but some of the best food like smothered turkey wings – named one of the best by GQ Magazine in 2018 – with mouth-watering sides like collard greens, mashed potatoes, and gooey mac & cheese. We suggest slathering their special gravy all over your plate to really get your taste buds poppin'.