Perhaps one of the most burgeoning areas in Houston is The Heights. Just northwest of Downtown Houston, this historic neighborhood dates back to the late 1800s. Though it's only minutes from Downtown, via I-10, the area's initial developers sought out The Heights as refuge from city life. Today, The Heights is filled endless shopping, eating and drinking opportunities, making it a charming area that is not to be missed. Large boulevards flanked by craftsman-style homes, walkable streets mixed with new developments mean this area is ripe for exploration.
When you head to Houston, you could easily spend days taste testing your way through The Heights, but we'll give you our shortlist of where to dine and drink in a 24-hour period.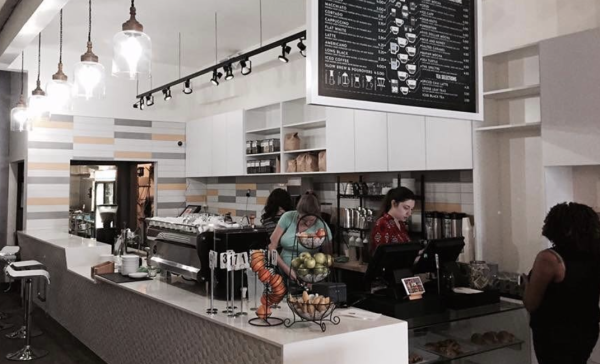 Courtesy of @boomtowncoffee on Instagram
Breakfast
Commonly known as the most important meal of the day, there are plenty of breakfast options to get your day started. We'd suggest heading to Boomtown Coffee for the perfect cup of joe made from the shop's small batch artisan roasts. The breakfast pastries and other snacks are delicious lighter fare that won't leave you heading back to bed for a siesta.
Another stop for coffee and breakfast would be Morningstar, serving up breakfast, brunch, coffee and doughnuts. The doughnuts are the restaurant's specialty, but savory items like brisket kolaches are ready for the hungrier patron. What's visiting Houston without a delicious breakfast taco? A staple throughout our city, the breakfast taco is the iconic Tex-Mex option. Head to Unos P'nches Tacos for its huevos con chorizo tacos, chilaquiles con arrachera (beef fajita) and breakfast tamale.
Other options: A 2nd Cup, Hugs & Donuts, and Kraftsmen.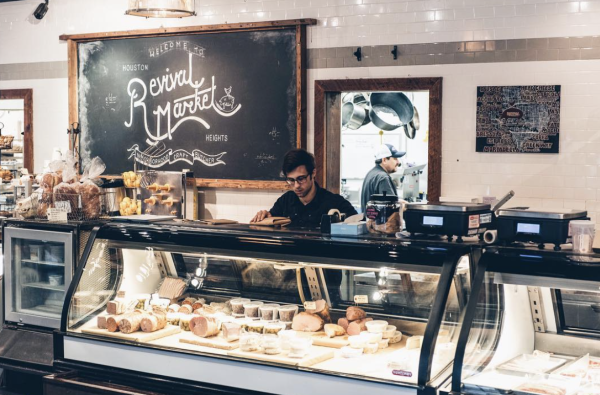 Courtesy of @revival_market on Instagram
Lunch
Maybe you've finished your coffee and sightseeing, but have now worked up a lunch appetite. Our next recommended stop is Revival Market on the beautiful Heights Boulevard. You cannot go wrong with Revival's café, butcher case, pastry options and showcase of artisanal products for purchase. For lunch you can munch on a veggie gyro, cheesesteak sandwich, charred broccoli salad or some of their picnic options to share like the dry, cured ham or hummus plate. Every ingredient at Revival Market has been thoughtfully grown, raised and procured in a sustainable way.
Another neighborhood favorite for a tasty mid-day meal can be found at Local Foods in Heights Mercantile. With several locations around Houston, you'll discover why this fresh purveyor of soups, salads and sandwiches is so popular with the local crowd. (hehe, see what we did there?) But in all seriousness, some of our personal favorite menu items include the Garden Sammie, Vegan Taco Salad (trust us!), and Classic Chicken Posole Soup. Not to mention, all sandwiches come with a choice of two market sides - they are so legit - especially the housemade chips.
Other lunch stops that we recommend include classic diner Lola for their all-day breakfast or specialty sandwiches. For a delicious indulgence, swing by Good Dog, where the chefs create based on one idea, buy it local or make it by scratch, which includes all of the bread and condiments served. Signature hot dogs include the Chi-town topped with tomato, dill pickle, mustard, Blakeslee relish, fresno peppers and celery salt.
Other options: Dish Society, Postino and Ka Sushi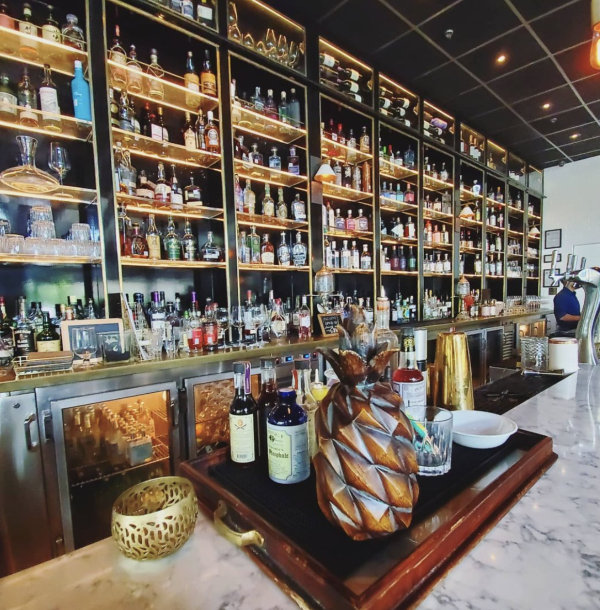 Courtesy of @houstondinnerclub on Instagram
Happy Hour
You've got two meals under your belt and have likely shopped up and down W. 19th St. Reward yourself with a fun happy hour. 1751 Sea & Bar offers such a delicious deal for HH that we may just have to meet you up there when you go. On Tuesday - Friday, from 4 - 6pm, dive into $1 gulf oysters, half off all wine by the glass, and their signature gin and tonics. Ahoy, matey!
Eight Row Flint has amazing outdoor seating for a relaxed vibe with happy hour Monday – Friday from 2 p.m. to 6 p.m. and all day on Wednesdays. Specials include $3 tacos, $3 select beers, $6 cocktails like the frozen margarita and old fashioned, and $7 select wines. For the wine connoisseur, head to Sonoma Wine Bar's happy hour from 3 p.m. to 6 p.m. Specials include $6 hour wine by the glass, $20 bottles, $6 sangrias and spritzers and $5 snacks.
Other options: Crisp, Wicklow Heights, and We Olive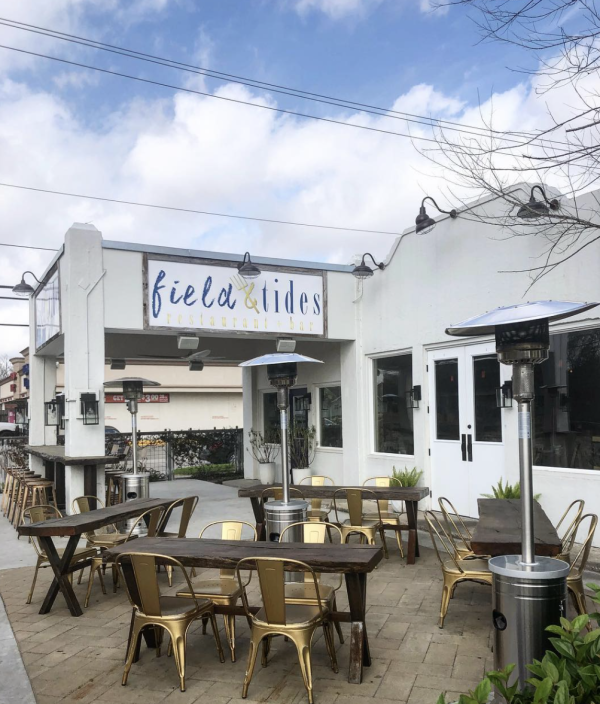 Courtesy of @fieldandtides on Instagram
Dinner
For the perfect pairing of locally sourced vegetables and meat, coupled with Gulf seafood, Field and Tides is a great dinner option. The ambiance is the perfect mix of upscale with a relaxed vibe. Move through the menu like a pro, enjoying oysters on the half shell for appetizer, she crab soup, the Gulf snapper or venison chop for your entrée and then some delicious sides like fried brussels sprouts or crab fried rice. There's even a kids menu with chicken fingers, fish nuggets and more.
Craving carbs? We suggest the romantic setting of Coltivare and be sure to order the spaghetti, black pepper, parmesan and olive oil pasta. We promise you won't regret it. Teotihuacan Mexican Café is the perfect place for Tex-Mex. Casual, inexpensive, but delicious, guests can enjoy a plethora of carnes asadas, mixed grill plates and more to taste and try.
Other options: B.B. Lemon, Rainbow Lodge, and Calle Onze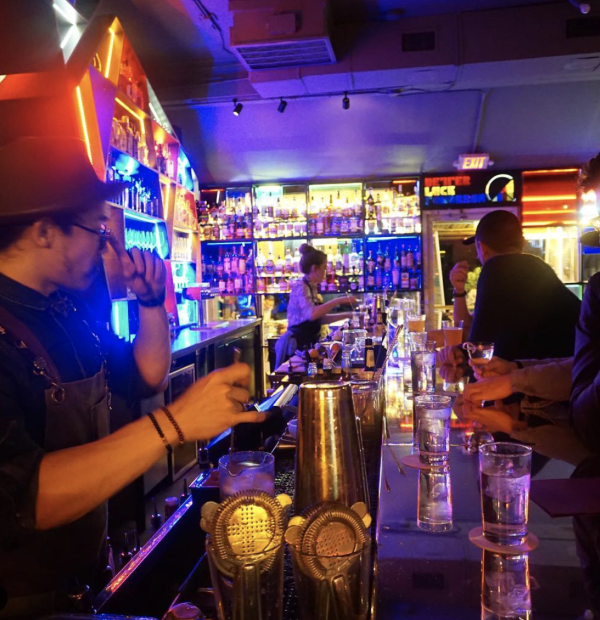 Courtesy of @bltomorrow on Instagram
Late Night
Even if you're totally full from an amazing day of eating and hopefully sightseeing, you must check out Better Luck Tomorrow. The brainchild of Bobby Heugel and James Beard Award Winner Justin Yu, this bar is not to be missed. It's fun and quirky vibe are complemented by knowledgeable bartenders who know a good drink. Bar food is served until midnight, so even if you do find yourself wanting a snack while you enjoy one of the many libations, you're covered. Enjoy a refreshing Razzle Dazzle or go all out with an Irish coffee that you can pair with a cookie for dessert.
For other places to grab drinks, Harold's has a great taproom and an upstairs terrace with a great ambiance. McIntyre's has a lively crowd in the evenings and on the weekend, with ample space to spread out and even food trucks on site.
Other options: Heights Bier Garten 
What are you waiting for? It's time to get started on your perfect foodie day in the Heights.