Holiday Lights in Houston
🎉 Your guide to Christmas displays around the Bayou City
Houston has the spirit of the season! From drive-thru winter wonderlands to lit lazy rivers, the ways to enjoy holiday décor are plenty. We break down the areas of town and types of attraction to ensure the best holiday light experience for you and yours.
Downtown
City Lights at Avenida Houston
The holidays are finally here again! At the end of a very long year, we can all look forward to the shining lights and warm spirit of goodwill to all. City Lights at Avenida Houston is pulling out all the stops to transform the downtown plaza into the perfect winter wonderland - complete with ice for skating, lights for gazing, and activities to make your family's season bright. Stare in wonder at an array of gaily decorated trees courtesy of the Alley Theater. Bring the ones you love, stay nearby and make a weekend of it, become immersed in a community of joy and holiday cheer.
Deck the Trees 
Nov. 21, 2020 – Jan. 3, 2021
Recurring daily 

This year, The Alley's annual Deck the Trees celebration will take place at the George R. Brown Convention Center, where the display will appear in the large windowscape facing Avenida de las Americas. A Houston tradition for the past decade, the annual event coincides with the holiday production of A Christmas Carol and features a variety of festive trees decorated by Houston's premier designers, and sponsored by generous businesses and individuals.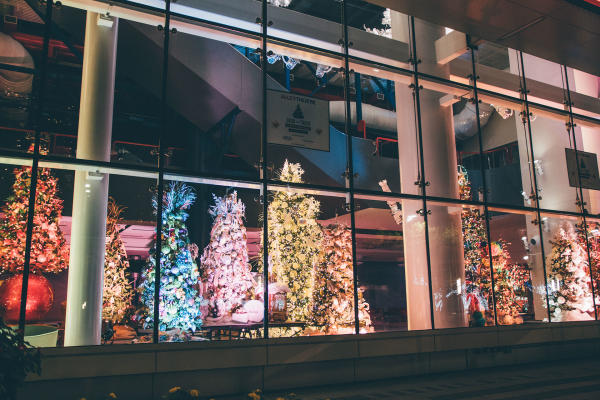 Texas Winter Lights
Nov. 20 – Dec. 31, 2020
5 – 10 p.m. Daily

The Marriott Marquis Houston will host Texas Winter Lights, a brand-new nightly experience on deck of their iconic Texas-shaped lazy river. Surrounding the pool will be thousands of lights to set the holiday mood while you float and relax. Cold weather is no problem, as the pool is always heated to 80 degrees. Along with the light display, there will be Instagram-worthy photo backdrops, light-up lawn games, movie nights on Thursdays and nightly s'mores kits. A holiday vacation, indeed.
Holiday Décor on Main St.
Nov. 18 – Dec. 31, 2020
Recurring Daily
Stroll, shop and sightsee at Holiday Décor on Main St. You'll experience all of the festive feels as the sun sets and the lights shine. Plan an evening to eat or grab a cocktail Downtown and then take a leisurely stroll to see all of the holiday décor in the area.
Museum District
 
Zoo Lights 
Nov. 14, 2020 – Jan. 10, 2021
5:00 p.m. – 10:30 p.m.
Zoo Lights is back! Always a family favorite, the Houston Zoo and TXU Energy have teamed up for an amazing holiday experience with plenty of attractions for even the littlest visitor. From the 125-foot-long Infinity Tunnel to the giant ice throne, socially distanced photos with Santa and a 4-D Enchanted Forest, it's a must-visit attraction this holiday season. Tickets are required for the event and will not be available for purchase at the gate.
River Oaks
 

Self-Guided River Oaks Christmas Lights Tour
Nov. 27 – Dec. 25, 2020
If you want to see one of Houston's most beautiful neighborhoods transformed into a magical Christmas village, head to River Oaks. The residents of River Oaks spare no expense in adorning their homes and properties with thousands of Christmas lights. Start at the River Oaks Country Club and work your way around the neighborhood. The intriguing lighting displays and fanciful mansions are truly reminiscent of your favorite Hallmark holiday movies. 
The Heights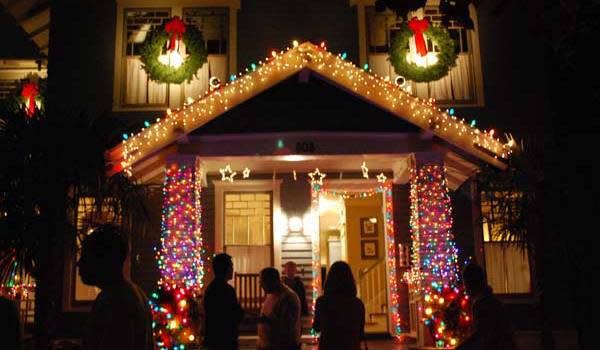 Self-Guided Christmas Lights Tour in The Heights
Dec. 1 – Dec. 25, 2020
While COVID-19 may have canceled the iconic Lights in the Heights event this year, we have no doubt that The Heights neighborhood will still have some of the best light displays in the city. Plus, this area of town has so much charm that you'll enjoy the craftsman-style architecture and other attractions that make this area of town so special. The typical Lights in the Heights route is from Highland and Omar streets, between Studewood and Florence, so give that a try and then explore more of the surrounding area.
Space Center Houston
 
Galaxy Lights
Nov. 14, 2020 – Jan. 3, 2021
6  – 10 p.m. Daily 
How can it get better than Space Center Houston and Christmas lights? It can't! That's right, experience Christmas lights that are out of this world at Galaxy Lights. This event combines interactive and technologically advanced displays like dozens of suspended lights that move in precise choreographed sequences to music. Galaxy Lights now offers additional open-air and safely-distanced exhibits, which are new for 2020. Space Center Houston suggests guests allocate 90 minutes to enjoy the experience.
Sugar Land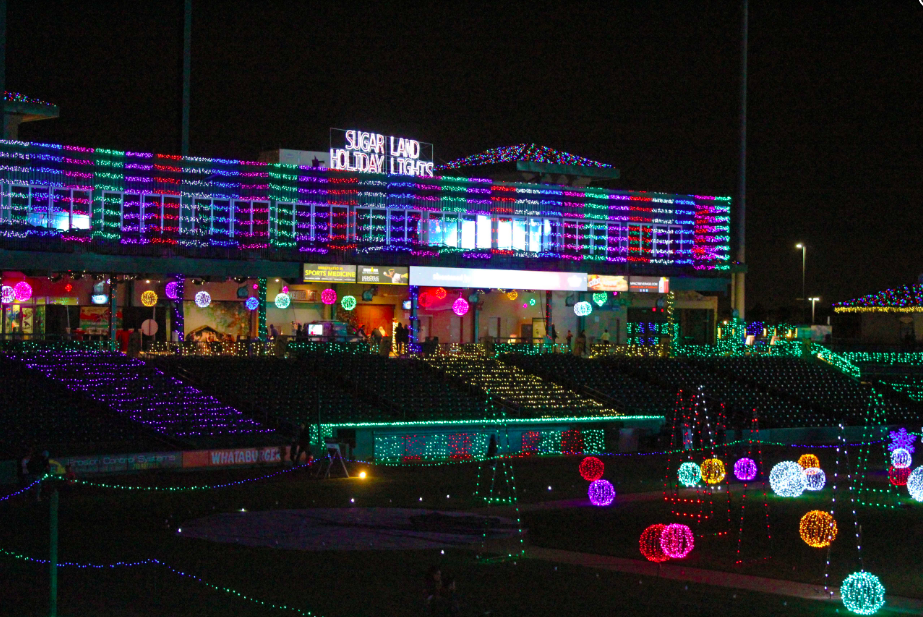 Sugar Land Holiday Lights
Nov. 20, 2020 – Jan. 3, 2021
Sun. – Thurs. 6 pm. – 9 p.m., Fri. – Sat. 6 p.m. – 10 p.m.
Celebrate the season in the most magical way at the 7th annual Sugar Land Holiday Lights presented by Imperial Sugar. This sparkling wonderland features more than three million lights and numerous themed displays at Constellation Field, located in Sugar Land. You can also get some holiday shopping done with a variety of vendors, enjoy great food, and meet Santa! This spectacular event, located just 20 minutes south of Houston, is sure to make your holidays memorable.
Galveston
Moody Garden's Festival of Lights
Nov. 21, 2020 – Jan. 2, 2021
6 p.m. – 10 p.m. Daily
This year, the holiday season will shine brighter than ever at Moody Garden's Festival of Lights. Enjoy a festive stroll along the mile-long trail featuring more than two million lights and lighted scenes themed to holiday music. Stops along trail include Star the Dancing Tree of Light, concession areas, hot chocolate, fireside s'mores, mistletoe, along with family photo opportunities! There are plenty of additional attractions at Moody Gardens like the Arctic Slide, holiday films, train rides and more.
Northwest Houston
43rd Annual Nite of Lites
Dec. 12 – Dec. 27, 2020
The residents of Prestonwood Forest in Northwest Houston have been decorating their homes in grand fashion since the 1970s. Hundreds of homes participate in the neighborhood's annual Nite of Lites event, which runs through most of December. Neighbors compete in several categories, such as best block, best all-around, best house, and even best mailbox. Start on Prestonwood Forest Drive, just off of Texas Highway 249, and you're sure to run into other cars lining up to experience the neighborhood's holiday hoopla.
Spring
The Light Park at Hurricane Harbor Splashtown
Nov. 5 – Dec. 31, 2020
5:30 p.m. – 10:30 p.m.
The Light Park is a very merry, drive-thru spectacular at Hurricane Harbor Splashtown. Brighten your holiday with this festive and safe holiday light display near Spring, Tx. The Light Park boasts millions of animated lights along with a customized radio station playing your favorite holiday hits as your drive through the park. Tickets are $35 dollars per vehicle, so pack your cars with family members, some holiday treats and enjoy the ride.
Uptown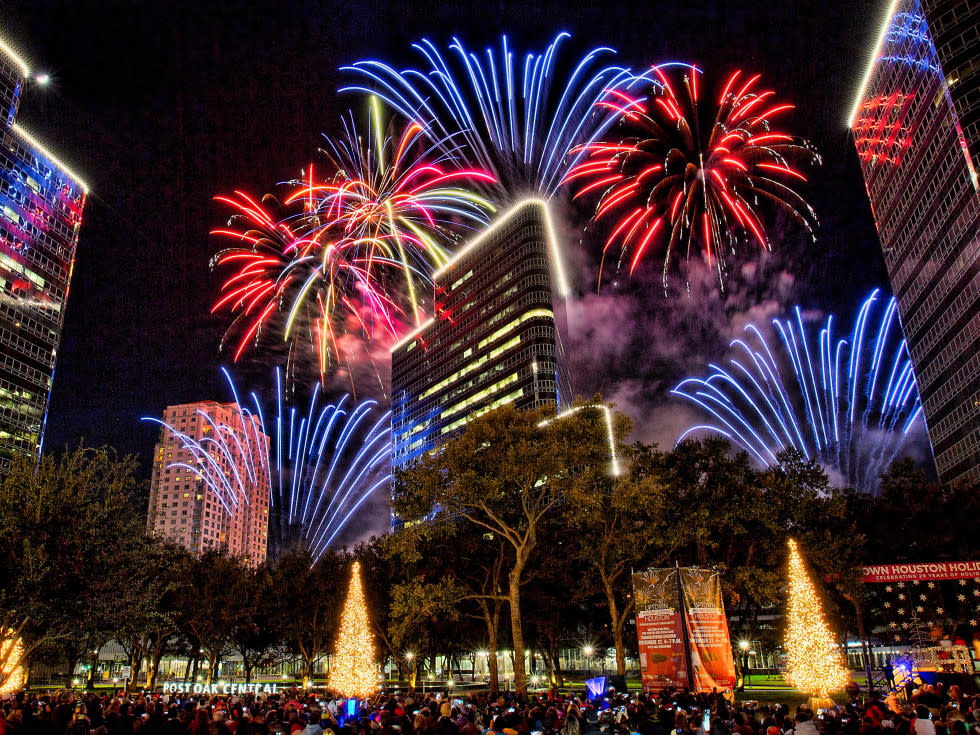 This year, in lieu of the lighting, Uptown management is inviting the public to submit photos and videos for a holiday countdown video, to be unveiled on Thanksgiving evening, November 26.
The virtual countdown holiday video will be posted to Uptown Houston's Facebook, Instagram, and YouTube pages on Thanksgiving evening, according to a press release. The deadline for submissions is Wednesday, November 4; fans can submit their photos and video here.
Hockley
Rudolph's Lightshow
Nov. 1, 2020 – Jan. 3, 2021
6:30 p.m. – 11 p.m.
For another magical drive-thru experience, visit Rudolph's Lightshow in Hockley, Tx. You'll drive through light tunnels, past giant Christmas trees, see snowmen and more in this winter wonderland. Rudolph's Lightshow features over one million lights that are merrily synced to your favorite holiday tunes. Tickets are $30 per vehicle when purchased online and $35 at the entrance.