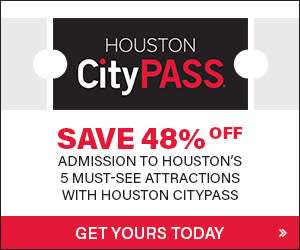 Holiday Lights in Houston
See stunning Christmas displays all over the Bayou City
It's a holiday tradition many people begin as kids with their parents — piling into the car and riding around town looking at Christmas lights. Sometimes the excursion involves hot cocoa or cider. Typically, it includes Christmas music on the radio. Some destinations merit a stop; others are best viewed as drive-bys. However it's done in your family, there are many places to view beautiful seasonal displays in different areas of Houston. Read on to plan your holiday light-seeing excursion. 
Downtown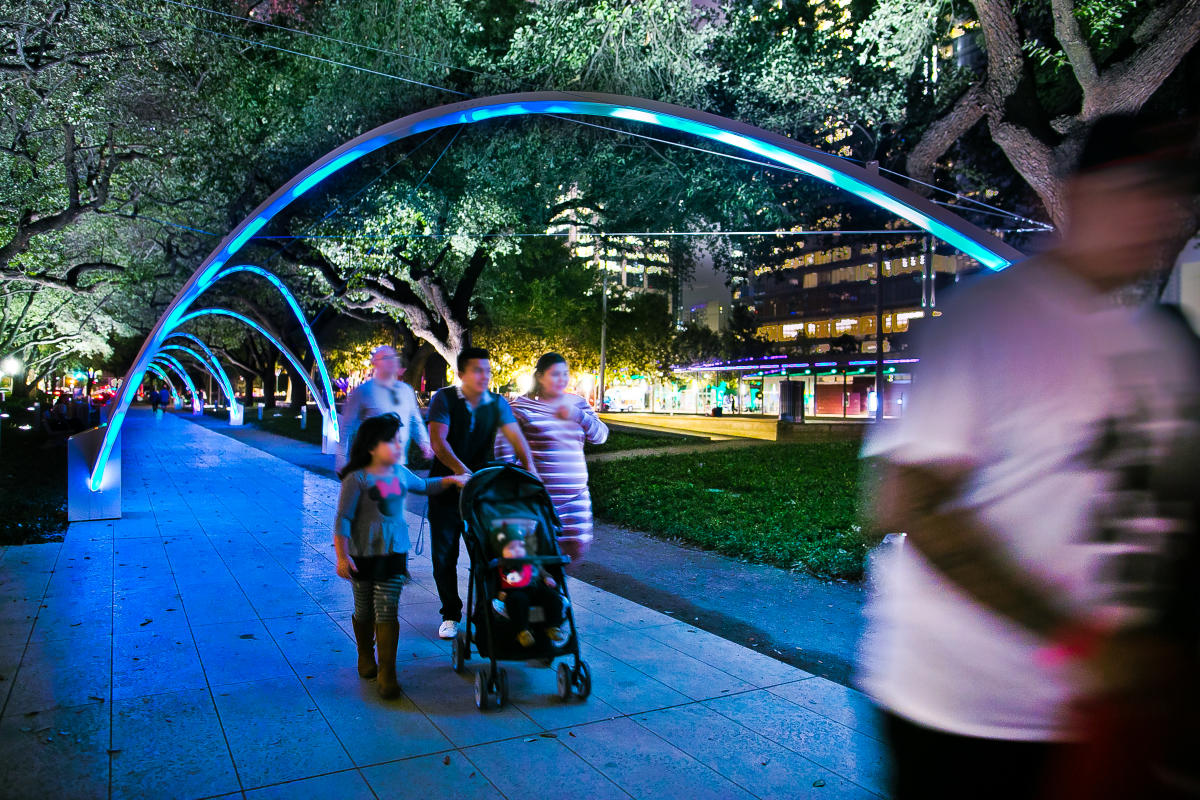 Gust
November 16, 2018 - March 21, 2019
GUST: Celebrating a Decade of Discovery is an interactive art installation created by Cocolab, a Mexico City-based studio for the Discovery Green Conservancy. GUST is a public art project that uses an array of 1600 handmade pinwheel to visualize the invisible patterns of the wind and to activate Brown Promenade with vivid color and subtle motion. GUST will open to the public on Friday, November 16 at Frostival, Discovery Green's annual winter carnival.

Mayor's Holiday Celebration and Tree Lighting
November 30, 2018
Ring in the season with the 99th Annual Mayor's Holiday Celebration and Tree Lighting Presented by Reliant, an NRG Company on Friday, November 30, 2018 in the heart of downtown Houston. The spectacular event is a holiday tradition of music, Santa, fireworks and family fun. A towering Holiday Tree, glowing with energy efficient LED lights, shimmering ornaments and a stunning star topper will light up the streets of downtown Houston this holiday season. The event takes place in Hermann Square at City Hall from 6:00 to 8:00 p.m. and is free and open to the public.

Holiday Lights Tour
TBD
Once again, the Houston Wave will take guests on a Holiday Lights Tour to check out all that dazzles and sparkles this holiday season. The tour will start at Market Square Park downtown before embarking on a journey past the tree at City Hall, the giant ornaments at Discovery Green, and the always decorated neighborhoods of River Oaks and the Woodland Heights. 
Museum District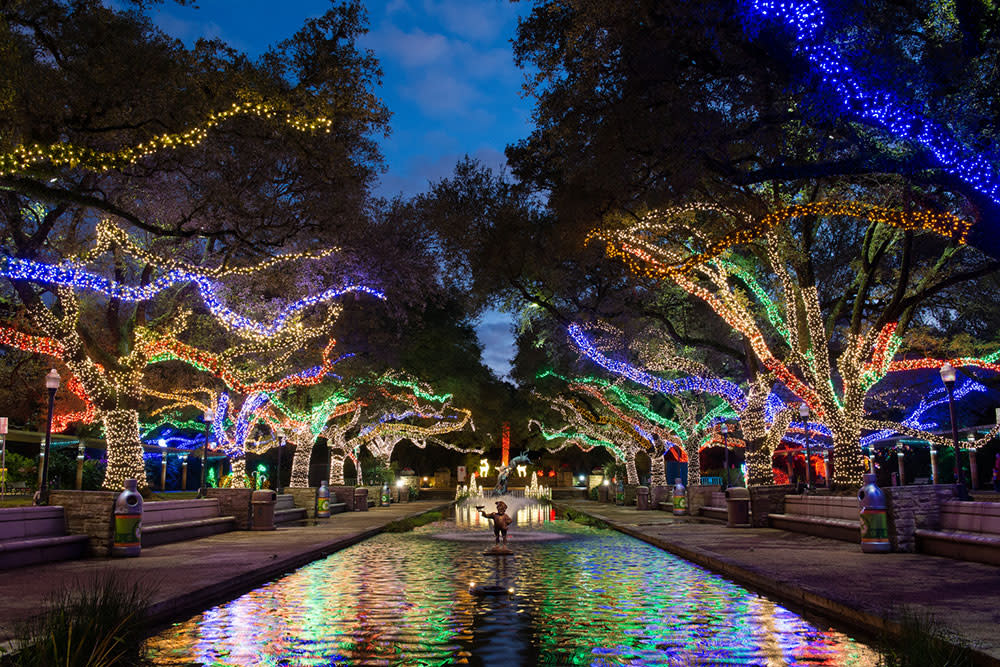 Zoo Lights 
November 17, 2018 - January 13, 2019
The Houston Zoo is transformed into a winter wonderland! TXU Energy Presents Zoo Lights celebrates its seventh year as one of Houston's most well-loved holiday traditions. Sip hot chocolate as you stroll through the beautiful Houston Zoo grounds and take in the sights and sounds of the season – including more than two million lights! Fifteen miles of earth-friendly LED lighting illuminate our ancient oak trees and decorate the paths to light your way.
The Heights
Lights In The Heights
Dec. 8, 2018
Stroll along the pedestrian-friendly route while enjoying a variety of sights ranging from nostalgic, twinkling white lights to eclectic, colorfully lighted scenes. Listen to the seasonal sounds of Christmas carols, jazz bands, and more, playing on the front porches, driveways, and yards of our neighbors.

Shepherd Park and Candlelight Park
You'll find a lot of large cutouts and dioramas in the Shepherd Park and Candlelight Park neighborhoods' holiday displays. Arches over the streets and big inflatables make this a winner for the kids. The best spot to start is north of West 43rd Street on either side of Ella Boulevard. 
River Oaks
December 
River Oaks is one neighborhood you shouldn't miss when looking for the city's best holiday lighting displays. Mansions and estates go all out with grand lighting displays that are a treat to see. A popular stop is the River Oaks Country Club on River Oaks Boulevard. Start there and work your way around the neighborhood; you're bound to see beautiful lights most everywhere you look. While some homes start putting up lights around Thanksgiving, visit in December for better sights, and try to avoid Saturdays when it's busiest. 
Highland Village
Get in the coastal spirit with beautiful white lights encircling palms along Westheimer in Highland Village's Shopping Center. 
 
Northwest Houston
40th Annual Nite of Lites
TBD
The residents of Prestonwood Forest in Northwest Houston have been decorating their homes in grand fashion since the 1970s. Hundreds of homes participate in the neighborhood's annual Nite of Lites event, which runs for most of December. Neighbors compete in several categories, such as best block, best house, and even best mailbox. Many of the decorations revolve around a theme, such as the Twelve Days of Christmas, Texas Christmas and more. Start on Prestonwood Forest Drive, just off of Texas Highway 249, and take a look at this year's Nite of Lites map to guide your visit.
La Marque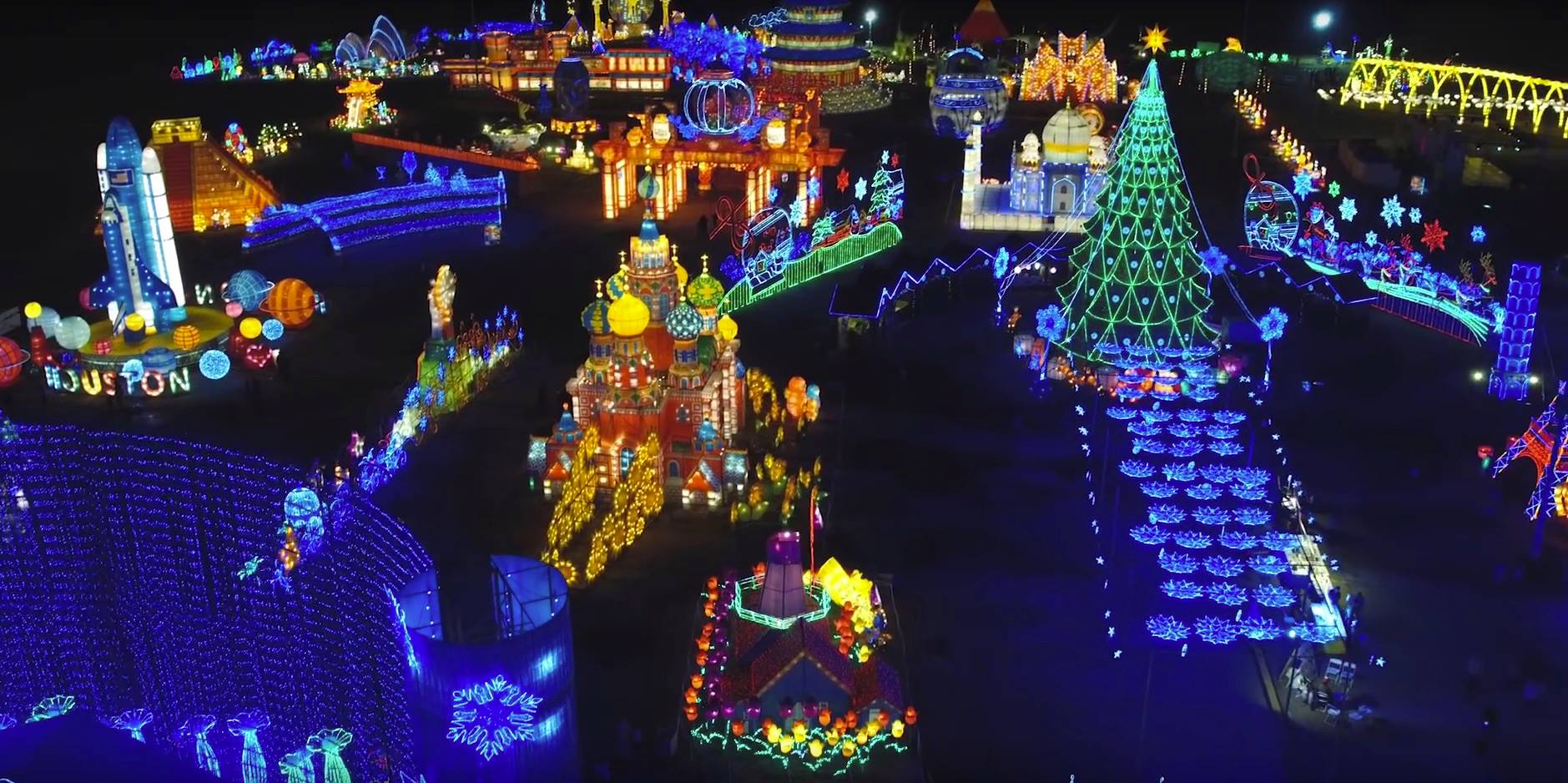 Magical Winter Lights
November 16, 2018 - January 6, 2019​
The 2018 Magical Winter Lights will return to Houston for its fourth year to Gulf Greyhound Park this winter from November 16, 2018 to January 6, 2019 including Thanksgiving, Christmas Eve, Christmas Day, New Year's Eve, and New Year's Day. The 52-day festival is one of the largest holiday lighting events in Houston, and the largest lantern festival of its kind in the U.S.Magical Winter Lights will showcase more impressive and creative lantern sets than its previous years. 
Sugar Land 
Holiday Lights
November 23, 2018 - January 1, 2019
Celebrate the season in the most magical way at the 5th annual Sugar Land Holiday Lights presented by Imperial Sugar. This sparkling wonderland features more than 2.5 million lights and numerous themed displays at Constellation Field. You can also get some holiday shopping done with a variety of vendors, enjoy great food, and meet Santa! The event is open from 6 pm to 9 pm Sundays through Thursdays, and 6 pm to 10 pm on Fridays and Saturdays. It will be open from 6 pm to 10 pm on Christmas Eve & Day and New Year's Eve & Day. It will be CLOSED on November 26th and December 3rd.
Galveston
Moody Gardens Festival of Lights
November 17, 2018 - January 6, 2019
This year's ICE LAND theme takes guests on a journey from the North to South poles. The CAA Ruijing Ice Carving Team will even create a giant ice slide that will take guests on a glacial journey. Guests will encounter polar bears, penguins, humpback whales, snowy owls, walruses, and of course, reindeer – all hand-carved out of two million pounds of ice inside a 28,000 sq. ft. insulated tent structure chilled and maintained at nine degrees. Shiver's Ice Bar also returns to ICE LAND this year as guests enjoy ultra-cool holiday spirits as they enter this bar made completely of ice creatively transformed into an igloo this year to fit the Pole-to-Pole theme.