The Official Vegan Guide to Houston
When visitors think of Houston cuisine, they might think Tex-Mex or even BBQ, which is fair. However, Houston cuisine is bursting at the seams with exciting options for all palettes, diets and cravings. The ever-evolving Houston food scene is evident in the amazing vegan and vegetarian options that can be found throughout the city, along with iconic restaurants now offering specific vegan or vegetarian menus. Below is our list of restaurants with great vegan or vegetarian options.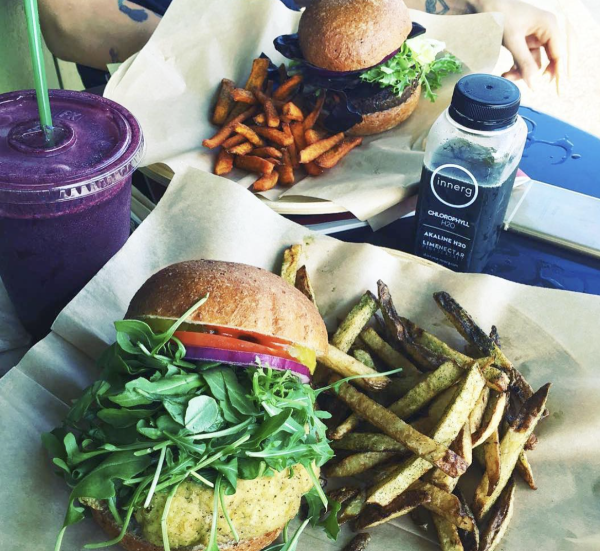 Courtesy of @greenseedvegan on Instagram
This Museum District restaurant serves vegan burgers and paninis, as well as fresh pressed raw juices, smoothies and raw vegan meals. Favorites include the "Dirty Burque," a buckwheat patty topped with green chilies, arugula, avocado, tomato, onion mayo and mustard served on a wheat bun. On the panini menu, try the "Latini," chipotle-flavored tempeh topped with avocado, tomatoes, and chipotle aioli, or the "Tosh," maple jerk tempeh with grilled plantains, spinach and jerk aioli.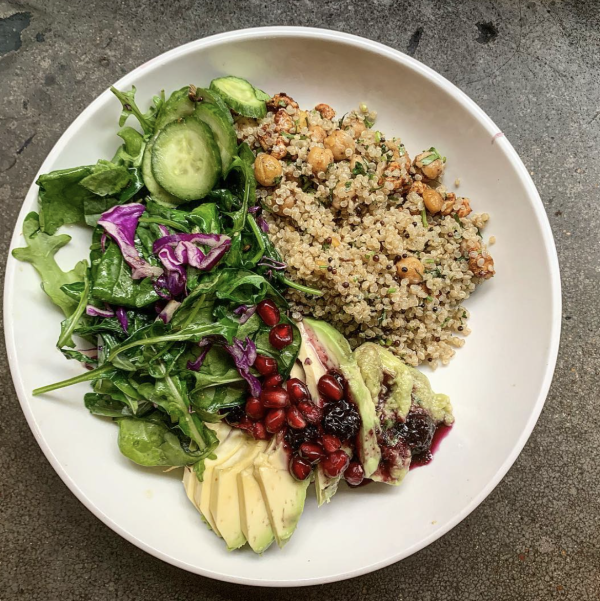 Courtesy of @pondicheri on Instagram
Pondicheri 
Anita Jaisinghani's casual Indian eatery serves a good selection of vegetarian and vegan dishes for breakfast, lunch and dinner. From the Vishnu thali – a sampler with aviyal, grilled asparagus, beet soup and avocado masala -- to a green dosa, sautéed greens with pumpkin seed chutney -- served for breakfast. Looking for a vegetarian or vegan free happy hour? Enjoy Pondicheri's Chit Chaat happy hour with delicious street bites that are gluten free, vegan or options that can be made vegan.

Courtesy of @hugos_houston on Instagram
At this namesake restaurant, chef Hugo Ortega has put together a thoughtful vegetarian menu rooted in regional Mexican cuisine. And we're not talking just a few items; the menu offers a variety of vegetarian appetizers, entrées and sides. Enjoy crispy potato tacos with avocado tomatillo salsa, cabbage and pickled onions, or try the enchiladas stuffed with corn, poblano and calabacitas with tomatillo salsa, Chihuahua cheese, crema fresca, arroz blanco and vegetarian refritos.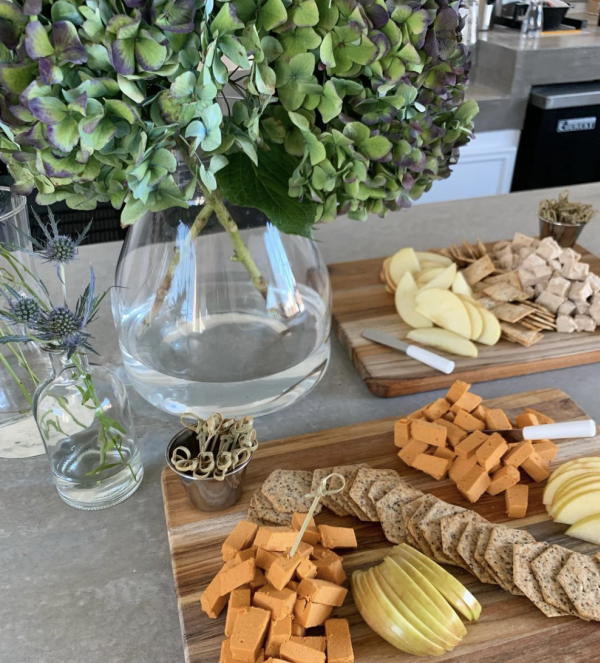 Courtesy of @eatverdine on Instagram
Verdine 
Stephanie Hoban started her vegan food truck Ripe Cuisine in 2014 to bring more healthy, plant-based dining options to Houston. After much success, Hoban embarked on a brick and mortar location called Verdine. The menu is complete with small plates, soups and salads, entrées, sides, sweets and a kids' menu. Enjoy a creamy salsa verde with a nut-free queso and corn tortilla chips or the "Waterworks Cheeseburger" with Beyond Meat ™ complemented by a special sauce, gem lettuce, tomato, dill pickle, red onion, house-made sharp cheddar and local wheat bun.
Shri Balaji Bhavan
The dishes at this South Indian vegetarian restaurant are listed without descriptions, so go with an adventurous mindset and be ready to taste exciting dishes. Located on the corner of Hillcroft and Harwin, Shri Balaji Bhavan serves a wide selection of puri and chaat (snacks) at affordable prices. Try the samosa chaat, vegetable biryani or the chole bhature, a combination of spicy curried chickpeas and bhatura, a classic Indian puffed bread.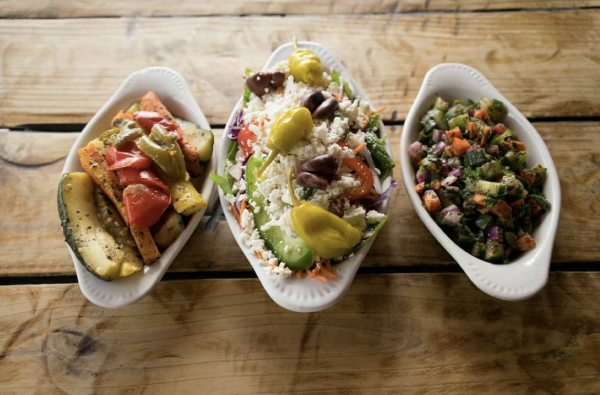 Courtesy of @aladdinhouston on Instagram
Enjoy a variety of Mediterranean treats at this Montrose counter-service restaurant. Choose from their various vegetarian mezze, -- hummus, tabbouleh, baba ghanoush -- fresh salads, and platters. The falafel platter comes with five pieces of falafel and your choice of two sides. Then grab some of their freshly baked pita bread and order a freshly pressed juice to complete your meal. You'll get plenty of good food to fill you up.

Courtesy of @caracol_houston on Instagram
Just like at sister restaurant, Hugo's, vegetarians will find plenty of options at Caracol. Hugo Ortega's Galleria-area restaurant focuses on Mexican coastal cuisine. On the vegetarian menu, you'll find dishes like a coctel de vegetales, tamal Azteca topped with mushrooms and huitlacoche (corn truffles), veggie-stuffed enchiladas and fried avocado tostadas. Caracol diners will get a great taste of Houston's Mexican cuisine without sacrificing flavor and quality.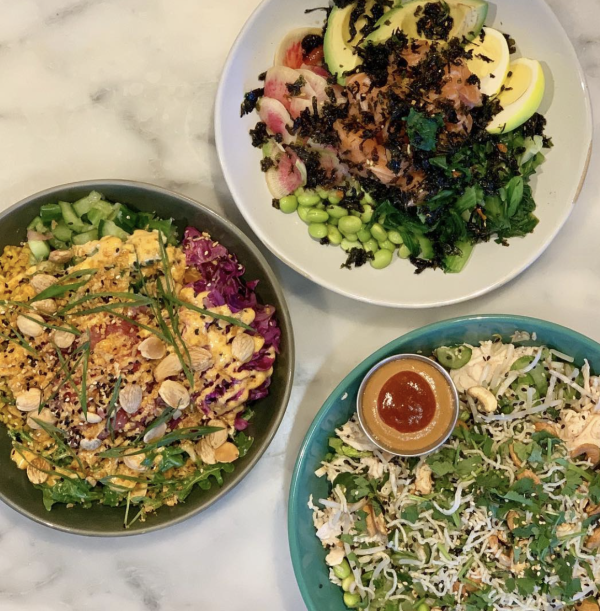 Courtesy of @localfoods_texas on Instagram
For a delicious fast-casual, upscale counter experience, Houstonians flock to Local Foods. With five locations across Houston, visitors will love the fresh, made-to-order items. Vegans will enjoy the vegan taco salad with baby kale, romaine, vegan taco meat, avocado, pickled onion, cilantro-corn, pumpkin seeds and a lime vinaigrette dressing. There's also the vegan power bowl with brown rice, kale, braised lentils, spiced sunflower seeds, seasonal vegetables, peas, avocado and more. For the dessert eaters there is a vegan chocolate brownie and carrot cupcake.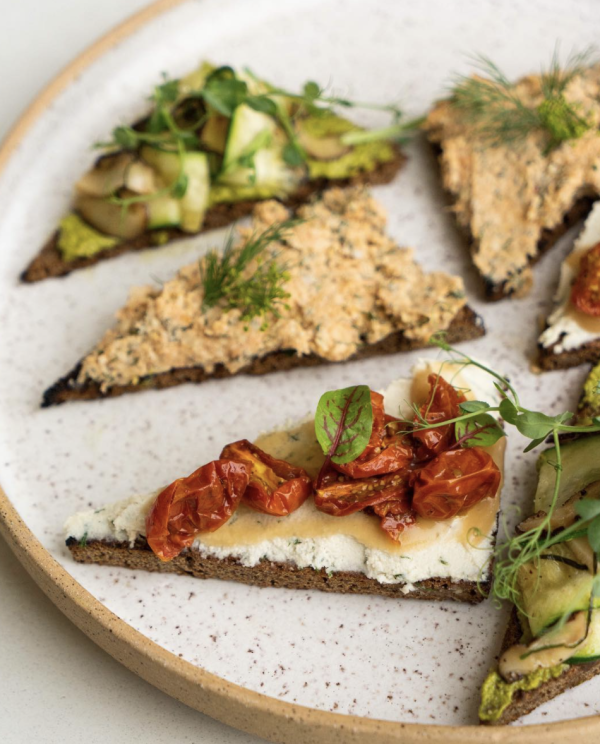 Courtesy of @wearevibrant on Instagram
One of the newest restaurants to the Houston vegan and vegetarian scene is Vibrant. Vibrant creates foods that are gluten free, dairy free, refined sugar free, corn free, peanut free, soy free and non-GMO. The restaurant only uses avocado, coconut and extra virgin olive oil to cook and takes care to make all breads, crackers, cheeses, nut milks and yogurt in house. Vibrant has a number or vegan and vegetarian options for breakfast, lunch and dinner, including salads, grain bowls, green curry bowls and more in a clean and relaxed setting.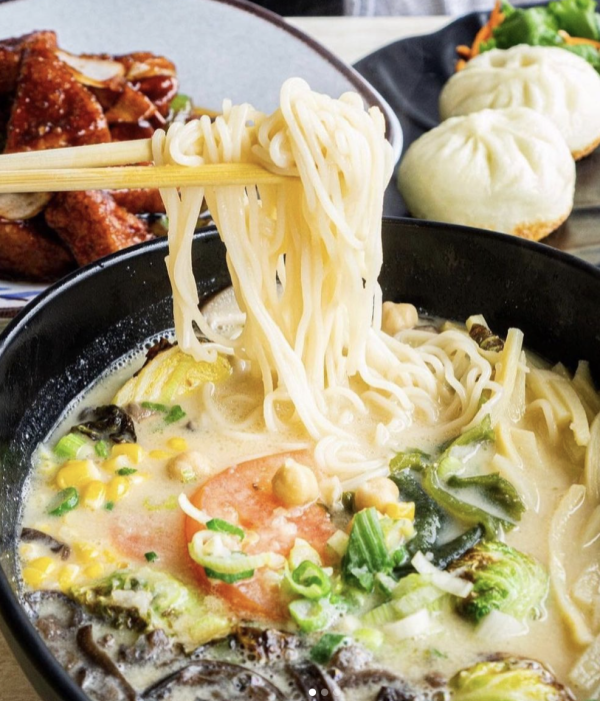 Courtesy of @trendy.vegan on Instagram
Offering Asian-inspired, mouthwatering vegan dishes, Trendy Vegan in Greenway Plaza will satisfy any craving involving chopsticks. Dan dan noodles and General Tso Tofu are a couple fan favorites, but you can't have those until you've indulged in appetizers like the purple cheese puffs and hot and spicy dumplings. Trendy Vegan is a cozy spot but offers takeout and online ordering for those looking to satiate their hankering for hot, flavorful cuisine in the comfort of their home or hotel.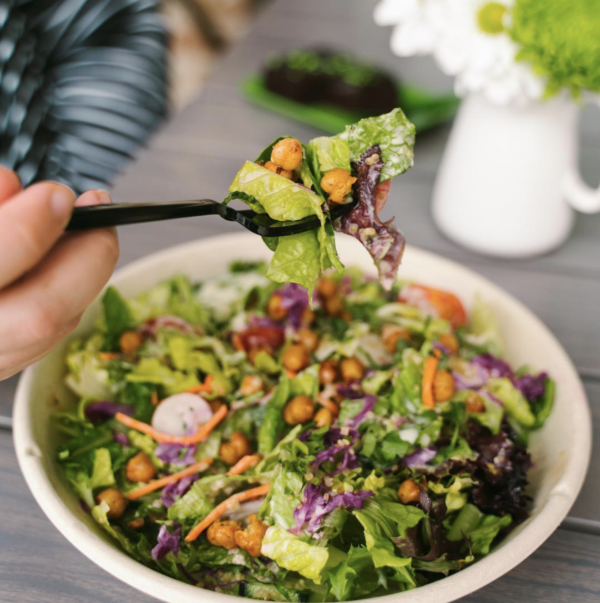 Courtesy of @craftpita on Instagram
The fresh tastes of the Mediterranean are available in the beautiful and colorful dishes served at Craft Pita. Founder Rafael Nasr spent his childhood summers in Lebanon and brings his love for fresh olive oils, fruits and vegetables to his restaurant. The crispy tahini salad is almost too pretty eat, so start off with the Zataar flatbread just in case. Craft Pita also offers brunch with vegetarian tacos and Turkish iced coffee. A combo you didn't know you needed.