Houston isn't called Space City for nothing. The city that boasts NASA's Johnson Space Center is ready to celebrate the 50th anniversary of Apollo 11's landing on the moon with Space City Month. Plenty of bars and restaurants will have specials throughout July to commemorate the American spirit that won the space race!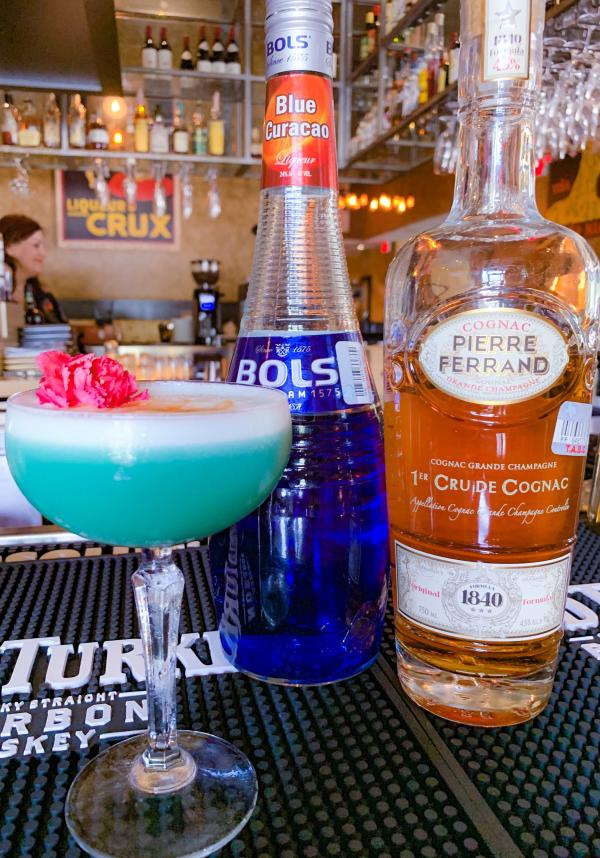 Brasserie du Parc – Blast off with Brasserie du Parc's Blue Moon Eclipse cocktail with cognac, blue Curaçao, lemon juice, house-made grenadine and bitters.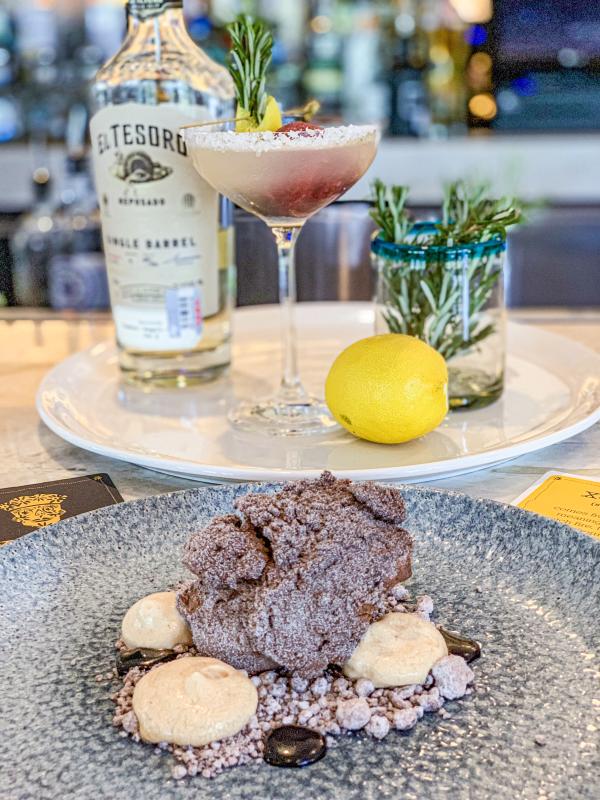 Xochi – James Beard Award Winner chef Hugo Ortega is serving up sweet and savory ways to celebrate Apollo 11 turning 50. The Tranquility Base Margarita is the savory option with El Tesoro Silver Tequila, Combier Original Triple Sec, Oaxacan herb liqueur, lime, agave and poleo-infused "moon rock" ice cubes. For a sweet treat, enjoy the Roca Luna dessert, a chocolate mousse with chocolate soil and caramel-coffee foam.
Backstreet Café – Cheers to the moon with the We Came In Peace For All Mankind cocktail. This cocktail is crafted with Sipsmith Gin, El Tesoro Tequila, maraschino liqueur, green chartreuse, lime and moon ice cubes. Fun fact, the colorful cocktail name is a riff on the last words the Apollo 11 crew wrote on a plaque that was left on the moon. 
Kenny & Ziggy's New York Delicatessen – To celebrate Space City Month, enjoy three menu additions at Kenny & Ziggy's. First up, Tang Orange Cream, which is Fanta topped with egg cream, to commemorate Tang, the famous space drink. Black and White Moon Pies are ice cream sandwiches with black and while cookies and Amy's Mexican vanilla ice cream. Lastly, want matzo ball soup that's out of this world? Order the Dark Side of the Moon in a Sea of Tranquility, an elevated version of the classic deli soup.
Caracol – Caracol is toasting to the moon landing through the month of July with the Michael Collins cocktail. Michael Collins was the third member of Apollo 11's crew, who took his own journey around the moon. The cocktail is made with Glennfiddich Fire and Cane Scotch, Suerte Reposado Tequila, Huana Yucatan Guanabana Liqueur, bitters and a toasted blue corn ice cube.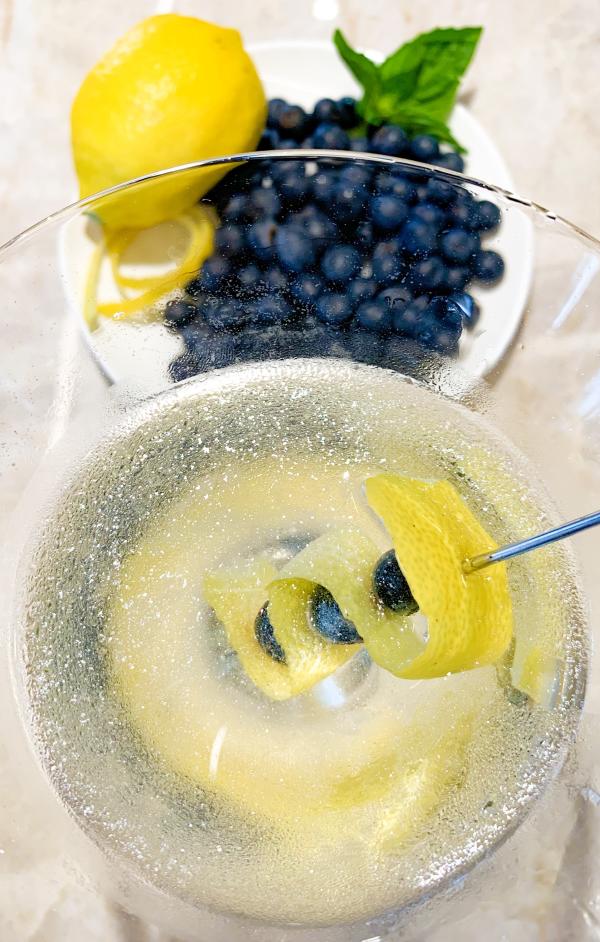 Third Coast – The Milky Way Martini will transport you to another galaxy with the summer gin martini that's chockfull of local flavors like blueberries, citrus, wildflowers, and even edible glitter!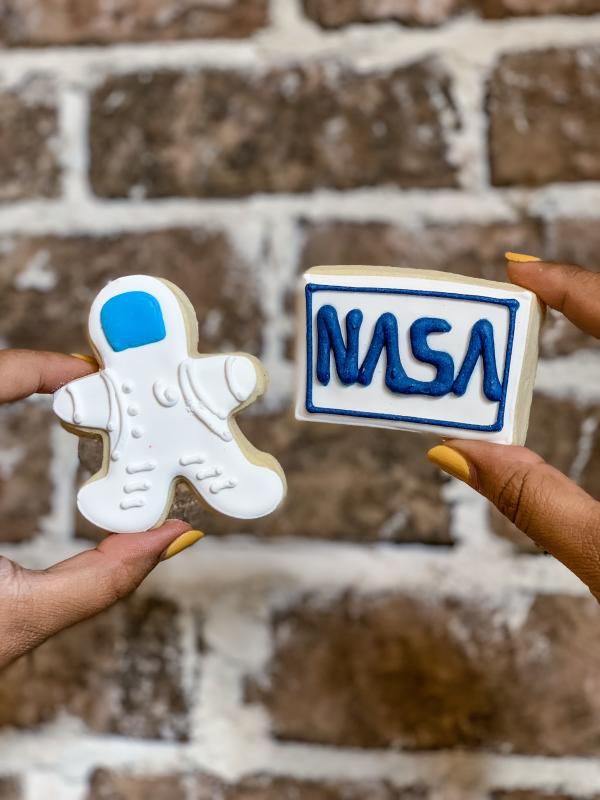 Oh La La Dessert Boutique – Get your space-themed cookies and treats at Oh La La! All locations have hand-decorated cookies with designs like astronauts, planets and the NASA logo. There are even fluffy strawberry cupcakes inspired by astronaut food. 
Antone's Famous Po-Boys - In honor of Space City Month and the 50th anniversary of the moon landing, Antone's will offer 50 percent off its classic po-boys for any customer who presents a ticket stub from Space Center Houston. The ticket must be from a visit to Space Center Houston during the month of July. Dine-in only; limit two per customer per visit.
Riel – From Launch Day, Jul. 16, through Splash Down Day, Jul. 25, Riel will offer special menu items inspired by what the Apollo 11 astronauts ate during their space flight, like hot dogs and porchetta with an applesauce base. The restaurant will also have specialty themed cocktails, including the Dark Side of the Moon featuring Madeira, crème de cacao, scotch, bitters and 8th Wonder Rocket Fuel beer.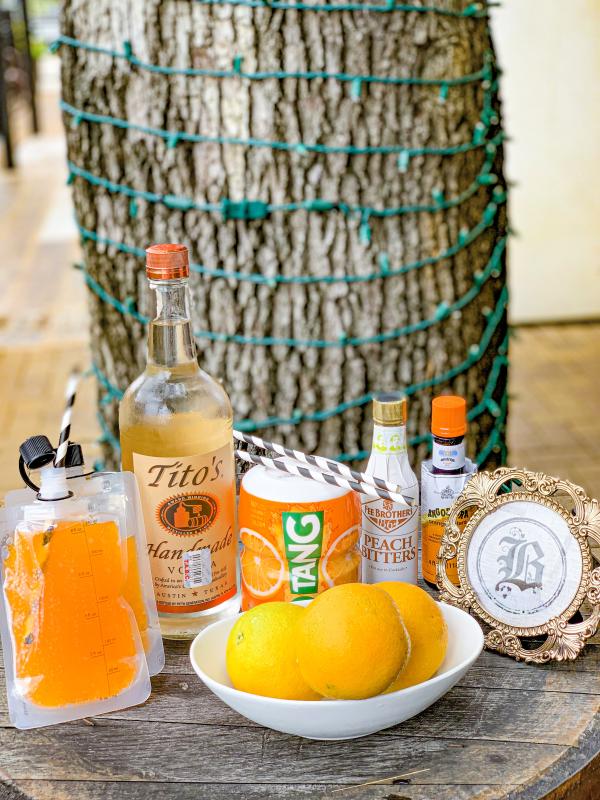 Bosscat Kitchen & Libations will offer a special Tang-inspired cocktail throughout Space City Month. The cocktail, Houston We Have Lift Off, was created by bar director Matt Sharp and will feature Tito's Vodka, Tang-infused citrus syrup and bitters.
Peli Peli – The CR7 cocktail at Peli Peli is inspired and visually depicted to mimic one of the oldest and brightest galaxies in the universe: Cosmos Redshift 7. The subtlety sweet and refreshing multi-layered drink is made with lemon vodka, elderflower liqueur, lemon juice, honey syrup, butterfly pea flower tea and strawberry puree. It's garnished with butterfly pea flower tea and ice that changes the top layer of the drink from blue to purple as it reacts with the acidity of the lemon juice, lemon wheel and FDA approved edible, kosher and vegan glitter. Talk about out of this world!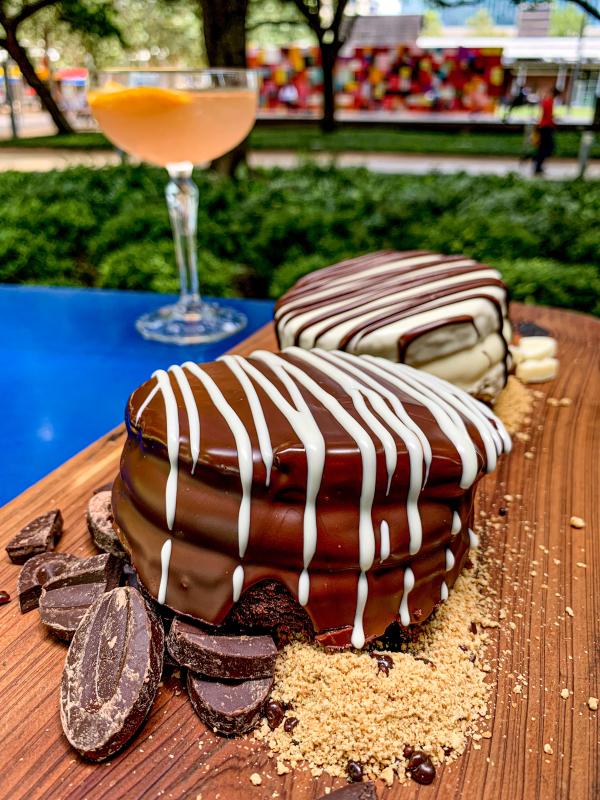 The Grove Houston – In honor of the 50th anniversary of the moon landing, The Grove Houston is celebrating with moon-themed treats and cocktails. Guests can sip on cocktails crafted with Old Smokey moonshine and nosh on full moon pies made in-house.
IIIForks Steakhouse – IIIForks Steakhouse is shaking up a signature Moonwalk Martini fit for celebrating. Crafted to resemble the milky white glow of the moon, this fruit forward martini is made with vanilla vodka, coconut rum, cream of coconut and pineapple juice.
Ouisie's Table Restaurant and Gardens – Enjoy Ouisie's 50th Anniversary Moon Walk pre-fixe food and cocktail menus. Pre-fixe menu items include a daily Soup of Tranquility and the One Small Salad for Man. Three main course options include a seafood Splash Down, the Texas quail and boar sausage Earth and Sky, and a Beef Sirloin au Poivre 11. The cocktail menu includes four specialty cocktails like the Moon Walk, a champagne cocktail created for the astronauts in 1969.
Brennan's of Houston – Takeoff to the Courtyard Bar at Brennan's of Houston for an out of this world 7-7-7 Menu. From 2 p.m. to 7 p.m. throughout the month of July, selenophiles can enjoy a selection of space-inspired, Texas-Creole bites accompanied by handcrafted cocktails and glasses of wine for $7 each. Bites include Blue Moon BBQ Shrimp, Saturn's Rings, Blood Moon Citrus Crudo, Half Moon Meat Pies and more.
BuffBurger – Celebrate space with you kids! Every free kid's meal at BuffBurger will come with a Space Activity Bag that includes space play dough and a moon coloring sheet with crayons. Kids eat free on Mondays and Tuesdays.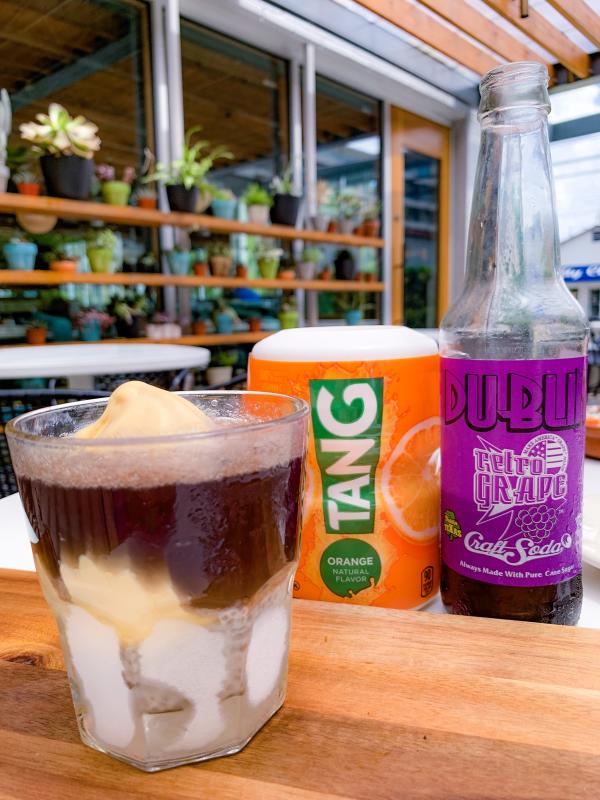 The Classic All Day - The Classic is offering a fun spin on iconic food items from 1969 including Tang soft serve, the Texas 1015 onion dip with goat cheese, bacon bits and dates, a spaghetti Bolognese with lamb and pancetta meatballs, a beef bourguignon with 44 Farms short ribs, and chicken à la king over organic red quinoa.
Le Colonial – On Jul. 18, transport yourself to another world at Le Colonial's Lunar Landing party featuring a live DJ playing the era's best hits! Donned in astronaut attire, the staff will be serving complimentary bites and cosmic-themed cocktails with proceeds benefitting St. Jude Children's Hospital. Footage of the actual Apollo 11 landing will be projected throughout the restaurant. 
Treebeards – Treebeards will be launching homemade moon pies throughout the month of July. The space-themed treat is made of graham cracker cookies, stuffed with marshmallow cream and covered in Ghirardelli chocolate. Moon pies will be for sale at all Treebeards locations in downtown Houston. 
El Big Bad – In celebration of the historic landing, El Big Bad is playing on an original cocktail from 2011, The Last Word. All month, guests can enjoy The First Word cocktail inspired by the first word spoken from the moon. Another fun fact, the first word spoken on the moon was "Houston". The First Word cocktail is made with Sotol Blanco, green chartreuse, maraschino liqueur and lime juice.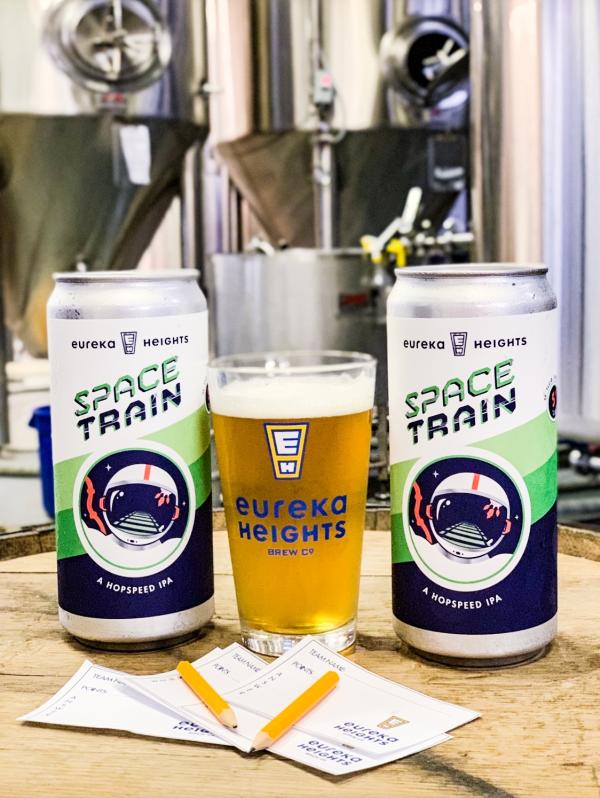 Eureka Heights – Join Eureka Heights on Jul. 11 at 7 p.m. for Trivia Night From Outer Space! Should you accept this mission, you will be quizzed on 20 out-of-this-world space-themed questions. Themed prizes will be award to the top three teams. During your stay on Planet Eureka, enjoy some of the local libations including variants of their Spain Train IPA.
Ember Tavern and Tanglewood Grille - Modern-day versions of the foods found on the Apollo 11 will be on a special menu at Ember Tavern and Tanglewood Grille in United Airlines' Terminal C and E at George Bush Intercontinental Airport during the month of July. The chefs even consulted NASA while developing the Apollo 11-inspired menu, but rest assured, travelers won't have to squeeze any meals from a bag.