Things to Do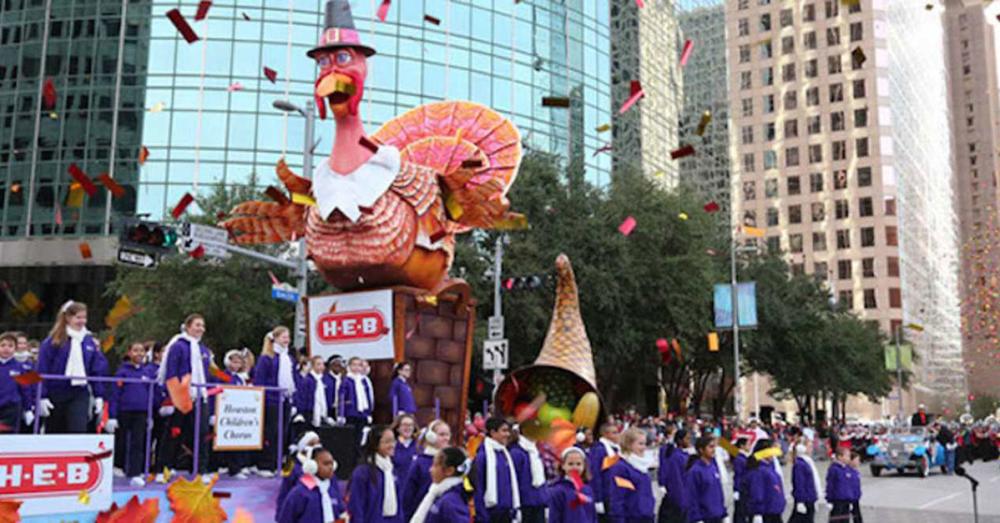 Lots of delicious food, football games on TV, Black Friday shopping – we all know what to expect come Thanksgiving weekend, but why not surprise the whole family by switching it up a bit this year? Wow them by trying one of these Houston-area holiday events.
Downtown
70TH ANNUAL H-E-B THANKSGIVING DAY PARADE
Thursday, November 28
At 9 AM on Thanksgiving morning, celebrate 70 years of our annual holiday tradition, the HEB Thanksgiving Day Parade! What began as Santa's sleigh ride through downtown and into Foley's in 1949 is now a beloved Houston tradition that ushers in the holiday season.
THING-A-MA-JINGLE ON MAIN STREET
Friday, November 29
Get into the holiday spirit and jingle all the way to Main Street Friday Night for a more adult holiday celebration. Thing A Ma Jingle on Main Street features cocktails, karaoke, live music, and the Black Friday Art Market.
RELIANT LIGHTS MAYOR'S HOLIDAY SPECTACULAR
Saturday, November 30
Join us from 5-8 PM as we ring in 100 years of Reliant Lights Mayor's Holiday Spectacular! Presented by Reliant Energy, the free to attend tradition continues this year with music, fireworks, Santa, and fun for the whole family in Hermann Square at City Hall. A toy drive will be held benefitting the Salvation Army Greater Houston Area Command, with donors receiving a light-up Santa hat from Reliant. Enjoy a performance by Chloe and Halle Bailey and while the towering tree illuminates our city streets.
View Event Details »
THE ICE POWERED BY GREEN MOUNTAIN ENERGY
November 15, 2019 - February 2, 2020
The largest outdoor skating arena in the Southwest is calling all ice skating lovers this year at Discovery Green in downtown Houston! The ICE powered by Green Mountain Energy opens November 15th through February 2nd and will be open on Thanksgiving Day from 11 AM - 11 PM.
A CHRISTMAS CAROL - A GHOST STORY OF CHRISTMAS 
November 15 - December 29
A festive retelling of the Charles Dickens classic, The Alley Theatre's production of A Christmas Carol - A Ghost Story of Christmas follows Ebenezer Scrooge's journey with the three ghostly spirits who visit him on Christmas Eve. This annual performance returns to the stage once more starting November 15th through December 29th.
View Event Details »
AVENIDA HOUSTON PRISMATICA ART EXHIBIT
November 22, 2019 - January 3, 2020
The Avenida is transformed into a giant kaleidoscope with this unique art installation. Prismatica brightens the holiday season with every color in the rainbow. Giant prisms reflect surrounding downtown Houston by day and project the full spectrum of light each night. 
View Event Details »
FULLY COMMITTED - A ONE MAN COMEDY
November 26 - December 29
Written by playwright Becky Mode, Fully Committed is a comedy tour de force in which 40 characters come to life in the hands of one man. Sam works the reservation line at one of New York's hottest restaurants, where the best food inspires the worst behavior. While juggling desperate callers who stop at nothing to land a prime reservation or the right table, can Sam still make it home for the holidays?
View Event Details »
HOUSTON BALLET'S THE NUTCRACKER
November 29 - December 29
It's just not the holidays without Houston Ballet's stunning annual performance of The Nutcracker. Travel to the Land of the Sweets with the Sugar Plum Fairy and her prince from November 29th through December 29th at Wortham Theater Center.
ZOO LIGHTS
November 17, 2019 - January 13, 2020
Every year during the holidays, the Houston Zoo transforms into a magical wonderland of lights. More than 15 miles of LED lights light up the zoo's beautiful trees and pathways. The zoo is closed on Thanksgiving Day but it will open during the evening for visitors to enjoy its display of lights while sipping on hot chocolate and taking in the sights and sounds of the season.
Uptown
32ND ANNUAL UPTOWN HOLIDAY LIGHTING
Thursday, November 28
The 32nd Annual Uptown Holiday Lighting event will return on Thanksgiving evening 2019, kicking off the holiday season and celebrating Post Oak Boulevard's newly completed transformation.
An iconic and time-honored Houston tradition, the family-friendly celebration will be reimagined with the lighting of over 300 all-new, twenty-foot-tall holiday trees that will line Post Oak Boulevard from the West Loop to Richmond Avenue. Four times the number of traditional tree decorations that existed in years past, the custom artisan-fabricated holiday trees will feature an amazing integration of lighting technology that all ages will enjoy.  
BakerRipley HOUSTON TURKEY TROT
Thursday, November 28
The BakerRipley Houston Turkey Trot is an annual event that supports the mission of BakerRipley, a nonprofit that has served this region for 112 years. Register now to participate in this fun, exciting race that helps build community, create opportunities, and crush inequities.
Southeast Houston
MAGICAL WINTER LIGHTS
November 15, 2019 - January 5, 2020
Embracing Houston's diversity, Magical Winter Lights at Gulf Greyhound Park is a spectacular, larger-than-life festival that presents a fresh multicultural take on traditional holiday light shows. Including lighting themes such as Mystery of the East, Dinosaur Land, and Landmarks of the World, your family will not soon forget this atypical holiday celebration. Just a short drive away in La Marque, TX, Magical Winter Lights will be open during the entire Thanksgiving weekend, including Thanksgiving Day.
View Event Details »
Northwest Houston
45TH ANNUAL TEXAS RENAISSANCE FESTIVAL
October 5 - December 1
During the final weekend of the 2019 Texas Renaissance Festival, the fairgrounds will be transformed into a momentous winter wonderland, taking on the theme of 'Celtic Christmas'. Expect Christmas trees, holiday music, and shops decorated in the lights and symbols of the season. Looking to get started on your holiday shopping list? Find unique gifts at the Shoppes of New Market, which stocks items not of this century. Also, don't forget to bring your competitive spirit to the holiday costume and pumpkin pie eating contests. Huzzah!
Find even more to do this Thanksgiving weekend with our Calendar of Events.