New Hotels in Houston
Hot spots on the horizon, recently renovated 
Houston's hotel market is on fire. Growing demand for rooms has led to rising occupancy rates and a slew of new development. More than 2,300 rooms will come online Downtown alone in the next few years, with hundreds more slated for the Galleria, Energy Corridor and the Medical Center.

Check out the projects being planned, in order of expected completion dates, as well as those properties that recently got face lifts.
Now Open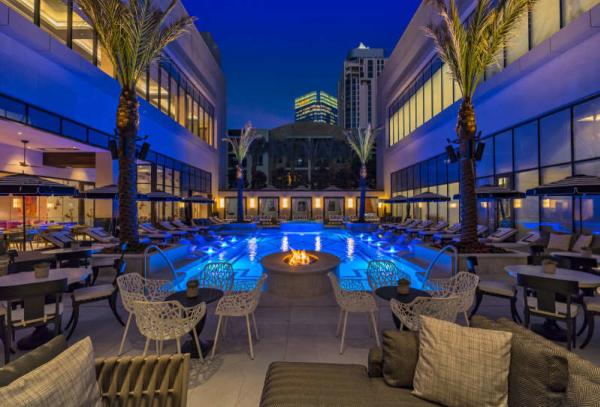 C. Baldwin is a high end and hyper-localized, independent hotel slated for a summer 2019 debut – inspired by the Bayou City's unsung hero, Charlotte Baldwin Allen, who used her inheritance to finance the City of Houston. From stylishly inspired guestrooms, stunning common areas and a signature restaurant – also named after a groundbreaking woman – to a luxury nail salon, curated local retailers, activated green space and 14,000 square feet of state-of-the-art meeting and event offerings, C. Baldwin is assuredly upping the ante in Houston's hospitality landscape.
AC Hotel By Marriott
Downtown's century-old Houston Bar Center will soon be transformed into an AC Hotel by Marriott. The $44 million European-style project will be located at 723 Main and bring 185 new rooms to the area.
InterContinental Houston - Medical Center
InterContinental Houston - Medical Center brings modern luxury to the Texas Medical Center. The 22-story, 354-room hotel opened at the beginning of 2019. Travelers looking for a modern retreat next to the world's largest medical complex can look no further. As the first full-service luxury hotel for the area in decades, the hotel is also conveniently located in Central Houston within close proximity of the city's Museum District, Houston Zoo, Hermann Park and several other attractions.
The Post Oak at Uptown Houston
The Post Oak Hotel at Uptown Houston is Houston's newest luxury destination, and has earned a AAA five Diamond within six months of opening. The 10-acre development boasts a 38-story tower with 250 guestrooms and suites; 20 executive residences; and 35,000-square-foot conference facility. Unique amenities include a two-story Rolls-Royce showroom and on-site Bentley and Bugatti Post Oak Motors dealership, as well as signature restaurants including Texas' first Mastro's Steakhouse and the new Willie G's Seafood.
Hotel Alessandra
Hotel Alessandra is downtown Houston's newest luxury boutique hotel.   In a city that has long buoyed the bigger is better mantra, Hotel Alessandra aims to reverse that tradition with intimate intrigue.  The twenty one-story hotel, offers amenities, such as complimentary, on demand Maserati car service, within the downtown area along with  complimentary Wi-Fi throughout the hotel.   Enjoy our award- winning restaurant, Lucienne, Bardot Bar, rooftop pool and Spa by Alessandra.  We also offer over Five thousand square feet of meeting space, along with a private board room on the 21st floor with an expansive veranda, offering unparalleled views of the city skyline.  We are located on a prime site in downtown Houston's  pedestrian-oriented Green Street development, opened fall 2017.
Hotel ZaZa - Memorial City
Z Resorts, the management company responsible for Hotel ZaZa, has partnered with MetroNational Corp. to bring the sophisticated boutique hotel brand to Memorial City at the intersection of Interstate 10 and Bunker Hill Road. Hotel ZaZa Memorial City will provide 158 creative and exciting guest rooms including seven specialty concept suites, over 22,000-square-feet of event and meeting spaces, social events fit for 6 – 600 people, and romantic personal getaways. Amenities will include an outdoor poolside experience with neighboring pool bar, ZaSpa, and a fine dining restaurant and nightlife-oriented lounge. 
Coming Soon
Cambria Hotel Houston Downtown - Opening July 2019
The new hotel will occupy the current 21 story Great Southwest Building – a long historic landmark in the center of Downtown which was originally built in 1927 and features unique Art Deco Décor accents through the buildings architecture. 
Thompson Hotel Houston - Opening 2019
Denver-based Two Roads Hospitality announced plans this week to open a Thompson Houston hotel along Allen Parkway about halfway between downtown and River Oaks. The proposed project, on a 6-acre site next to the Federal Reserve Bank building and across from Buffalo Bayou Park, is envisioned as a mixed-use development that would include the hotel along with residences, shops and offices. More...
Hyatt Place Hotel - Opening 2019
The former Southwestern Bell Telephone Company building in downtown will soon be the location of the new Hyatt Place Hotel. This $22.8 million project will transform the 16-story building into a full-service hotel complete with 150 guestrooms, ground-level dining, rooftop cocktail bar, indoor pool, and fitness center. More...
Updated
The Houstonian Hotel, Club & Spa - Reconstruction begins late 2019
The Houstonian Hotel, Club & Spa will soon begin work on its new master plan, just in time for the venue's 40th anniversary.  Overall, the project is expected to cost $45 million. The Houstonian sits on 27 acres at 111 N. Post Oak Lane in the Uptown/Galleria area. Plans for the hotel include completely remodeling guest rooms and suites, creating "an enhanced arrival experience," updating the hotel's Great Room lobby, adding a new deck overlooking Buffalo Bayou, a new indoor-outdoor restaurant overlooking the pool areas plus redesigning and expanding multiple club studios and childcare areas, a rooftop event space will be added for movies, entertainment and gatherings.Trellis Spa will be completely refurbished, and plans include a luxury outdoor water experience. More...

The Lancaster Houston Hotel - Reopened Fall 2018
The Lancaster Hotel is a historic luxury boutique hotel in the heart of Houston's vibrant downtown Theater District. Recently renovated and reopened, the landmark hotel enjoys a legacy of nearly 100 years of providing exceptional service and hospitality. It is also known for its long history of hosting a diverse list of celebrity guests that have included - a horse, opera singers, musicians, actors, dancers, screen writers, film stars, poets, authors, politicians, wrestlers, boxers, circus and rodeo performers. While acknowledging its 1926 charm, The Lancaster Hotel now presents an improved and redefined version of itself, poised for its next century of service.
Taking inspiration from the classic Regency style, the redesigned hotel is accented with clean, elegant lines and an intimate yet open floor plan creating a more modern living scenario. The Lancaster places a new focus on the visual arts with its curated collection of over 200 contemporary works of art by more than 100 internationally recognized and respected Texas artists.