Houston's dining scene is a tapestry of cultures and cuisines, and during the month of May, Asia Pacific American Heritage Month, we want to highlight 12 different restaurants representing the diversity of Asia in the Bayou City. 
Vietnamese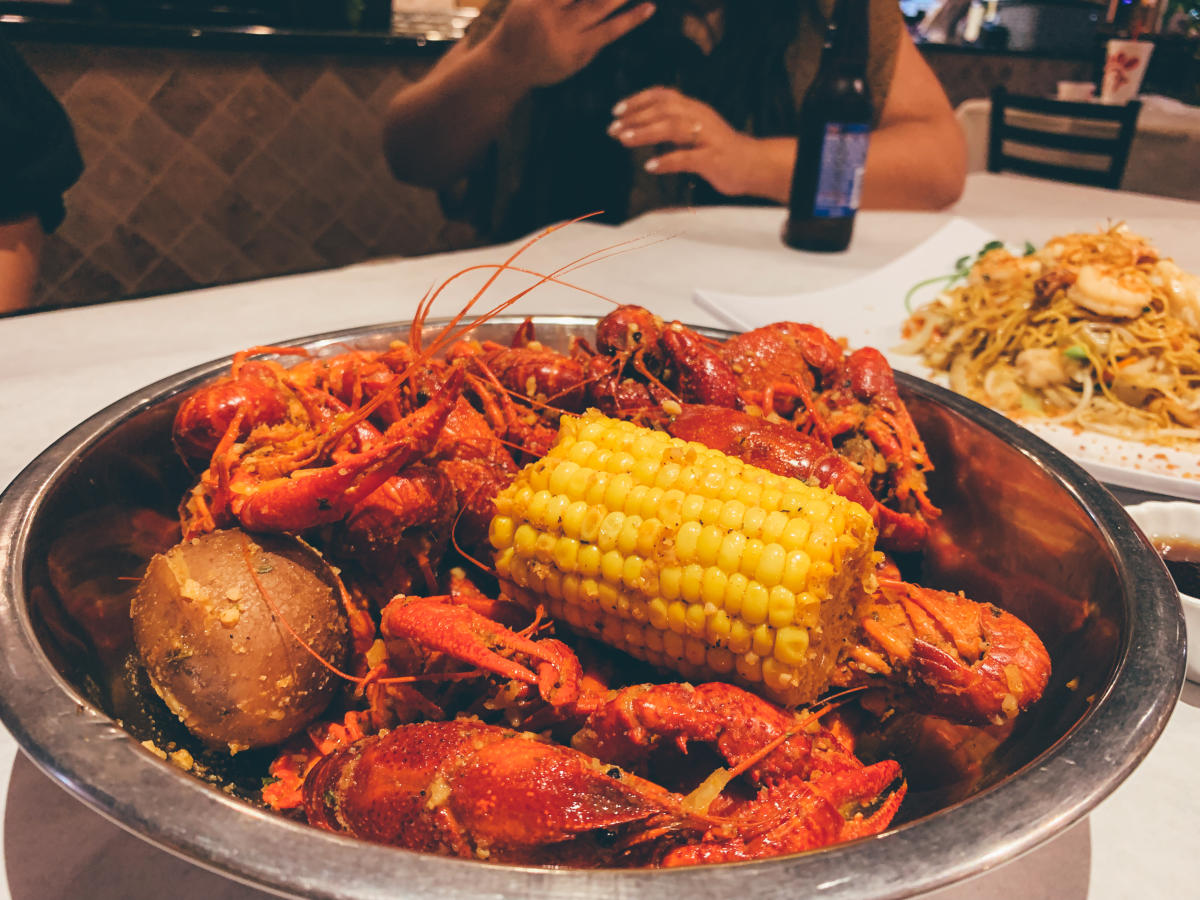 Crawfish & Noodles
11360 Bellaire Blvd. Ste 990, Houston, TX 77072
Cuisine: Vietnamese
Neighborhood: Alief
Crawfish & Noodles is now a name recognized nationwide after its feature on Netflix's "Ugly Delicious," the Travel Channel, Food Network, and other media outlets. It has become the face for a quintessentially Houston creation: Viet-Cajun crawfish. Whether you prefer your crawfish mild or spicy, this cultural fusion will always feature a generous amount of garlic. This, and the emphasis on infusing the crawfish with seasoning every step of the way, differentiates Viet-Cajun from the original Cajun style boil.
Indian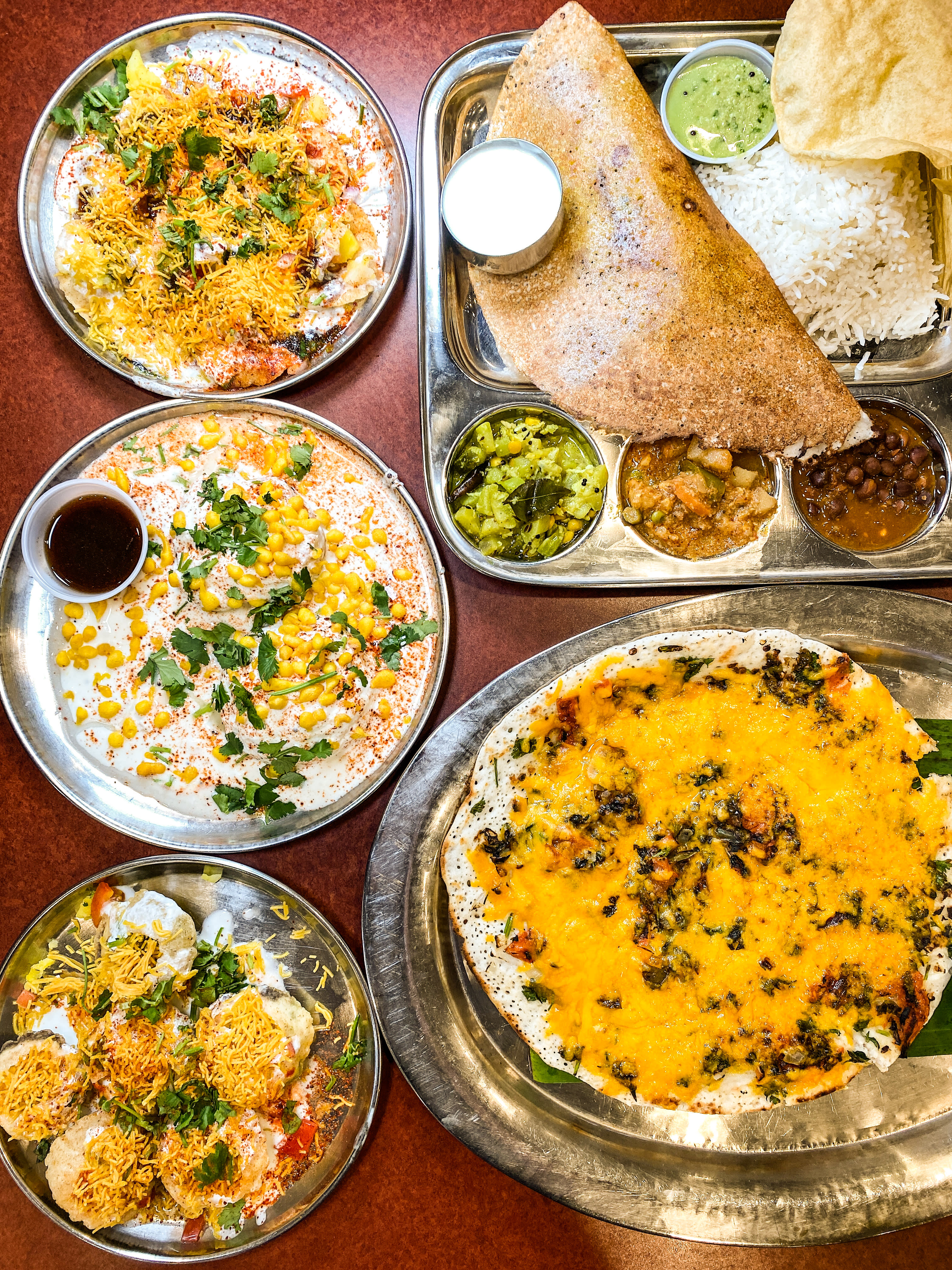 Photo courtesy of @HoustonsGotSpice
Shri Balaji Bhavan
5655 Hillcroft St. Houston, TX 77036
Cuisine: Indian
Neighborhood: Gulfton
It's time that you are introduced to a Mahatma Ghandi District classic, tucked away in a strip center on Hillcroft. Small plates are the way to go here, making sure to include the Papdi Chaat, a plate of flour crisps topped with chickpeas, mint and tamarind chutneys, spices, and pomegranate seeds, among other flavors. Don't miss the Puri: crunchy puffed shells overflowing with ingredients like potatoes, onions, chutney, and tomatoes. Between these addicting bites and the giant crepe-like Dosa, you'll wonder why you aren't vegetarian after all.
Chinese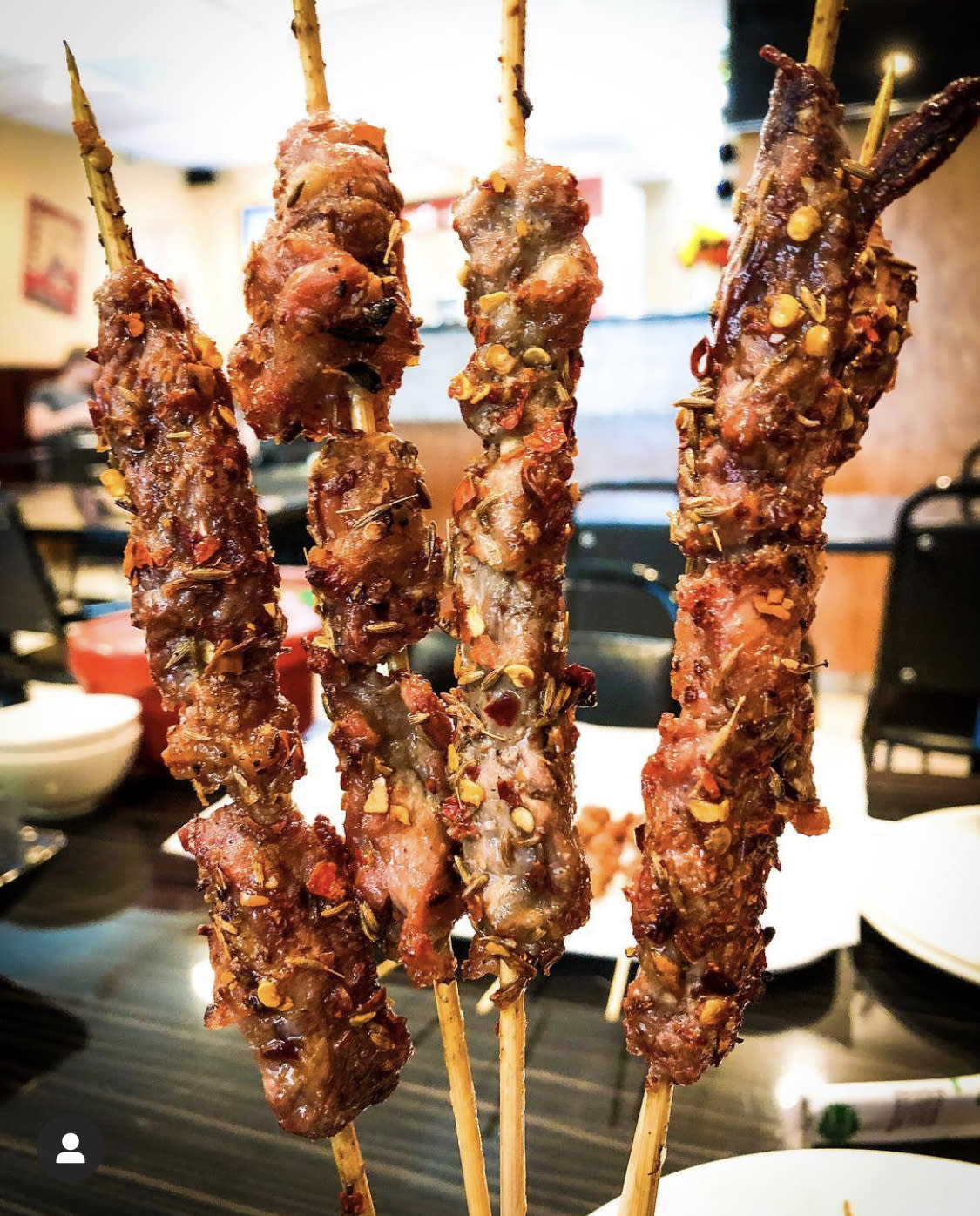 Photo courtesy of @HoustonsGotSpice
Xin Jiang BBQ
9260 Bellaire Blvd. Houston, TX 77036
Cuisine: Chinese
Neighborhood: Asiatown
The Chinese character for "skewer" painted prominently on the door of Xin Jiang BBQ gives visitors a hint as to the specialty at this essential Chinatown restaurant. Dining at Xin Jiang would not be complete without indulging in their incredible lamb fat skewers, or the classic beef and lamb skewers, all coated with copious amounts of cumin. Small enough to strike the perfect level of tenderness without being chewy, and cheap enough to order as many as your heart desires, these skewers will keep you coming back for more.
Afghani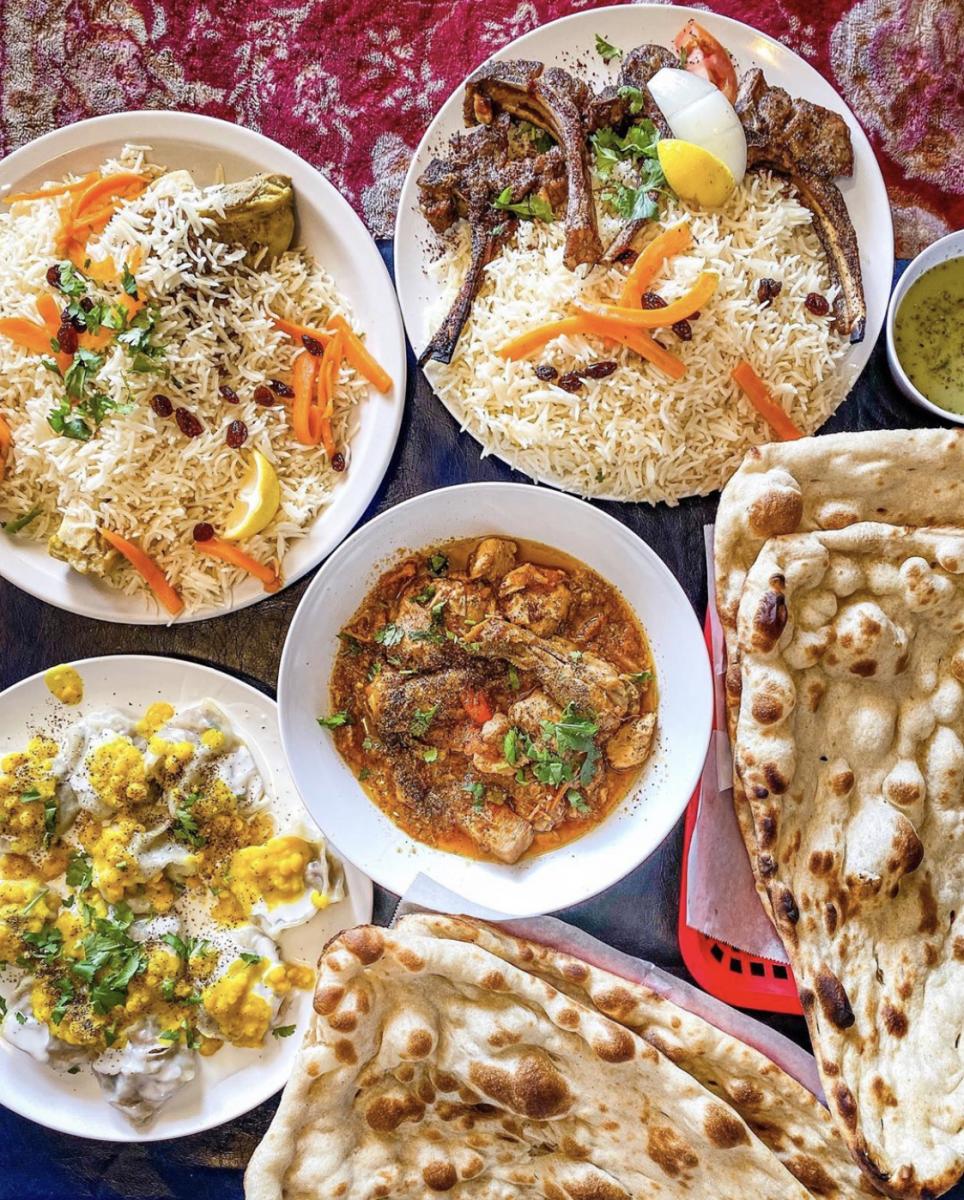 Photo courtesy of @HoustonsGotSpice
Afghan Village
6413 Hillcroft St. Houston, TX 77081
Cusine: Afgahni
Neighborhood: Gulfton
Owned by a refugee family from Afghanistan, Afghan Village not only cooks delicious Afghan food, but gives back to the community by partnering with the local non-profit Houston Welcomes Refugees. For many refugees resettling in the Sharpstown area, food from Afghan Village is the first meal they will enjoy in the Bayou City. Your ordering "cheat sheet" should include the Afghan Mantoo (dumplings), the Shinwaray Lamb Kabobs, the Lamb Shank Pilau, and the Bouranee Baunjan, a tasty eggplant dip appetizer eaten with naan. The best dine-in experience is found enjoying your food while seated on the raised seating area, on the rug in traditional Afghan style.
Pakistani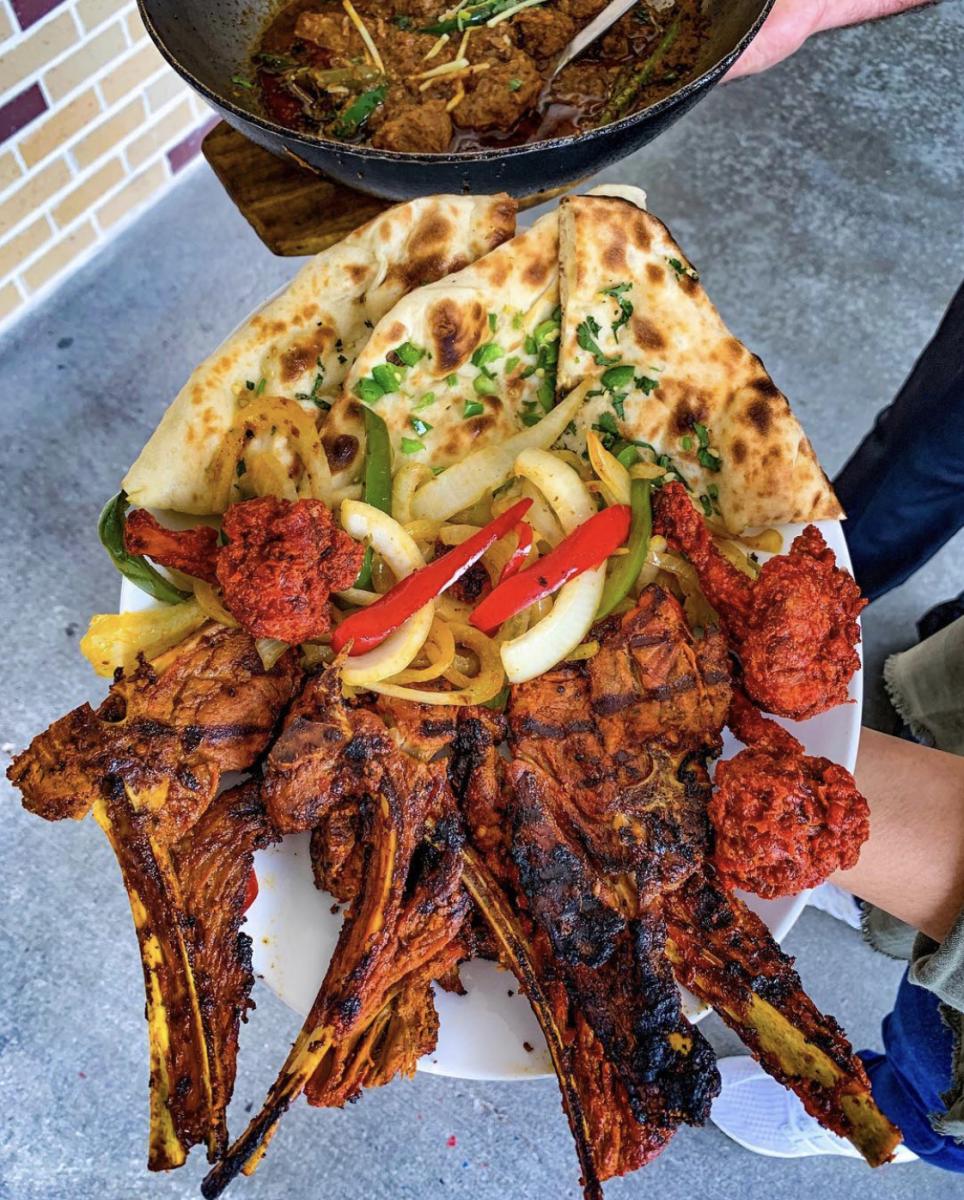 Photo courtesy of @HoustonsGotSpice
Aga's Restaurant and Catering
11842 Wilcrest Dr, Houston, TX 77031
Cuisine: Pakistani
Neighborhood: Southwest Houston
Look no further for Houston's best Indo-Pak halal hotspot. Aga's has been serving up tender karahis, grilled goat chops, and mouthwatering curries for over two decades, and has become a household name in recent years. Each spice-filled bite (the hotter the better) bursts with more flavor than we thought could fit in one spoon. Cool down with the creamy Kulfi Falooda ice cream, a traditional Indian ice cream with flavors of rose and pistachio. 
Israeli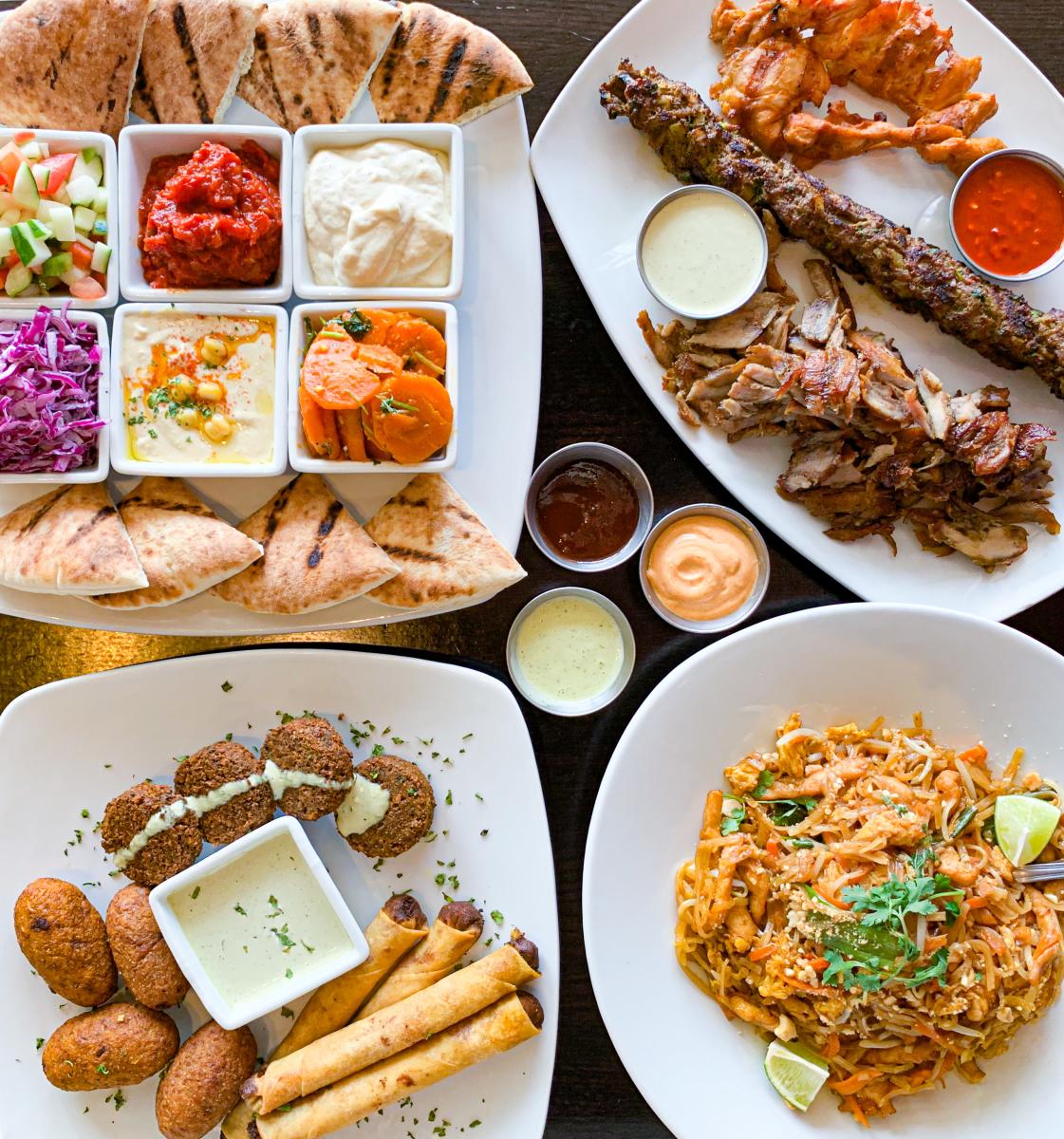 Photo courtesy of @HoustonsGotSpice
Sabas Grill & Wok
5413 S Braeswood Blvd, Houston, TX 77096
Cuisine: Israeli
Neighborhood: Meyerland
Keeping Kosher can be difficult to do when eating out at restaurants, and even more difficult when looking for Kosher international food. Luckily, Sabas Grill & Wok offers a Kosher take on Asian food, along with typical Middle Eastern plates. You'll find Dan Dan Noodles and Sesame Chicken alongside Shawarma, Kabob, and much more. This is the sister restaurant to Saba's, the longest-running Kosher restaurant in Houston. 
Korean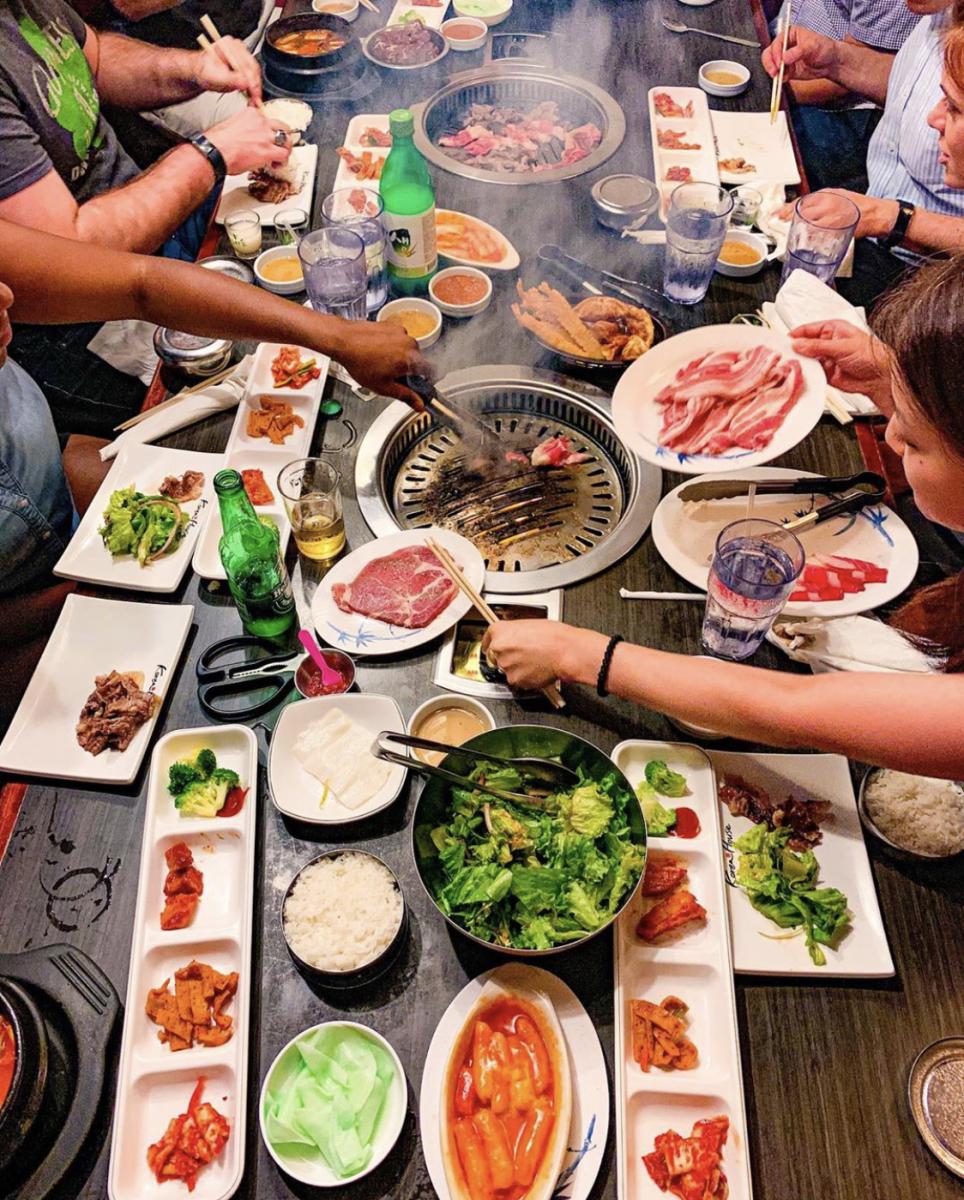 Photo courtesy of @HoustonsGotSpice
Korea House
10078 Long Point Rd, Houston, TX 77055
Cuisine: Korean
Neighborhood: Spring Branch
Sitting down at a Korea Garden grill, tongs in hand, and a pile of meat ready to be devoured is a recurring "after quarantine" daydream. Grab a group of hungry friends, choose your all-you-can-eat menu, and get ready for a flood of plates to take over your table. Soon you'll be surrounded with banchan, the side dishes which complement the savory meat with fermented, tangy, or salty flavors. Wrap the meat and your choice of banchan in a thin slice of radish (taco-style) or simply eat however you see fit; there's no wrong way. 
Japanese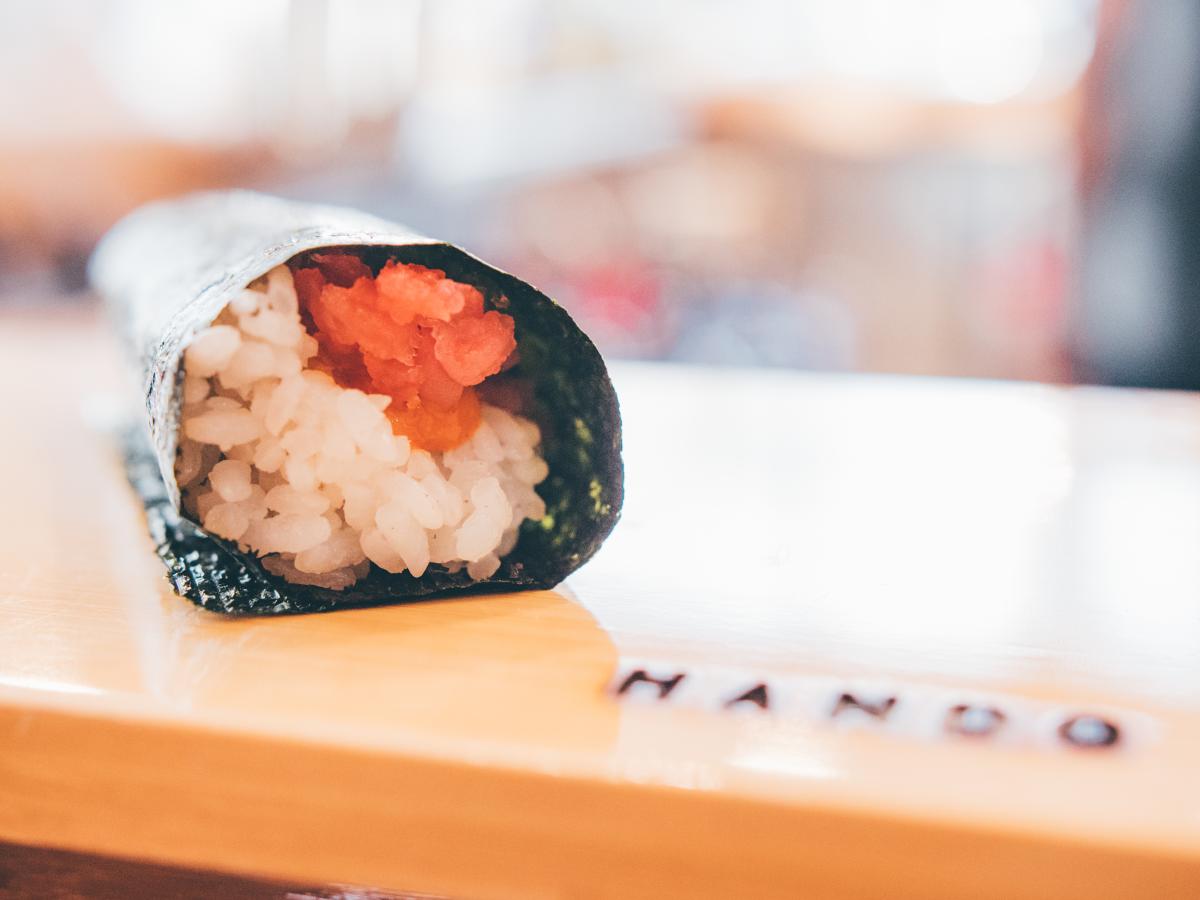 Hando
518 W 11th St Suite 500, Houston, TX 77008
Cuisine: Japanese
Neighborhood: The Heights
Last year, Hando jumped on the sushi handroll (temaki) trend, opening up its 22-seat sushi counter for business in the Heights. Salmon, Toro, or a variety of sushi-grade seafood cuts are wrapped in the cylindrical seaweed tube, meant to be picked up by hand (of course). These are best eaten immediately when placed in front of you, for maximum freshness. 
Filipino
7,000 Islands
4901 Rose St, Houston, TX 77007
Cuisine: Filipino
Neighborhood: Rice Military
7,000 Islands is a Filipino restaurant single-handedly run by Chef Gabe Medina inside Click Virtual Food Hall. What's a virtual food hall? A group of restaurants operating out of one location, accessible to customers only through delivery or pickup. Download the company's app and you can peruse the food the various restaurants offer. Ordering from 7,000 Islands means choosing from Filipino dishes like Pancit noodles, Adobo chicken, Menudo, and a variety of tantalizing entrees and appetizers.  
Persian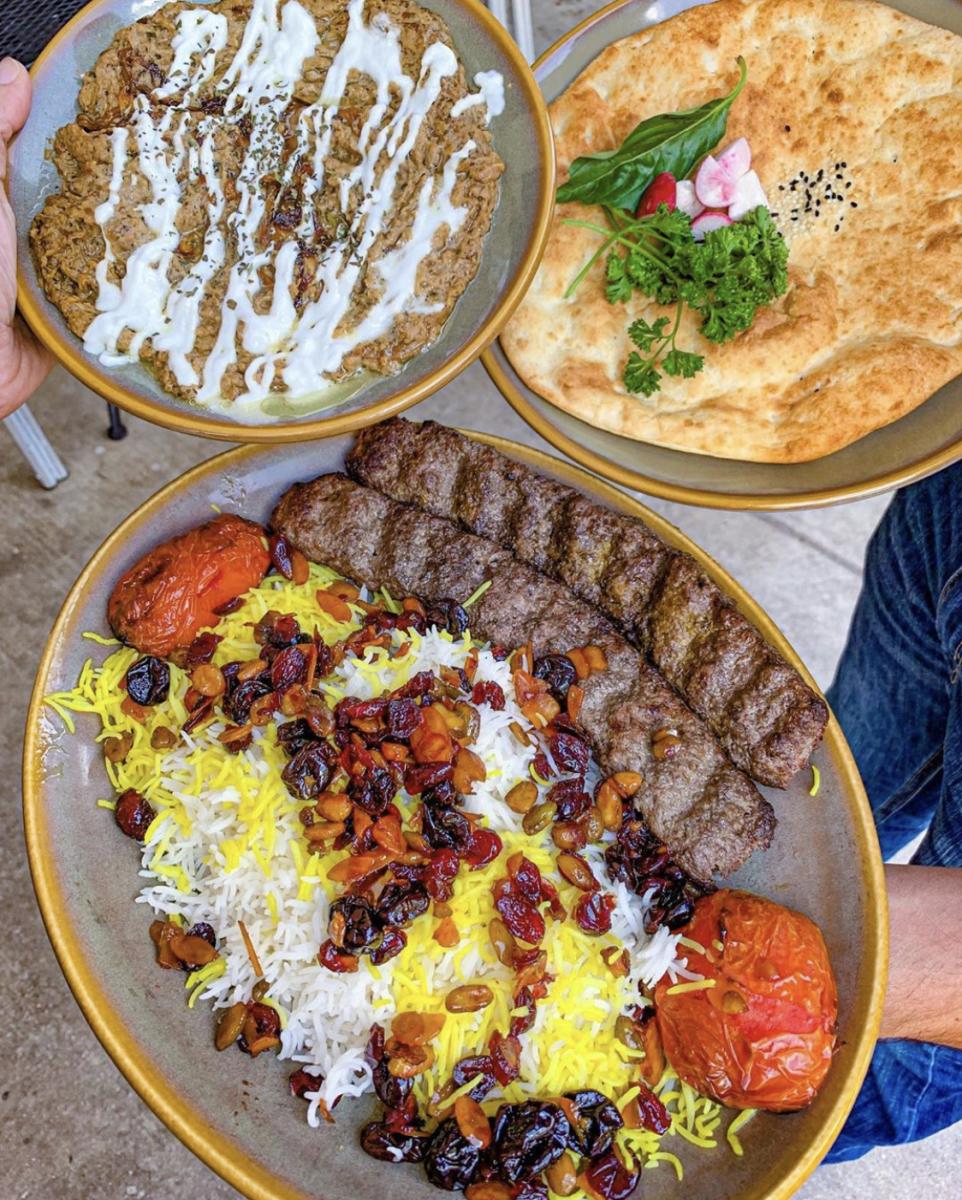 Photo courtesy of @HoustonsGotSpice
Avesta Persian Grill
2691 Wilcrest Dr. Ste A, Houston, TX 77042
Cuisine: Persian
Neighborhood: Westchase
Whatever you order at Avesta Persian Grill, it should involve a heaping helping of cherry-covered rice. This buttery, yellow and white rice is sprinkled with dried, tangy cherries and goes perfectly with Persian style Koobideh (beef kabob) and roasted tomatoes. The Kashk-e-Bademjan eggplant dip appetizer is eaten with fresh naan straight from the tandoor oven, something you don't want to miss out on. Go the traditional route and accompany your meal with a black cardamom tea with a few lumps of sugar. 
Taiwanese
Tainan Bistro
9306 Bellaire Blvd, Houston, TX 77036
Cuisine: Taiwanese
Neighborhood: Asiatown
Eating at Tainan Bistro is a Chinatown experience that everyone needs to have. Tainan is a city in Taiwan, explaining the restaurant's specialization in southern Taiwanese cuisine, in a quick and casual atmosphere. The menu displayed behind the counter will be indecipherable to you if you do not read Mandarin. But fear not; the handheld menu has English translations. From bao zi buns, to fried noodles, soups, fried pork, and more, you can expect to leave with a full stomach without breaking the bank.