Houston has an expansive museum district and hundreds of art galleries. The city is busting at the seams with talented artists, which is why talented muralists have taken to the great outdoors to showcase their large scale pieces. Hop on a bike or in a car and take a tour with us through the city to discover these spectacular pieces of art.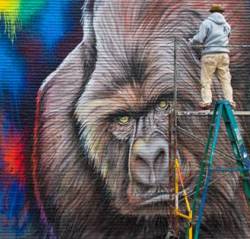 8. 2119 Washington Ave.
For at least the next six months you will find these gorgeous gorillas through town as a collaborative project among the zoo, artists and business owners. The zoo recently commissioned five well-known Houston artists to take to the streets as part of a promotion leading up to the grand opening of the zoo's upcoming gorilla exhibit.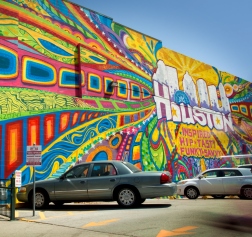 7. 420 Travis Street
The colorful mural from acclaimed graffiti artist GONZO247 is up on the side of a historic building that currently houses Treebeard's restaurant, just across from Market Square Park.The mural is an offshoot of the Greater Houston Convention and Visitors Bureau's new Houston Is... ad campaign and aims to boost local pride by drawing attention to the city's more celebrated characteristics.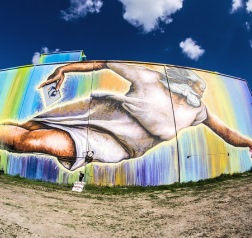 6. 2800 San Jacinto Street
Standing more than 60 feet tall and 180 feet wide, Artist Sebastien "Mr. D" Boileau took his vision for the mural, titled "Preservons La Creation" (Let's Preserve the Creation), to 2800 San Jacinto Street. There, he created Houston's largest mural to date. The result is a staggering portrait of God, arms outstretched, spray paint can in hand, along 8,000 square feet.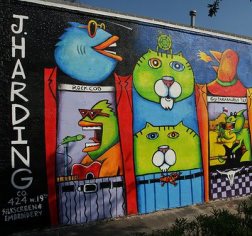 5. 424 W. 19th Street
The locally owned T-shirt printing and design company welcomes guests with bright animals on the building's side. The colorful mural was created by local artist Beans Barton in 2008.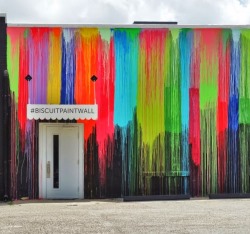 4. 1435 Westheimer Road
Created by French, Houston-based artist Sebastien "Mr. D" Boileau of Eyeful Design. The #BiscuitPaintWall can be found in the heart of Montrose and was created for Biscuit Home when they relocated to the neighborhood in May 2014.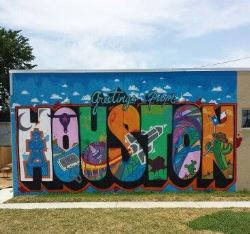 3. 3601 White Oak Drive
Grab a scoop at Gelazzi and enjoy this 1970s style postcard mural by Houston artist Daniel Anguilu. Greetings from Houston sums up the Bayou City with colorful iconic images.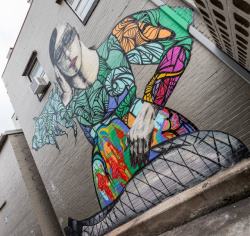 2. 3825 Fannin Street
Collaboration with French Artist Kazyusclef and Houston artist Daniel Anguilu.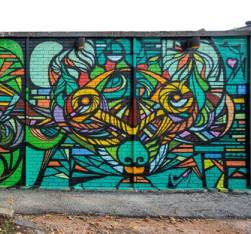 1. 1701 commonwealth
The Flat is a much-loved neighborhood lounge that's popular with the inner-loop's laid-back, alternative crowd. But before you head inside, take a look at this mural by Houston artist Daniel Anguilu.