Chef/Owner of Reef, Little Bigs and El Real Tex-Mex Cafe
Staying true to his Gulf Coast roots, Chef/Owner Bryan Caswell imparts his love for fishing and the ocean in his seasonally-changing, award-winning Reef restaurant. Diners love the spot's refined blend of locally-grown produce and use of Third-Coast-caught seafood, as do foodies on the national stage.
He has expanded his restaurant empire with Little Bigs and El Real Tex-Mex Cafe. 

Caswell has been named a Finalist for a James Beard Award and Food & Wine magazine named him one of the "Top 10 Best New Chefs" in 2009. In 2010, Caswell also competed on the third season of The Food Network's The Next Iron Chef and hosted Best in Smoke, also on The Food Network.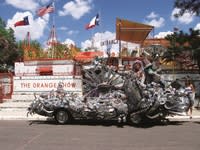 Birthplace...Lafayette, Louisiana.  I moved to Houston when I was two years old.
Favorite type of cuisine...Whatever I'm in the mood for that day.
In one word, the Houston culinary scene is...Home.
A Houston must-see... Besides my restaurants? I think the Orange Show and The Menil Collection are two of the biggest and coolest things we have. Also, the parks and Westheimer after 10:30 at night.
One thing in Houston I haven't experienced yet, but would like to...I haven't canoed Buffalo Bayou. I have canoed the Sabine, the Brazos, the Colorado and the Old and Lost Rivers, but I've never done the Bayou. I'm dying to do it! I don't want to do it in a kayak. I want to do it in a canoe with a little motor. That's definitely one of the things I want to do--canoe through Downtown.
Favorite local ingredients...Underutilized Gulf fish--tripletail, trigger fish, amberjack, cobia, wahoo, croaker, blacktip shark.
Houston's hidden gem...My boat in Freeport--it's only 35 minutes away.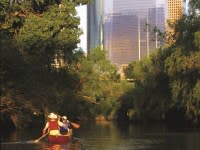 Local inspiration...The coast is my inspiration.
Inspiration for my menu...Houston--its diverse group of cultures.
Favorite off-the-beaten-path restaurant...It changes on a regular basis. I've been going to this place called Dadami. It's off of Long Point Road with live octopus and is open until midnight. The arms are still moving and that might freak people out, but it's very fresh and very tasty.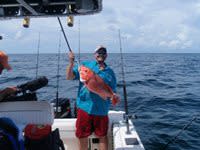 Why Houston?...I never want to live anywhere else. This town is incredibly unique in its own right. Many people seem to compare Houston to other things, but there's nothing to compare to us. If you believe in Divine Providence, I didn't have a choice and I had to be here.
How Houston's culinary scene stacks up to the rest of the country...For me? I really don't care if anybody thinks we're any good. We can pretty much operate on our own, and I don't understand why I have to prove to somebody who comes into town that Houston is as good as other cities. I've worked all over the world and have constantly been told that we didn't have what it takes, and it's not my fault that they don't know what they're talking about. I tell people all the time that we're the most diverse city, but they all look at me like I'm crazy. They have no idea.
Explaining Houston to outsiders...It all depends on what they do. If they're a foodie-type person, I'll tell them we have more culturally diverse restaurants than anywhere else in the United States. If they're a fisherman, I'll tell them I can be on my boat within 30 to 35 minutes from my restaurant. There's something for everybody here. It's an incredibly approachable town, the people are fantastic, it's easy to start a business here, we never really saw a recession, and we can go on and on and on. The only thing we don't have is snow and mountains, and I hate the cold!
Always in my refrigerator at home...Blue Bell ice cream, La Espiga de Oro tortillas, La Croix with lime.
If I weren't a chef, I'd...be an outfitter (hunting and fishing guide).
Favorite cocktail...Wild Turkey and club soda, no fruit.