Graffiti Artist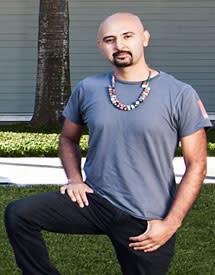 Graffiti artist GONZO247 started imparting his spray paint-based street art on the Houston scene more than 25 years ago. Since then, the self-taught artist has owned and operated Aerosol Warfare Gallery/Studio, established a Houston Wall Of Fame (the city's first art production of its kind), worked with top brands like Red Bull, Converse, Scion and Hennessy on urban-inspired advertising campaigns, and produced videos documenting street art. 

In addition to his mural, studio and production work, he continues to teach his medium through urban art programs and spearhead Aerosol Warfare.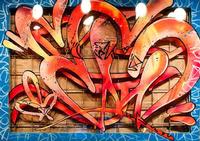 Birthplace...Born and raised in Houston and proud of it. I love the city. I try and get out as often as I can to other cities, but it's always great to come home.

What attracts me to Houston...I think Houston is the last great American melting pot. We have pretty much everything you could want and need in town. It's a big city in a small town. You can get anywhere you want to go in minutes. Culturally, we have some of the best food and some of the best art. Everything we do here can definitely compete with all the other major cities. Unfortunately, I think people overlook Houston or sidestep us. We're not east, we're not west, we're Third Coast. Houston has so much to offer. If you give us the opportunity, we can show you we're cool.

Houston is...because we're not east or west coast, we have our own thing going on. We can survive the storm. I think a lot of Houstonians rally when they need to and support each other. Even within the scenes, a lot of artists support the theater groups and the theater groups support the restaurants--it's full circle. Everyone supports each other. It's not like each band of a creative culture is its own thing and reclusive.

Evolution of my art...I started out as traditional graffiti artist, which is using spray paint to create letters and words on walls. I got into it in 1984, so at this point I've been doing it for more than half of my life. Through that time frame, I've evolved as an artist, as well. I still consider myself a graffiti artist. Right now, there's a bigger umbrella called street art and that encompasses, for most people, everything under the sun that you can put on a wall. All of that is still technically considered graffiti...The style of art I'm working on right now, it's aerosol art. It's artwork that, if you didn't see me do it, you would look at it and appreciate it for what it is, versus seeing it and thinking, 'that's a piece of graffiti, I'm going to move on.' I try to blend different styles to create a unique piece of art.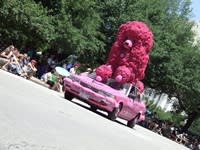 How Houston's art scene compares to the rest of the country...I think Houston's art scene can blow away other cities. I travel a lot, I check out what's going on, really to do some recon and come back and kind of use it as a comparison with Houston. As far as the graffiti art and street art, I've seen some phenomenal work here in Houston that, if you were to see it in another city, you would be like, 'oh, yeah, that's awesome.' But unfortunately, many people, because we're from this area, won't give us the credit we deserve.
When I'm not working...It's funny because, for me, there's blurry lines between my social life and work life and private life and hobby life, because it all revolves around art and spray paint. I went on a "vacation" to Art Basil in Miami, which is fun on a personal level, but then I end up scoring a wall, so now I'm painting and it's work, but I'm having fun.

Where I go to experience art...The Menil is obviously a to-go spot. A lot of friends that come in from out of town, they make a point to visit the gallery. It's definitely a focal point. But I think, to get a really good sense...the Art Car Parade is kind of the best of the good, the bad and the ugly. Obviously, there's not too much fine art in the parade, but what I love about it is that it's all grass roots, everyone's an artist and you don't necessarily have to be in a box where everything that's contained in "this box" is good art or whatever is contained in "this box" is considered legitimate. What I like about the art car parade is you have everything from kids working on a car to very well-known established artists working on a car, but once they go down Allen Parkway, it's just a collage of art coming in and out, on all different levels...I park my car, I get my camera, I'm out in front of the line, watching all the graffiti come by and taking pictures and video. That's what the art car parade is for me-you sit and the art passes you by.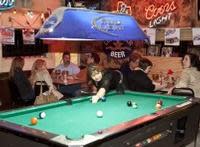 Finding the unique places...I definitely like, on a variety of levels, little diners. Frank's Grill comes to mind, just a little hole in the wall that you can get some great food for a great price. I think the city is full of these little mom and pop type shops that aren't big name chefs, that don't have a lot of money backing them, it's just a person that has a love for the food and it shows through. I love visiting and supporting those. There's a place called Alice's Tall Texan on Main and again, the city has hundreds of these little venues, but this is one, in particular, that I visit. Alice is the owner and you can tell she loves being there and it emits through the entire facility.