Southern by nature, spicy by virtue, and delicious by all standards. Soul food is the ultimate comfort food. The depth of flavors in the seemingly innocuous ingredients is an art form that few can master. Ham hocks, chitterlings, smothered oxtails and mac and cheese, catfish, okra and lima beans round out some of the usual soul food suspects.
To bring out the best in Houston soul food, enjoying soul food with friends and family is a must. In fact, families run a number of Houston soul food restaurants and some patrons swear you can taste the love in each dish. Below are a few of our favorite restaurants to enjoy hearty home cooking.
5512 La Branch St. Houston, TX 77004, Museum District
This Southern cuisine restaurant, which debuted in 2012, pays homage to Lucille B. Smith, the great grandmother of the owners Chris and Ben Williams. Lucille's cookbooks and entrepreneurial spirit inspired the brothers to replicate some of her famous recipes for foodies like yourselves! Fried green tomatoes, shrimp and grits, and chicken and waffles are just some of the many items to choose from on their expansive menu. Creative signature cocktails such as Purple Rain and Elephants and Flowers make for a lively happy hour with fruity mimosas starting your brunch off right.
Soul Food Vegan
2901 Emancipation Ave., Houston, TX 77004, Third Ward
Not an eater of meat or dairy but still looking for something delicious to sink your teeth into? Look no further than Soul Food Vegan! This place is truly the best of both worlds — savory soul food with a nutritional twist. Since it's inception in 2015, vegans, vegetarians, and carnivores alike have frequented this establishment for the jackfruit rib platter, dirty rice and boudin balls. Make sure to save a little room for a chocolate drizzle cupcake or blueberry muffin.
5101 Almeda Rd. Houston, TX 77004, Museum District

Nestled in the Museum District, this quaint diner serves up traditional soul food favorites sure to satisfy even the hungriest of appetites for breakfast, lunch or dinner. Stick a fork in a savory helping of shrimp and grits, meatloaf with red sauce or sweet corn and top off the meal with banana or bread pudding. Oh, and in case you were wondering, they also offer a favorite childhood beverage — kool aid.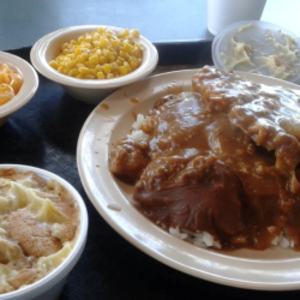 1815 Washington Ave., Houston, TX 77007, Rice Military

A multi-award-winning franchise, Gus's got its start in a small community in Mason, Tennessee and eventually made its way to Houston. Aside from their famous hot and spicy fried chicken, diners also have options of potato salad, baked beans, fried okra, and even a sweet slice of pecan pie. This cozy diner brings a hometown feel that bridges communities far and wide.  
Krab Queenz Seafood & Daiquiris
10852 Westheimer Rd., Houston, TX 77042, Briarforest / Westchase

Most recently opening in Houston, this seafood/daiquiri restaurant has become a favorite among locals. Inspired by both delicious Louisiana and Houston cuisine, this menu is filled with snow crabs, shrimp, and crawfish topped with your choice of eight garlic herb butters. If that isn't enough, beignets and king cake are also viable dessert options. Did we forget to mention that it's also home of the Hennessey Float?