Spring Festival Roundup
SPRING FESTIVALS IN HOUSTON 2023
Spring is a great season in Houston to enjoy the outdoors, spending more time at the city's parks, attractions, and spring festivals that combine several fun activities in one place. Here's a brief guide to Houston's traditional festivals that welcome spring to the city.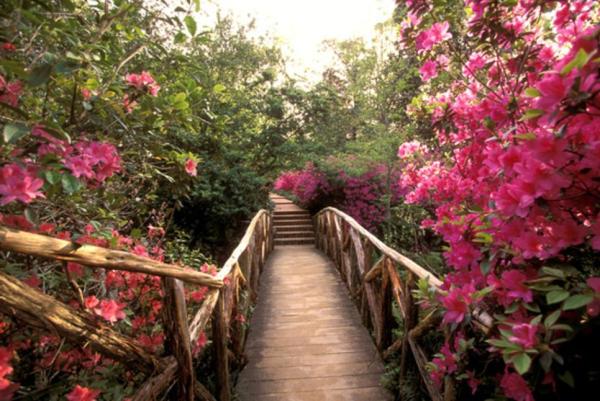 AZALEA TRAIL
ON HOLD IN 2023
March 8-10, 2024
River Oaks Azalea Trail
If you want to immerse yourself in a sea of colors, this tour is for you! Celebrating its 86th anniversary this year, the Azalea Trail is a tradition in Houston. This annual event is organized by the River Oaks Garden Club. There are seven stops on the Azalea Trail, including four private homes, the River Oaks Garden Club Forum of Civics, the Rienzi House Museum and Gardens, and the Bayou Bend House Museum and Gardens, former residence of Houston philanthropist Ima Hogg. The tour can be enjoyed at your own pace, either in a single day or in the three days that the event lasts. During the tour, you can see different types, sizes and colors of azaleas: various shades of pink, purple, white, red and yellow. At the Forum Building stop, the horticultural experts are ready to answer your questions related to gardening.
The history of the Azalea Trail dates back to the founding of the River Oaks Garden Club in 1927 by 27 residents of the then-new neighborhood. In late April 1935, club members launched the "Garden Pilgrimage," an event that would take visitors to 12 area gardens. The following year, three gardens were introduced to attendees in March so they could see the azaleas in bloom. Since these beautiful plants are not native to Houston, the tour was intended to educate people about their care. In a very short time, the event has become a success, and in 1945 the attendance reached about 10,000 people. Visit the River Oaks Garden Club website for more details on this year's event.
---

BAYOU CITY ART FESTIVAL MEMORIAL PARK
March 24-26
For three days, celebrate spring and enjoy art in the unique atmosphere of the Bayou City Art Festival Memorial Park, celebrating its 50th anniversary this year. This festival transforms the 1.2 miles stretch of the park into a large open-air art gallery. Whatever your preferred style of art is, you're sure to find something you like. This year, some 300 artists are expected to participate, representing 19 mediums, including clay (decorative and functional), digital (not photography), drawing/pastel, fiber/textiles, furniture (functional), glass, jewelry, leather, metal, 2-D Mixed Media, 3-D Mixed Media, Paintings (Acrylic or Oil), Painting (Watercolor), Photography (Digital or Computer-Manipulated), Photography (Traditional), Prints, and Sculpture (3-D).
The special guest artist in this edition of the festival is Daryl Thetford, who lives and works in Chattanooga, Tennessee. Daryl's works (pictured below) have been described as graphic, modern, pop and contemporary. In several of his works, the artist depicts the internal struggle of men with contemporary society and the human feeling of isolation in the middle of the noise of the modern world.
In addition to delighting in art, you and the whole family will be able to sample delicious food and drinks, watch live performances by musicians and other artists, and participate in various interactive activities. There will also be a play area, especially for children.
Bayou City Art Festival is produced by the Art Colony Association, a nonprofit organization that celebrates the vibrancy and diversity of Houston with two annual art festivals, in the spring (Memorial Park) and fall (Downtown). Over the past 48 years, the Bayou City Art Festival has raised nearly $4 million for various local nonprofit organizations.
---

HOUSTON ART CAR PARADE 2023
April 6-16
Houston celebrates creativity and invites you to be part of this great party at the 35th. Art Car Parade, presented by the Orange Show Center for Visionary Art. The oldest and largest art car parade of its kind in the world will take place this year on Saturday, April 9, featuring more than 250 moving masterpieces, designed and created by artists, individuals, schools, nonprofits, corporations, and anyone with a dream and a set of wheels.
In addition to the main parade, there are several fun and creative activities that will take place on April 7 and 8. Be among the first to see several of the participating art cars in this year's parade at Discovery Green Park in downtown Houston on Thursday, April 6, from 6:00 p.m. to 10 p.m. There will be music, food and drinks, children's activities, and an incredible selection of art cars, all set against the beautiful grounds of Discovery Green and Downtown Houston as the backdrop.
The grand opening party, Art Car Ball, takes place on Friday, April 14, from 6:00 p.m. to 11 p.m. at The Orange Show facility (2401 Munger St.). There will be various bands, DJs, dancer shows, food, drinks and hundreds of illuminated art cars. See the night program and buy your tickets HERE.
The legendary parade will take place on Saturday, April 15 and will feature more than 250 motorized vehicles that will start aligning at 11:00 a.m. along Allen Parkway, and ready to start the parade at 2:00 p.m. This is a free event, and you can bring your folding chairs, water and snacks, but NOT your furry friends.
Try to arrive early to find a good spot to watch the parade. Although there are parking lots throughout the Downtown area, on the day of the parade visit the event's Facebook page, where updates on parking availability will be provided. If you prefer to have reserved seats, parking and lunch included, among many other special benefits, opt to purchase a VIP experience. The parade festivities culminate on Sunday, April 10, with the awarding of more than $15,000 in prizes. See the detailed program of all the activities of this year's event HERE.
The Art Car Parade has become a national phenomenon and continues to inspire the artist in everyone. Don't miss it! This year the event is expected to attract about 250,000 fans from all over the world. Team Gillman, one of Houston's oldest and most established auto retailers, has taken the lead as the title sponsor of the 2022 Houston Art Car Parade Weekend.
---
Black Queer+ Advancement Music Festival
May 6
This event will be held at Stampede Houston on May 6 from 2 to 7 p.m. Organized by The Normal Anomaly Initiative (TNA), the event includes Black entertainers as well and the official launch of 14 local Black businesses.
---
Visit our EVENTS page to explore other activities awaiting you in Houston this spring.
Photos: Courtesy of the festivals mentioned in this note.
###