Beauty is in the eye of the beholder. Well, want you to behold some of the truly beautiful places available right here in Houston. The Bayou City has amazing green spaces, parks and other experiences that will take your breath away. We've compiled a few of the more popular scenic views in Houston. Take a look (pun intended).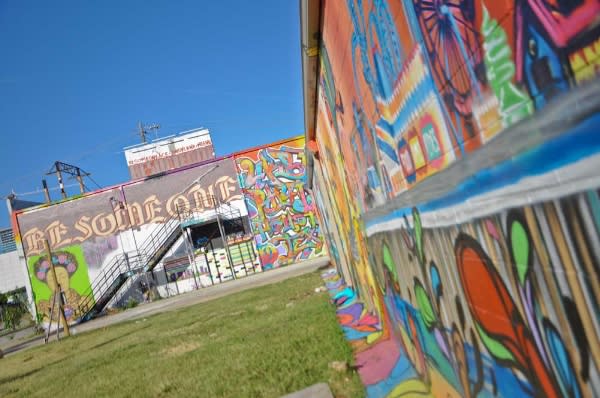 GRAFFITI PARK 
Some of the best art in Houston isn't hanging up in the Museum District, but it's painted on the side of buildings at Graffiti Park in EaDo. At the corner of Leeland and St. Emanuel you can find colorful displays of art depicting various subjects from an array of talented graffiti artists from around the world. You can enjoy your own mini art crawl by taking in the massive murals, and while you're there, take a selfie or two for the gram.
The Houston Arboretum gives a new meaning to the term "nature walk." You may forget you're even in Houston as you wander through this 155-acre nature sanctuary. Whether you're perched on an elevated platform for bird watching or you're keeping the dragonflies company along the meadow, you and your family will have a great view of a few of Mother Nature's best gifts. Even if you're not the outdoorsy type, you can still enjoy parts of the arboretum from the inside. 
The hustle and bustle of the Texas Medical Center takes a tranquil turn at the Gus and Lyndall Wortham Park. Located at the corner of Holcombe and Main Streets, this scenic locale helps to melt away any stress thanks to its shady trees, manicured lawns, and melodic water fountains. Ivy-covered columns, benches and waterways make for a great respite for locals and visitors alike.
Five acres of beautifully designed green space in Bellaire have become a beloved fixture in Bellaire, Texas. Evelyn Park is a cozy gathering place for the community, whether for outdoor fitness classes or traveling art exhibits. Kids can enjoy a natural playground, which includes a tree stumps and a ten-foot slide. And the ever-popular "Move One Place On" sculpture from Alice in Wonderland will bring out the kid in every adult. After taking in the sites along any of the five trails, check out the butterfly, perennial or medication gardens or grab a bite to eat at the fast-casual restaurant, Betsy's.
RICE UNIVERSITY'S TWILIGHT EPIPHANY SKYSPACE
Take the trek to Rice University for a truly unique experience at the James Turrell Twilight Epiphany Skyspace (pictured above). Built in 2012, this art installation is a cross between a space-inspired structure and an imitation of a natural sunrise or sunset. From the upper sitting area, visitors can view the splendor of Houston's skyline. From the lower level, you can look past the alternating lights into the starry sky. The light show takes place twice per day, Wednesday – Sunday. It's closed on Tuesdays. 
A different kind of beauty awaits you at Smither Park. Located on the East End of town, the park showcases work from hundreds of artists from all over the U.S., many of whom used recycled materials to create colorful mosaic masterpieces. Other features include a 400-foot memory wall, an amphitheater, meditation area, covered pavilion, an interactive sculpture and more. If you're looking for something to do, Smither Park often has lots of events such as concerts and movie screenings. 
The Cullen Sculpture Garden is an outdoor extension of Houston's Museum of Fine Art in Montrose. This acre is a vision of trees, sloping walls, and outdoor sculptures from artists such as Louise Bourgeois, Henri Matisse, and even Pablo Picasso. The Garden was in the making for a full decade, from 1976 to 1986, by some of Houston's own sculptors and architects. It is open all year; a perk of living in and visiting Houston's tropical climate.
Everything is bigger in Texas, so it's no wonder Houston boasts the largest urban wilderness preserve in the country at Armand Bayou. You can explore a forest and wetlands from the boardwalk or hang out with the 370 creatures that call the area home. There's also the Bison Observation Deck, a children's discovery area and the Martyn Farm Site, which takes you back in time to 1890's Texas.
WAUGH BRIDGE BAT COLONY
An outing that includes a trip to see hundreds of thousands of bats in one place may not sound like the best thing ever, but trust us, it is. The Waugh Bridge Bat Colony is home to Mexican free-tailed bats that come out at night. Unlike other bat colonies that migrate south for the winter, these creatures stay in Houston year-round. You can check out the bats from the observation deck in Buffalo Bayou Park. Just remember, bat etiquette means no camera flashes or bright light, no loud noises and no touching grounded bats for any reason. Enjoy!
Canopy trees, winding pathways and quiet serenity await at the Glenwood Cemetery just one mile from downtown Houston. This picturesque final resting place dates back to the late 1800s and includes headstones from more than a century ago. A large Oak tree, said to be about 130 years old, acts as a centerpiece to an already beautifully landscaped area. Elaborate statues, water features and wrought-iron gates decorate the 88 acres of green space. Glenwood Cemetery is one of Houston's best-kept secrets.