You may have heard of Gerald D. Hines Waterwall park or taken pictures at Discovery Green downtown, but Houston is full of beautiful scenery that often goes unnoticed. This is not a comprehensive list, however here at Visit Houston we have put together just a few of our under-appreciated picture perfect places in the area. What are some of your favorite Houston views?

Graffiti Park
At the corner of Leeland and St. Emanuel in EaDo, you can find a stunning display of talent from some of Houston's premier graffiti artists. The array of art varies widely between subjects, sizes, and styles. Houston's focus on heralding impressive graffiti sets it apart from other destinations. Graffiti Park is central to the annual HUE Mural Festival which brings internationally acclaimed graffiti artists to town to leave their mark on the city. 

Within Houston city limits is a 155-acre nature sanctuary aimed at protecting native plants and animals. Learners of all ages can enjoy the beauty of meadow, forest, pond, and wetland habitats outdoors on nice days, or explore information about the inside when the weather is less agreeable. 

This smaller scenic destination is easily overlooked in the hustle and bustle of the city. Gus and Lyndall Wortham Park sits at the corner of Holcombe and Main, right next to the Texas Medical Center. The park provides a refreshing and unexpected change of scenery, and the calming sound of the fountains could be just the break you need after a stressful day.

There are a number of beautiful parks in Houston, but there's one special place in particular where you can step into one of your favorite children's stories. The Move One Place On sculpture at Evelyn's Park Conservancy depicts the tea party scene from Lewis Carroll's Alice In Wonderland. The sculpture includes 10 ft. long table with 8 ft. bronze characters like the Cheshire Cat, Alice, the March Hare, Mad Hatter and others enjoying their infamous tea party. As an interactive sculpture, guests can sit down at the table and take part in the festivities. As far as photography opportunities go, this is a perfect spot for families to snap a few photos. 

One area to explore is Rice University. The private university, established in 1912, makes visitors feel like they're walking the campus of Cambridge, Oxford or even for the Harry Potter enthusiast, Hogwarts. Lovett Hall is breathtakingly beautiful and built in the Byzantine style of architecture, a departure from most buildings in the city. The hall opens up to a large green space with pristine hedges and walkways. Archways that flank the green space are equally as beautiful with their stunningly symmetrical arches, referred to as the cloisters. The rest of the Rice University campus is perfect to stroll through and is proximal to other beautiful attractions like Hermann Park.
Bonus option, go to the Twilight Epiphany Skyspace designed by James Turrell on Rice University's campus at dusk or dawn. Constructed of grass, concrete, stone and composite steel, the structure is equipped with an LED light sequence that projects onto the ceiling and through an aperture in the 72 ft. square knife-edge roof just before sunrise and at sunset, allowing for amazing views and a sensory experience. 
 

On Houston's eastern edge, visitors will be pleased to find Smither Park, a park committed to local artists and their work. Dedicated to John H. Smither, Smither Park was established to foster "family fun and creative endeavors, while being mindful of our responsibilities as humans." The park includes an amphitheater, memory wall, meditation area, covered pavilion, swings and an interactive sculpture, all constructed with mosaic work from recycled and found materials by local artists. Each facet of the park has it's own aesthetic but with the goal of repurposing and reusing materials. The park beautiful, interesting and reflects Houston's robust art scene.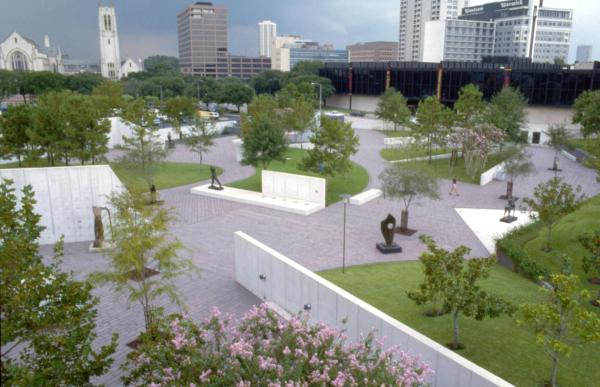 The Cullen Sculpture Garden is an outdoor extension of Houston's Museum of Fine Art in Montrose. This acre is a vision of trees, sloping walls, and outdoor sculptures from artists such as Louise Bourgeois, Henri Matisse, and even Pablo Picasso. The Garden was in the making for a full decade, from 1976 to 1986, by some of Houston's own sculptors and architects. It is open all year; a perk of living in and visiting Houston's tropical climate.

It was Armand Yramategui's vision to preserve this area in the 1960's, knowing that urban growth would soon surround it, and now it is the largest urban wilderness preserve in the country. We can all enjoy and preserve the fruit of Armand's insight by "reconnecting with nature," as the mission of its presevation states. Armand Bayou features a boardwalk through marshes, trees, butterfly gardens, and an 1800's farm site.

Waugh Bridge Bat Colony
A colony of 300,000 Mexican free-tailed bats emerges at sunset near the well-loved Buffalo Bayou. The time of flight each night is not precisely predictable since bats aren't known to carry wristwatches, but those who go to catch the breath-taking view normally arrive 15-30 minutes before the expected sundown. The bat population tends to peak late summer.

Many people are drawn to the quiet reverence and beauty of cemeteries, and Glenwood Cemetery off Memorial Drive is no exception. Headstones in Glenwood date back to the Summer of 1872, when Houston was still mostly rural. Glenwood Cemetery was landscaped to include winding pathways to compliment the natural curve of the land, and is home to a striking Oak tree, estimated to be about 130 years old. The Oak stands prominently in the middle of a walkway, and no one is completely sure how it got there: some believe it was planted before graves were dug, and others believe it was planted intentionally. Regardless of its origin, there is no denying that Glenwood Cemetery is an awesome beauty.