If you're guilty of gifting a tie or socks every year for Father's Day, it may be time to try something new. Luckily for you, Houston is brimming with possibilities this Father's Day from dinner all the way to sky diving.
Dad Deserves a Steak
Nothing says "special occasion" like choice meat cooked to perfection. Help your dad feel special this year by taking him to one of Houston's acclaimed steakhouses, of which there are many. Regardless of how casual or formal your family's style may be, you are sure to find the perfect match and make this Father's day one to remember.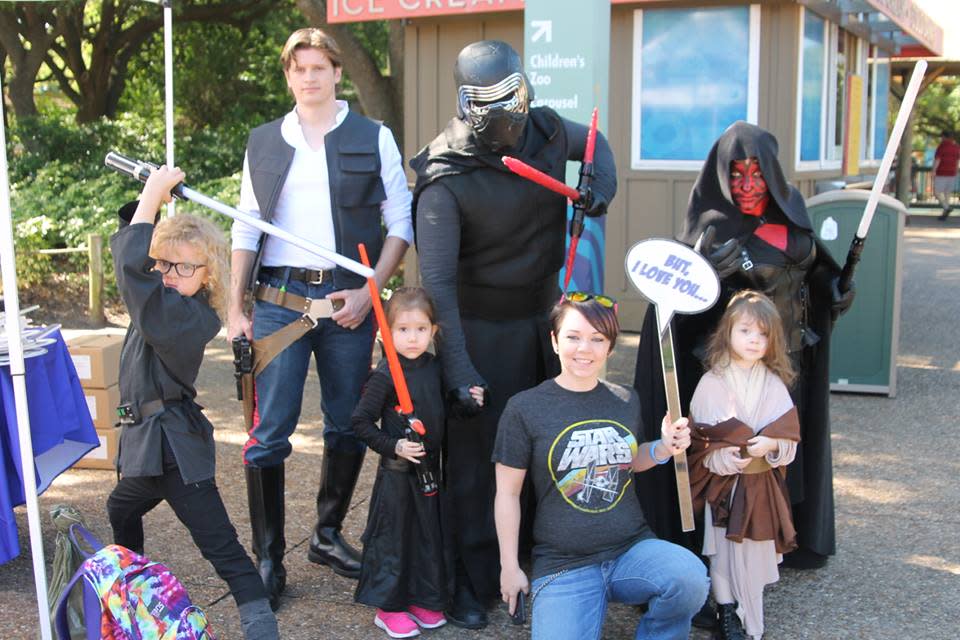 Super Dad!
Now ranked just behind South by Southwest as the second largest pop culture event in Texas, Comicpalooza could be a perfect Father's Day event for your family. Participate in the cosplay contest, play in the Indie Game Alley, and get some autographs from guests like Kate Beckimsale and Bill Paxton. Comicpalooza celebrates a wide range of topics (?) from anime, to comic books, to Doctor Who. Come support Dad and geek out together.
Beer Me
Prepare yourself: once you take your dad on a brewery tour, it may beg to become a family tradition. Fresh Tap Tours gives you the option to choose your type of tour when picking what kinds of local breweries you'll visit. Plus, since you know us, they'll even throw in an added 15% off.
Take Me Out to the Ball Game
Father's Day weekend boasts three glorious opportunities to watch the Houston Astros smash the Cincinnati Reds at home. Take Dad out to the ball game on Friday night, Saturday afternoon, Sunday afternoon, or maybe all three! Sunday afternoon, the ballpark will be giving away commemorative Astros socks, which means if Dad was really looking forward to that pair of socks you always get him, he won't be disappointed.
For the Crafty Dad
Here lies an opportunity to have a new experience with your dad, as well as create something that will last! If your dad enjoys learning new skills or trying his hand at handiwork, be the favorite this year by bringing him to a glass blowing experience. There is limited space in each class, so make sure not to procrastinate on this gift.

Dad at the Dynamo
Join Houston's best fans this Father's Day when the Dynamo go head to head against DC United. The Dynamo's devoted fan base, known as "the Texian Army" are known for jazzing up the game with theatrics like beating drums and custom chants. There isn't a bad seat in the house, but most of them are normally filled so it wouldn't be a bad idea to buy your tickets ahead of time.
Copa American Soccer Championship
For the first time, the Copa America Soccer Championship is being held outside of South America, and it happens to be in H-Town! The semi-final will be the Tuesday following Father's Day, which is great for those of you with busy weekends or just the need to get a little more celebration in. Participating countries include the US, Colombia, Costa Rica, Paraguay, Brazil, Argentina, and ten others.
Mythbusters at Space Center Houston
Space Center Houston is hosting a "Mythbusters" exhibit, only available through the beginning of September. This may be an especially fun choice for younger families, as dads can enjoy participating in hands on demonstrations with their young children. However, curious and active families of all ages are sure to create lasting memories at this limited edition exhibit.
Out on the Range at Topgolf
Golf is a classic choice for Father's Day, but that doesn't make it any less of a good one. There are three Topgolf locations in Houston: Spring, Katy, and Webster. At Topgolf, each ball contains a microchip to track your accuracy and distance. Maybe your dad can show you a thing or two.
Skydiving Experience
This last idea is certainly mot for the faint of heart. Head to Crystal Beach on the outskirts of Houston to take your dad skydiving this year. This experience-based gift is a far cry from striped socks, and is sure to be a gift to remember. It would probably be wise to check with your dad first before signing him up, though!