Visit Houston recently launched its monthly Facebook Live Chat series with acclaimed Houston artist David Addickes. The man responsible for some of the most iconic public art pieces around Houston has led a storied life. Long before the president's heads, the giant Sam Houston statue in Huntsville and the We (Heart) Houston sculpture, Adickes studied art under French masters, wrote music and launched the celebrated nightclub Love Street Light Circus at Allen's Landing. Now he's working on a major new sculpture paying homage to the region's role in space exploration and penning a musical.

Find out more from this local artistic legend below!

Q: What was your first professional piece?
David Adickes: The cello piece Downtown at the Lyric Center is called Virtuoso was in 1984 and that was my first major exposure to the public. The Sam Houston sculpture in Huntsville is the most famous. I finished that piece in 1994. It's changed the image of Huntsville from a prison town to a sculpture town. It's estimated that 50,000 - 60,000 people a day see the sculpture.

Q: What has been your most challenging piece of work and why?
David Adickes: You know it might just be this musical that I'm working on. It's challenging because it's not my primary profession and it's complicated. I'm writing the book and the music and lyrics. So it's a lot to take on by myself. Sam Houston definitely took the longest. It took a lot of time to learn how to do it right.

Q: Any lectures or personal appearances in the near future?
David Adickes: Nothing at the moment. I certainly do it from time to time but nothing scheduled right now.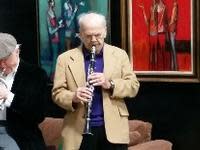 David Adickes on clarinet
Q: Dear David, We both play the clarinet, in fact after watching you play i called my mother to send me the one still hanging out in my old closet. I'm curious how long you have played and how you ended up picking the clarinet in the band. I would love to hear your favorite story from Love Street and your best advice to H-town artists.
David Adickes: In junior high school when they were testing kids for their musical ability, I started on something called a tonette. I wanted to play trombone because my hero was Tommy Dorsey, but the band director steered me toward the clarinet because my arms weren't long enough for the trombone. The one thing that's so important is that you paint for yourself. Don't worry what others think. Once you start pleasing others you've diluted your own creativity and it won't be good.

Q: Hi, what is your favorite piece of work you've done to date and why?
David Adickes: I believe it would be Virtuoso. The most popular is Sam Houston. But I personally get that warm feeling when I pass that cello player Downtown.

Q: Tell me more about the musical! What's the story line?
David Adickes: At first I had a straight chronological story. Going through all of his affairs. Then I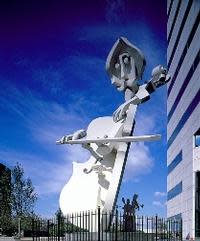 Virtuoso
wanted to make it more fun. So it's a musical comedy that chronicles the love affairs of his life. It starts with Picasso in heaven at the pearly gates, so it's not chronological anymore!
Might we see this on stage one day soon? Working with any theaters?

Q: Do you listen to music when you work? If yes, what genre? Any favorite musical artists?
David Adickes: I do. I listen to a lot of classical. 91.7 in particular for classical. I like jazz as well. But I don't like rock 'n roll or rap. Bach, Stravinsky and Beethoven are favorites.

Q: What is next?
David Adickes: I'm actually working on a musical comedy about Picasso and the six major women in his life. I actually started that 30 years ago in Santa Fe but I'm just picking it up again. I just finished the new Charlie Chaplain sculpture in the east side of Downtown at my studio on Nance Street. In the city of Webster I hope to do a major 100-foot sculpture of an astronaut on land owned by an individual.

Q: When you first started with sculptures, any reason SO LARGE in size?
David Adickes: Virtuoso was a commission to go in front of a building, and the columns were 36 feet so it had to match. It was received so well. I was on a roll and did two others that were rather large. After that came the idea of presidents park, all 43 presidents three times. Starting in 1984 with Virtuoso and through the years it just became a thing for me. Public sculpture, everyone sees it. I know these pieces will be around for a long time because they're too big to move!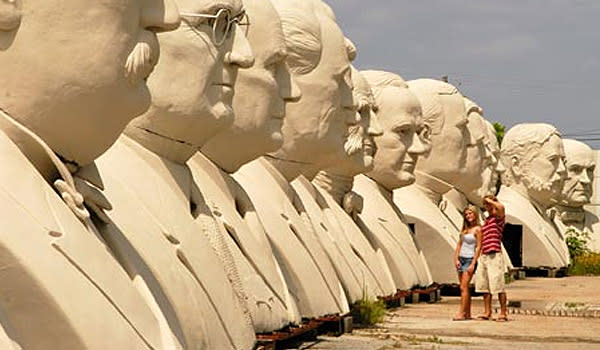 Presidents Heads
Q: David, as you know I just love your work! Any updates surrounding your project of converting your old high school in Huntsville to a museum? Is it open? Can I book a private tour?
David Adickes: It is open and you can book a tour! It opened more than a year ago now. The website is adickesfoundation.com.

Q: How do you get inspiration for your art?
David Adickes: Everything I see inspires me. It started as a trip to France as a soldier at the end of World War II. I saw Paris and how you going to keep them on the farm when they've seen Paris? After I got my GI bill I later returned to France to study under the legendary artist Fernand Leger for two years.