Owner, Anvil Bar and Refuge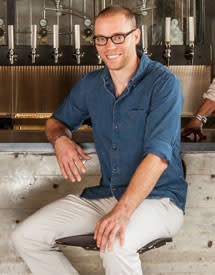 James Beard-nominated Bobby Heugel has forever changed the way Houstonians look at libations. 
The native Houstonian bartended his way through college and developed a drink program that highlighted quality spirits and fresh ingredients while earning a Master's degree in Inter-Cultural Communication.  After college, Heugel continued to pursue the craft, turning out creative cocktails at Benjy's and Beaver's Ice House, before launching Montrose's Anvil Bar and Refuge with co-owner and childhood friend Kevin Floyd. The duo has expanded with craft beer venture The Hay Merchant, Chef Chris Shepherd's Underbelly, the OKRA Charity Saloon and will open Blacksmith coffee shop and Southern cocktail bar Julep by early 2013. 

Anvil has been named one of the best cocktail bars in America by Bon Appetit, GQ, Food and Wine, Esquire and Travel + Leisure.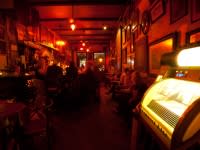 Birthplace...Houston.
Early aspirations to be a business owner...I was a piano mover from the time I was 13 until I was 18, and it made me want to do something else. Anvil came about us wanting to create a space where we could showcase our own perspective on cocktails. My best friend Kevin and I set out to make it happen.
Houston is...Southern hospitality.
Houston must-sees....Bars. I usually make people go to Poison Girl,Grand Prize, 13 Celsius, La Carafe. Those are the four that I feel like you have to visit when you're in town.
My drink of choice...When I'm off the clock, I typically don't drink cocktails. I drink wine, mostly. It allows me to have a break.
One thing in Houston I haven't experienced yet, but would like to...I have not gone shrimping. So I may get into that over the next couple of months and see what that's like.
Houston's hidden gem...For outsiders, I think it's the Menil, by far. It's just such a wonderful museum, and it doesn't get enough national recognition. For those of us who live in Houston, I'd say the East side as a neighborhood. There are so many things there that have been operating the same way for decades and decades, and I think it's a really special part of Houston. I love riding my bike over there.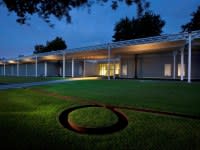 Local inspiration...Chris Shepherd [chef of Underbelly].
Favorite local ingredient...Local citrus.  It really makes cocktails stand out.
Favorite off-the-beaten-path restaurant...Vieng Thai. My favorite dish there is the papaya salad. I like going there because I love the family that works there, it's BYOB and is just such a comfortable place to go eat.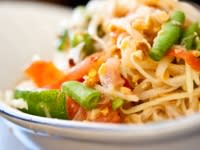 On taking credit for changing Houston's cocktail scene...I typically say it's not true. Because there were a lot of people making really great drinks in this town before we came along, and I like to point a lot of those places out. Like Under the Volcano in Rice Village... It's not a new thing.
How Houston's culinary scene stacks up to the rest of the country...I have the privilege of being able to travel a lot, and I eat and drink all around the country. While I'm clearly biased, I haven't found a scene that has both the great bars and restaurants that Houston has. It's really unique. The diversity, the young up-and-coming talent, and the local resources--it is really special.
Explaining Houston to outsiders...My advice is to reach out to locals. If you can find one or two good places, then you can ask where to go next and you will probably end up somewhere much more interesting that if you were just by yourself.