In part two of our series celebrating Women's History Month, we're showcasing women in science. Houston is lovingly referred to as "space city", and is home to the largest medical center in the world. The city is full of bright minds channeling their gifts of innovation that enrich our lives and make the lights of our city shine a little brighter.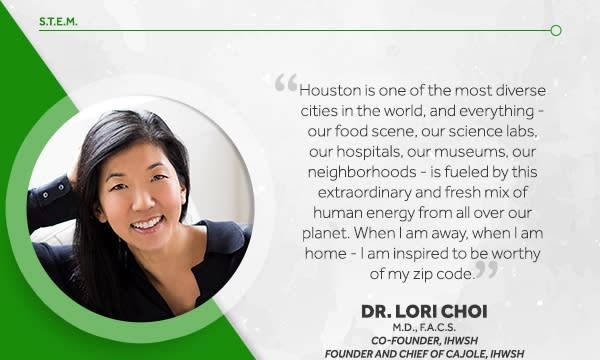 Dr. Lori Choi is an accomplished vascular surgeon who has served at some of the most prestigious hospitals in the country and is the creator of a vascular surgery training program at the University of Texas Medical Branch in Galveston. Choi founded I'll Have What She's Having (IHWSH) after 14 years in Houston, networking her two areas of expertise: the Texas Medical Center and the restaurants of the South's culinary capital. 

After numerous conversations with friends and colleagues from both industries, she was driven to take action by the alarmingly poor statistics regarding women's health. Contacts in the restaurant industry described the difficulty of accessing affordable health care. Physicians described the moral dilemma of seeing their patients denied life-saving medications or surgeries due to an inability to pay. IHWSH unites women in the medicine and the culinary industries to shine a light on the need for improved access to affordable health care while also creating networking opportunities amongst the talented, professional women of Houston. After 6 months, the organization has grown to over 100 women, and raised over 40K for women's health in Houston. Read more here.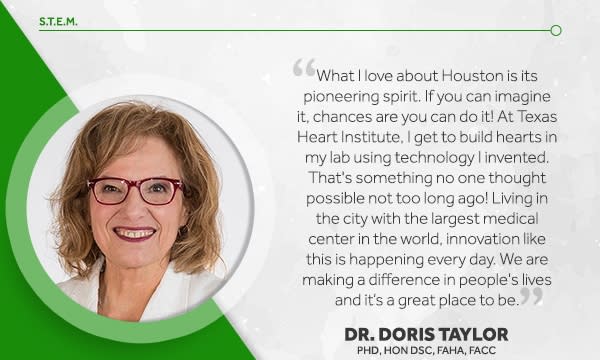 Dr. Doris Taylor is a heart maker. More specifically, she's a leader in the field of cardiovascular regenerative medicine, pioneering a number of firsts including a unique method called Whole Organ Decellularization. This method removes cells from otherwise unusable organs, leaving an intact scaffold (think of it as the framework of a house), which is then injected with the recipients own cells. The end result is a bio-identical heart, or any organ for that matter. 
What does this mean for me and you? Dr. Taylor's work could eventually lead to the elimination of transplant waiting lists and anti-rejection medication. 

Of course, her resume doesn't end there. Dr. Taylor established both the Department of Regenerative Medicine Research, and the Center for Cell and Organ Biotechnology. She also heads the Cardiovascular Cell Therapy Research Network (CCTRN) Biorepository, holds faculty appointments at Texas A&M and Rice University, and has authored or co-authored more than 150 scientific publications and co-editing two textbooks. Read more here.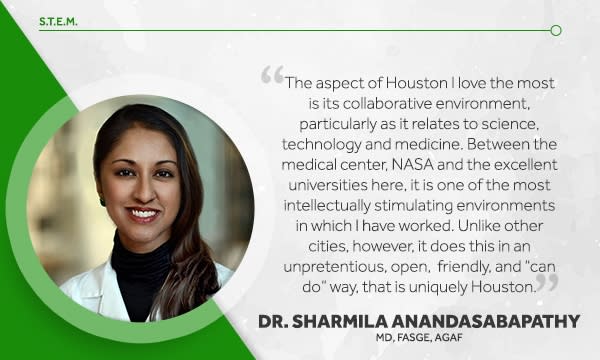 Dr. Sharmila Anandasabapathy, M.D. is an innovator, a Professor of Medicine in Gastroenteroloy, and Director of Baylor Global Initiatives and the Baylor Global Innovation Center at Baylor College of Medicine. 

Anandasabapathy's research focuses on the development and validation of novel technologies for diagnosis of early gastrointestinal cancer. Her passion lies in coming up with innovative technological approaches for addressing cancer and other chronic diseases in low-resource areas. By utilizing customized mobile applications to track patient care, battery-powered technologies in regions with little to no electricity and assisting on the ground where expertise is minimal, Dr. Anandasbapathy and her team lead the charge where it is most needed.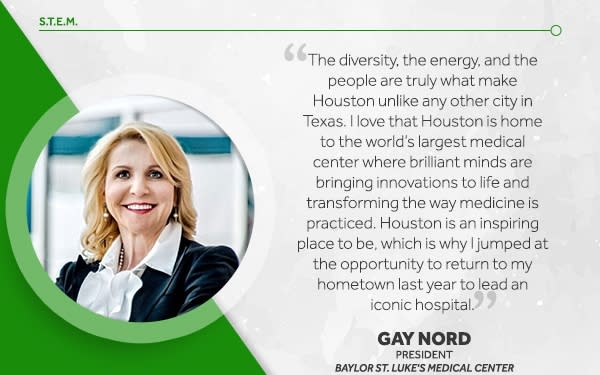 Gay Nord was named President of Baylor St. Luke Medical Center in 2016, bringing with her more than 20 years of experience as a hospital executive and an enthusiasm that is clear to see. 

Her prior experience includes serving as CEO for Methodist Hospital and Methodist Children's Hospital where she successfully led efforts to improve clinical outcomes for patients, succeeded in driving employee engagement scores to an all-time high, developed numerous new service lines and raised earnings to record levels.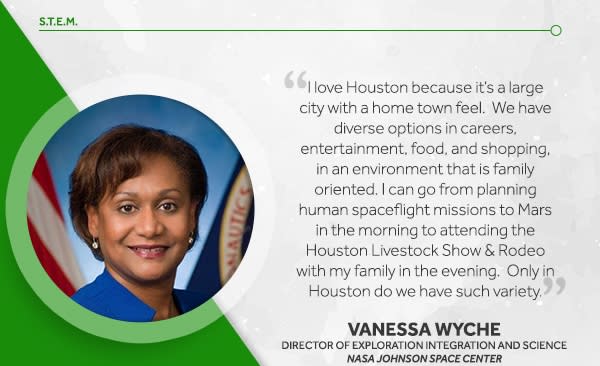 Mrs. Vanessa E. Wyche is Director of Exploration Integration and Science (EIS) at NASA Johnson Space Center where she guides efforts to enable human and robotic exploration of deep space leading to missions to Mars.

As Director of EIS, she leads an organization of 400 other bright minds to provide engineering and scientific expertise to NASA's exploration missions, including curation of extraterrestrial samples; while utilizing the International Space Station as a test bed for advanced technology. EIS also assists with maintenance of the orbiting spacecraft by management of its extra-vehicular activity capability. Wyche recently completed a rotation as Deputy Director of Johnson Space Center, assisting in leading the organization to successfully operate and develop human space exploration programs and projects. Read more here.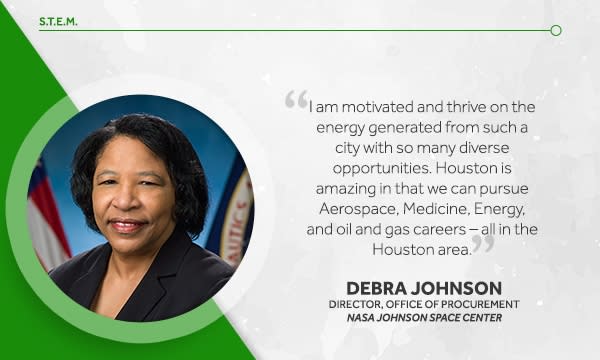 Sending astronauts to space is no small feat. It takes teamwork. Debra L. Johnson serves as Director for the Office of Procurement at NASA Johnson Space Center where she is responsible for procurement functions needed to spend over $6 Billion annually.

Johnson has overseen contracts covering work accomplished by over 3,000 civil servants and 10,000 contractors responsible for human spaceflight activity including the support to the nation's Astronaut Corp, the International Space Station, Mission Control Center, the new space vehicle Orion Program and international contracts with Russia, Japan and the European Space Agency.

She is also a proud native Houstonian and actively volunteers in community programs like Feeding the Homeless at her church. Johnson also serves as mentor for the Science Club Fair for Gregg Elementary School, students seeking employment through Texas Southern University Student Services Center, and with college preparation at Phillis Wheatley High School. Read more here.
Read part one of this series here.