JooYoung Choi, Artist
JooYoung was born in Seoul, South Korea but soon made her way to the United States through the international adoption program. She was raised in Concord, New Hampshire and completed her undergraduate studies at Massachusetts college of Art and Design. She soon returned to Korea to find her birth family. In her last semester before completing her BFA, she became friends with artist Trenton Doyle Hancock who was visiting from our very own, Houston, Texas. Her plan was to always complete her MFA at Lesley University in Cambridge, Massachusetts then move back to Seoul to spend time with my birth family but it was love that brought her back to Space City. She is now married to artist Trenton Doyle Hancock and living her best life here in H-Town.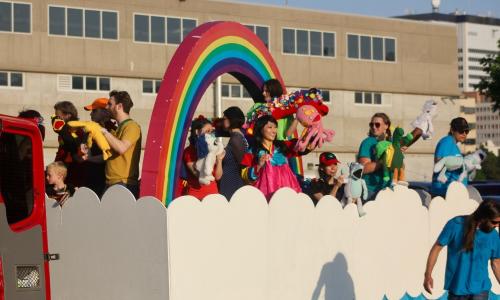 When did you start creating sculptors, paintings, puppets & your other artwork? What made you get into what you do?
As a child I loved to draw, I wrote lots of stories, and always had an interest in making things. Growing up I studied music and participated in musicals. I loved writing songs, poetry and continued to draw, but thought music was my calling. It wasn't until I was in my first semester at Berklee College of Music that I realized I wasn't happy. I often found myself late to class, because I was busy painting in my dorm room. A few years later after leaving music school, I realized that I could actually go to school for art. After finishing school, I realized that some of my work would be better suited as video art or animation, instead of painting, and other ideas would be better expressed through sculpture or puppets. So, I did research or asked friends to teach me, and taught myself how to make video art, soft sculpture and puppets.
How do you decide what you want to create?
Often my work is inspired by the things I am concerned with in real life, I think I often use art as a way to organize and process my feelings. When I learned the origins of how I was taken away from my birth father, I was saddened and moved by his story, how he searched for me for 10 years, and thought I was lost forever. My birth father is not scared to share his feelings, it is one of his biggest strengths. Around this time, I was asked on a panel about gender equality and toxic masculinity if I knew of an example of positive masculinity. I automatically thought of my birth father. He was a boxer and a singer around the time I was taken away from him. I mixed these two ideas together and created Pound Cake Man, all of his muscles are made out of faces, each one displaying a different emotion. What had started as an urge to recreate one of the most powerful moments in my own life, grew into something bigger that I felt others might be able to relate to.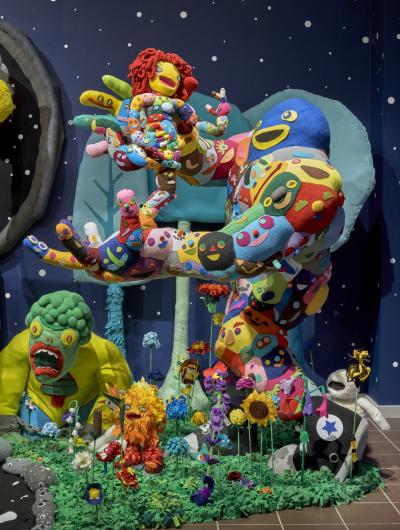 What kinds of things do you do to translate your passions and inspirations into what you make? What is your creative process?
I think about all the people, places, and experiences I love and make work that brings me closer to those things or people. So even if they are very far away or have passed on, they can be near me through my art. I often create work about things I want to see. The video art I create inspired by all the things I wish I had seen on TV as a kid. Being Asian American I rarely ever saw anyone who looked like me play a protagonist in a fantasy or science fiction film. There weren't even any Asian American female adults on Sesame Street, or in most films or movies I watched, or books I was required to read in school. So, I decided that I would build a world of entertainment that my younger self would have loved and would become a source of strength.
Who are some people in Houston who you'd love to create an original design for?
I would like to recreate my giant red dinosaur soft sculpture into a fiberglass sculpture that could bring children joy at any of the children's hospitals here in Houston.
Who inspires you and why?
I am inspired by Mary Blair, Jim Henson, Jack Kirby, RB Kitaj, Kerry James Marshall and Walt Disney.  My two favorite artists are my husband and my student Akshay Sukumaran. My husband is always creating amazing art, and I love everything he creates, the world he is building is inspiring to me, and discussing our projects and imaginary worlds is one of my favorite things to do. My student Akshay has been studying with me since he was 7, he is now 13. We began with painting, but since then I have taught him how to sew, and he has made his own pirate fox puppet, and now he is writing his own scripts and I am helping him learn how to edit his most recent project titled "Puppet World Movie Episode Three" using adobe premiere pro. I love his painting style and his big imagination. His scripts are really interesting and I feel like I learn so much from our time together, it often feels like we are both teachers and students at the same time. 
Matt Manalo, Artist
Matt Manalo was born and raised in the Philippines but Houston quickly became his home. Matt and his whole family moved to Houston when his mother became a teacher here in Space City and it was important to his parents that he & his siblings finish college here in the states. He's lucky to call Houston home along with the rest of his family.
When did you start painting, drawing, photography, sculpting & sculpting & another artwork? What made you get into what you do?
Since I was a child, I've always been interested in drawing. I remember drawing on the old school printer paper my dad brought home from his office. I made that as my sketchbook. I was very interested in comic books and Saturday morning cartoons. Most of my drawings as a kid were characters from X-Men or Dragon Ball Z. Growing up, I played outside a lot especially in our garden. Then I transferred to a school where we had classes in woodworking, metalworking, etc. included in the curriculum. I learned how to use chisels, files, saws, and other hand tools.
Unfortunately, being an artist as a career didn't seem to be an option for me at that time so I pursued Computer Engineering. In the Philippines at that time, art was considered as a hobby. In the middle of pursuing my degree, my family and I decided to move to the US. When I arrived here, I had a change of heart and decided on not continuing my engineering degree anymore and decided to do nursing. Two years into that, I realized it wasn't for me. I can't imagine myself going into a hospital every day for the rest of my life. I realized that art was really where my heart was. After sitting down with my parents and telling them of my decision, I switched out my degree and signed up for all the art classes I could take. From there, I decided to apply for the Painting block at the University of Houston. I graduated in 2011. Ten years of being in college but I don't regret any of it.
What kinds of materials work well together, and which ones do not? 
I feel like as an artist, part of the challenge is to experiment with different materials. It is the idea of allowing yourself to play and make mistakes. I am traditionally trained as a painter but I've found out that I just did not want to solely push paint around on canvas. Part of my art practice is acquiring materials I can repurpose some of them I buy and most of them get donated to me by friends. In that sense, I'm being aware of how much waste my practice produces. Almost nothing gets wasted in the studio. I guess it is safe to say I am sort of a hoarder of materials. For me, it is not a question of what works together or what doesn't, but it is about finding ways of making materials work together.
How do you decide what you want to create?
Living in the time of the internet, there are so many sources being thrown at us almost every second. We are constantly bombarded by information and our faces are always lit by our screens. I frequently research particularly with the Philippines' colonial history and how that affects me being an immigrant in the US. Most of my resources exist online and I'm one of those people who have over fifty tabs open while reading five books at the same time. I take in all of this info, sometimes write things down. Usually, the ideas or thoughts simmer in my head. I then sleep. I dream. I problem solve while asleep then I go to my studio and see if something works. My favorite part of being an artist is to be able to execute an idea as how I imagined it. I also frequently look at different artworks. It helps me see if there are problems they have already solved and learn from it.
In 2019 I purchased a shipping container through my fellowship with DiverseWorks. I decided to make an art space in Alief. It is called the Alief Art House. It sits on the lot of the Alief Spark Park and Nature Center on Beechnut and Dairy View. This is a different type of creative work because I am working with community. My vision is to create a sustainable environment for creativity, jumpstart an art-focused movement in the neighborhood, and positively impact Alief's image by working with creatives who reside or have deep ties to the district.
What is your creative process?
My creative process involves activities like gardening, building legos, and cooking. It gives me a good break to clear my head while staying creative. All of these activities involve my family and that's some of the ways I spend quality time with them.
Who inspires you and why?
My parents and my siblings inspire me because leaving place you call home isn't easy. Moving here and adjusting to so many things was a struggle especially for me.
My wife and my kids because they constantly show me ways on how I can be better, be humble, and enjoy the simple things in life. My wife, who's also a first-generation immigrant and an artist shines her own magic in everything that she does.
My Filipinx Artists of Houston community and everyone in my circle of friends inspire me because we share a common passion and goal. They amaze me with their ideas and drive to create while also being able to provide a safe space to breathe and be yourself. Through them, I've learned the whole idea of achieving things as a community.
What are a few of your favorite places in Houston to shop or visit?
My favorite places in Houston to shop are thrift stores. I'm not a big fan of the malls or department stores. It's something I enjoy doing with my wife. You just never know what you'll find and some of the materials I use to create are bought from there. I also love going to Houston's Chinatown and eat. I guess you can say I'm a foodie because I love exploring new dishes or just food I haven't tasted yet.
Eepi Chaad, Artist, E Squared Pi Design
Eepi is a proud Houston native! His parents moved here from Calcutta, India just before he was born. In fact, his mom was already expecting when they arrived. Eepi considers himself a Texan South Asian American in quite that order.
When did you start creating jewelry & other artwork? What made you get into what you do?
I had a wonderfully artful childhood. I went on to study architecture & sustainable design but realized working in the arts was the path that was calling me. Jewelry became a serious part of my multi-disciplinary artistic practice about 5 years ago and it really helps channel my deep interest in construction and design. I think of the way that we choose to adorn ourselves as a primal social language and I enjoy adding to that visual vocabulary.
How do you decide what you want to create?
Sometimes my work comes from a super detail-oriented process. Other times I sit down and simply play with materials. Process and experimentation are the best parts of creating. I often don't know exactly where projects will end up, but that is the fun part!
What kinds of things do you do to translate your passions and inspirations into what you make? What is your creative process?
I enjoy spending time wandering the outdoors and I take a lot of cues from nature. I'm pretty interested in the ways that we interact with the world around us. I often start with the materials I'd like to work with and let the project develop organically.
Who inspires you and why?
I'm a huge fan of Do-ho Suh's work. Swoon! His work is both challenging and breathtaking. The scale of his work inspires me to think more expansively in both space and with ideas.
What are a few of your favorite places in Houston to shop or visit?
We have amazing parks all around Houston but my favorites are on the coast! A perfect day would start at Koffeteria for a snack pick up and then a drive to Anahuac National Wildlife Refuge. Then I'd follow the coast along High Island and take the ferry from Bolivar Peninsula to Galveston. If you keep on down the Seawall you will hit Galveston Island State Park. Take hike or a beach nap and then a grab a bit of dinner on the island. Perfect.
Houston has a quirky yet wide ranging art scene. Where else can you admire medieval artifacts in the Menil Collection one day and watch a car designed as a futuristic, hairless cat in the Art Car Parade the next? Houston definitely has eclectic taste.
The month of May is Asian American Pacific Islander month, and in honor of the designation, we spoke with three local artists to get their ideas on art in H-Town.
Rongrong Devoe, Fashion and Beauty Illustrator, Rongrong Illustration
Rongrong Devoe may have grown up in a small town in China, but ever since she was a little girl, she's always had big dreams. Those dreams pushed her to pursue her love of fashion as a designer in New York City until she moved to Houston to become an illustrator. Now, Rongrong has a successful sketch art company, where her designs appear on everything from coffee mugs and handbags to greeting cards and cell phone cases.
Why did you decide to leave New York to continue your fashion career in Houston?
I left New York for Houston for two reasons: 1. My husband's job. 2. New York City is too cold.
What is your opinion of Houston's fashion scene?
I think it is growing very fast! There are a lot of talented people, but they need more opportunities for exposure. I think LaunchHTX is doing a great job showcasing emerging designers.
Who are some people in Houston who you'd love to create an original design for?
I love drawing women around me. Their personal styles and characters inspire me.
What female entrepreneurs inspire you and why?
Kendra Scott and Sara Blakely because they are both self-made successful entrepreneurs in the fashion world. They both believe in themselves and have tremendous grit. I want to be like them. I would love to build a successful art empire and become a household name.
What are a few of your favorite places in Houston to shop or visit?
I love the coffee shop called The Yellow Cup, and I like to shop at the Houston Galleria Mall.
Anita Varadaraju, Artist, Colors by Anita
Anita Varadaraju see life through color, and nowhere is that more evident than in her vibrant paintings and murals. The Indian-born artist has made a name for herself among Houston-area artists. Her work has been selected for showings in locally and in New York, and she often contributes her work to charitable causes.
When did you know you were in love with art?
I've know I was in love with art since I was a little child. My mom is an artist, so I grew up around art. I've always been an artist, but it took me a while to blossom into a full-time one.
Why did you decide to develop your art career in Houston?
We moved here from Michigan. In Michigan, we had a basement, and I used to leave my art there, and no one saw it. When we moved to Houston, there was no basement so I had to put it out and let people see it. Houston being in a flood zone is actually what made me show my art to other people.
You are the epitome of someone who uses both the right and left sides of her brain to the fullest. How does your art career balance your corporate career?
It's a balance, but I believe all artists are left and right brain. It's a misnomer when people say you're left or right brained. There's a lot of science and math that goes into beautiful art, and I think artists are able to use more of their brain because they're open to possibilities. As artists, we tend to not put limit ourselves. You can be great at being an artist and in the corporate world. It doesn't have to be one or the other.
What are your thoughts on the evolution of the Houston art scene? How has it changed since you arrived here?
It has most definitely changed. People are opening up a lot more to the variety in art. People are more perceptive to different artists coming here. Houston went from being just an oil town to a cosmopolitan melting point of cultures. People here are embracing expressionist work. I've seen a huge change in Houston, and it's been extremely positive.
What local artists inspire you?
There are lots of them. I have a lot of inspiration from the fine arts and street arts side. I don't believe in high or low brow art. Anyone who is able to express themselves is an inspiration to me.
To learn more about Anita, visit her website, www.colorsbyanita.com.
Dandee Warhol, Contemporary Artist
Born and bred in the Philippines, Dandee Warhol is an artist and curator who is a notable figure in the Houston art scene. He is dedicated to shining a light on undiscovered talent by hosting shows and collaborating with other artists. His most recent collaboration was with Carla Valencia for personalized handbags.  
You have had an interesting art career. What inspired you to start a business that caters to the Houston art scene?
Actually, it was sort of an accident. I graduated with a finance degree. During my finance career, I opened War'Hous gallery, so I was living a double life. When I got laid off in 2011, that's when I shifted all of my focus into the gallery and my own personal art. In order to pay rent, we were throwing art shows and events almost twice a month and that's when we got really connected to the Houston art scene and the underground movement.
What are your thoughts on the art scene in Houston? Is this a place were local artists can grow?
Houston is such a great place for upcoming artists. Like myself starting out, a lot of us have no idea that there is even an art scene in Houston. I grew up in Katy and when I finally made my way into the loop, that's when I discovered that there were people like me doing cool stuff. But once I got in the circle, Houston is an easy place to survive and thrive as an artist. Out of the major cities in Texas, Houston is definitely the one you would want to get started in because the art scene is centralized.
How has the popularity of social media platforms like Instagram affected the art world? Do you think social media helps unknown artists gain notoriety?
Going back to the beginning when I didn't know anybody in the art scene, I used Facebook as a search tool to find art events and to meet artists that I liked and invited them to the gallery and eventually becoming friends. Now Instagram has become the most powerful tool for any creative, from music, to art, and fashion. This platform makes it so much easier to share things and get your work out and this is where most of my inquiries and sales come from. Now I'm addicted to social media, it's the first thing I look at in the morning!
Who are a few of your favorite unknown artists?
Locally, just off the top of my head: Marjon F. Aucoin, Stephanie Gonzalez, Matt Messinger, Patrick Medrano, Ana Maria, Daniel Anguilu, Patrick Renner, Olga Saldivar, Damir Zoric, Julie Worsham, Kelley Devine, and Nicky Davis.
What are your plans for the future?
I believe art is about sharing your ideas and to evoke emotions, so I'm trying to reach as many people as possible. I've been trying to get my art outside of Houston and start exhibiting in different cities. I've been participating in Miami Art Basel for the last four years, but eventually I want to make my way to the west coast because my style of work is more fitting there, and I also think that's where majority of my audience will be. Aside from gallery shows and street art, I've been dabbling into fashion.
Follow Dandee on Instagram at @dandee_warhol