Beyond the Peaceful Sea is where their journeys begin. Three artists from different paths, contrasting cultures, and distinctive disciplines, but the stars have transported them together to Space City. Read the colorful perspectives of their creative worlds.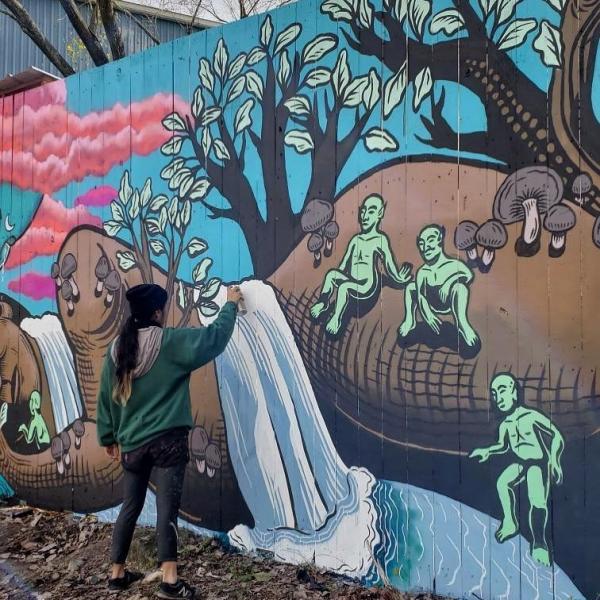 Courtesy of @kill.joy.mall on Instagram
Kill Joy / Visual Artist (Philippines)
Kill Joy's work is grounded in honoring the earth and seeking environmental and social justice. Her work is an interpretation of world mythology and a study of ancient symbols. She integrates storytelling with calls to global, mental, physical, emotional, and spiritual awareness and action. Kill Joy's family is originally from and partly based in the archipelago known as the Philippines and partly in Texas. Her work sits at the intersection where the jungle meets the desert. Her parents moved to the United States in the early thirties, and that's where her journey began.
For those who aren't familiar with your work, can you tell us more about your art, what medium do you work with, and where your ideas come from?
I work mostly in printmaking and painting murals. In either medium, I always approach it as storytelling. My work often sits at the intersection where fantasy meets politics. Often the characters in my stories are set in imaginary landscapes, in social and environmental situations similar to the political climate of Earth. My imagery aims to be solution-based, I choose to uplift, rather than to add to the oppression of fear. Both my preferred mediums of printmaking and mural painting rely heavily on people's support. The different communities I'm able to serve are what inspire the focus of my attention and the different themes I choose for each project. The topic that feels most relevant to each group and location is told back through a gentle and playful world. 
What message and inspiration do you incorporate with your art to connect with your viewers?
My wish is to inspire Hope in my work. With all the devastation that is present in the world, there is also love, family, friendship, community, and connectedness. A lot of my work portrays the mother figure: sometimes as a brown woman planting seeds in the soil with her daughter, or portrayed as a large powerful volcano in an explosion, others as a mother mounted atop a hummingbird with her children flying above non-existent borders, and simple outstretched hands offering a home. My favorite relationship to explore is the sacredness of the mother-child bond. It's that first bond that we can learn about nurturing each other and ourselves.
What are some of the things that you are passionate about and how can those things translate into your artwork?
I'm passionate about imagining and acting for a more loving, more inclusive global society that acts in kindness towards itself and the planet that supports it. I mostly enjoy spending my time making art or being outside, especially in wild environments. Although the worlds I create are fantasylands, they are constructed from actual species of flora and fauna found on Earth. I love reimagining what our world could look like without the tyranny of capitalism, racism, sexism, species-ism, and nationalism, basically all the tyrannical isms. 
How has social media changed your career?
Social media has given me a platform to share my work across a wide audience. I'm able to connect with people from Mexico all the way across the globe to the Philippines. With social media, I'm able to reach an international audience that would have been impossible otherwise. Each new project that gets shared potentially leads to other people scattered across the world that are willing to support and collaborate. I have a lot of gratitude for the fruits of the labor that I engage with social media. I try to remain mindful of the energy exchange I give to it, balancing both gratitude and watchfulness over the power that it could potentially hold to dictate what direction I take my work. At the end of the day, I want to satisfy myself most of all and not prioritize likes or follows.
How has COVID impacted your life?
The whole world changed dramatically after covid. For me, I went from non-stop traveling to rooting into one place and nurturing both physical and inner home. More than any time in my life, I have deeply reflected on the sacredness of Home, what it means, how it's cared for, and how it coexists in the outer and inner worlds. Before covid, my art existed as I have described in the previous responses. During covid, my art shifted into movement art available to social and environmental groups. The times called for something stronger. Ideas I had already been talking about through fantasy lands became emboldened through text and specific needs of different campaigns. Currently, it is rebalancing after the challenges we all globally experienced.
Do you have any exhibitions this year? If so, what events would you suggest to our viewers for 2021?
I just finished an Earth Day mural for Discovery Green titled "Migration is Beautiful" that will be on display until October. I will also be a part of an upcoming group show for the residency I completed with The Printing Museum.
---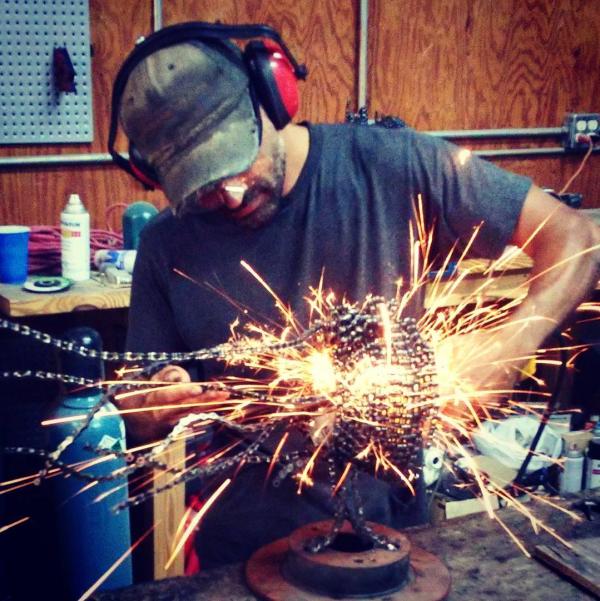 Courtesy of @sanjaysharmaart on Instagram
Sanjay Sharma / Metal Fabricator (India)
Since we're featuring artists from the Asian Pacific region, could you please tell us where you and your family came from and how long you've been in the US?
My dad moved to the States from India in 1966 after getting a job at the World Bank.  My dad's job was as a draftsman drawing pie charts and graphs (that job is done by PowerPoint now), so he eventually moved into economics. He met my mom in 1969 after she moved from France. I was born in the DC area and I got my art degree from George Mason University.  About five years later, I moved to Ohio where I could afford studio space.  As a sculptor, I needed a lot.  From there, I came to Houston in 2011 where I started a business doing custom fabrication, which morphed into full-time art. 
Can you tell us more about your art, the medium, and the concepts you imply?
I work in different media, mostly metal sculptures and ink on paper.  My sculpture ideas are conceptually based on my very own philosophy that is a mix of Asian philosophies, existentialism, and an artful understanding of quantum physics.  My ink work is more intuitive, influenced by some ideas from Chinese and Japanese ink paintings.  It is more of a free flow, being present, and not so much in control.  The sculpture work is very intellect-based, so I balance that with painting with less conscious intent.
How long have you been doing art professionally? Full-time or part-time?
I have been making work for sale for around 15 years now.  For artists, it is often necessary to have another job because our society values art more than it does the artist. For me, full-time and part-time has been an ebb and flow.  My construction and welding skills have brought me custom fabrication work as well.
What message and inspiration do you incorporate into your art to connect with your viewers?
When I make a piece of art, my desire for the viewer is to inspire them to create their art.  Art happens in one's head.  For example, one can make art by simply looking at flowers, or the sky, or another piece of work.  The thoughts and emotions evoke a person to think what art is.  So I hope everyone trusts themselves that whatever they are creating, stems from seeing my work.  I want connection through the fact of mutual art-making. What drives me to make art is a philosophy rooted in happiness. I call it a holistic absurdity.  It is a recognition of the wonder and ridiculousness of existence.  I think that if people can comprehend that, then they will find happiness that is all around them and not hold parameters and judgment for others (or themselves).  Life is like a vacation that happens when one leaves not-life to be born, then goes back to not-life in the end.  That is how it translates into my artwork through concept and conversation. 
How has COVID revolutionized your art and your life?
COVID had a big impact on artists, as most sales happen through some event, whether it's a gallery opening or an art fair.  It has also been a sneaky energy drain that I think has affected us all. For me, the shutdown came right as I was making a concerted effort to push more of my art career forward, so that came to a halt.  There is a major social component to success in art, so without that, it is tough to survive. I am currently doing an artist residency at Hardy and Nance, so I have pieces there ready to view in my studio.  Hardy and Nance have shows rotating through their art gallery, so I recommend checking them out when they have openings and closings.
---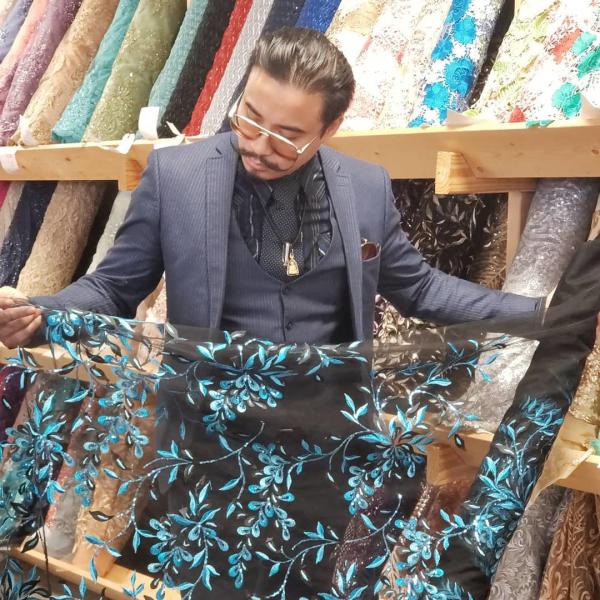 Courtesy of @dannynguyencouture on Instagram
Danny Nguyen Couture / Fashion Designer (Vietnam)
Despite his bolstering yet enigmatic personality, Danny Nguyen's foundation in the fashion world is rooted in the soil of humility. He began as a child, under the wing of his mother. Predating his arrival to the United States, Danny would be seen at a very early age cutting fabrics, collecting designs, and assisting with custodial chores around his mother's alteration shop. During this period, he developed and refined many of the essential skills of a fine fashion designer. Danny has developed further in many other aspects of the fashion world upon his arrival to the rich and diverse culture of Houston in 1990. Currently, he has his studio for alterations and design entitled DNC (Danny Nguyen Couture) in which he spends a great deal of time pursuing his dream.
Can you give our viewers a glimpse of your designs, what medium do you work with, and how you come up with your concepts & ideas? 
I am a fashion designer and my medium is fabric, beading, and crystals. My concepts come from my surroundings and interactions with my culture and the people around me. My background is in sculpture, so I apply that to fashion design by draping fabrics on a mannequin to create the design that I envisioned. I have been doing art of fashion for 12 years now and not many people know this, but I have been practicing martial arts for almost two decades and I've applied my understanding of repetition and patience from that to improve my craft. 
What message and inspiration can you convey to your viewers through your work ethic? 
I learned that art is one part of the design and one part of the business. To survive in this industry, both of those skills are needed. To understand fashion design and to be good at my craft, I needed to practice repetition and that is the key to become a master of your skills.
Has social media helped your career at all?
Social media have improved my brand and design by showcasing it locally into a national and worldwide platform. It has given me the platform to reach out to more clients and other talented people around the world. It is such a great vehicle to propel your work and drive it into different markets that you would normally have no access to.
How has COVID reconditioned your business?
During Covid, while being stuck inside, has helped me improve my skills and I learned to transition my life into a new way of doing business. Every issue and mistake that I encountered has helped improve my work and my art. Virtual shows have sustained and kept my work afloat tremendously to different ways of marketing my brand. For 2021, I would love to see more and participate in virtual fashion shows and fashion weeks such as New York, Los Angeles, and Paris where the industry can showcase their latest creations.