Sushi and ceviche lovers are going to be ecstatic about poke—the newest food trend to sweep the city. Pronounced poh-kay, the Hawaiian staple centered around sashimi-grade fish started to gain steam in Houston last year, but an influx of newcomers in 2017 makes it clear that the craze isn't slowing down.
The raw fish salad traces its roots to the Pacific islands, where its served with fresh add-ins (avocado, masago and scallions, for example) and is seasoned with soy sauce. Most often, poke bowls are offered over rice or leafy greens, making it an easy dish to customize. Ready to try it for yourself? Houston fast-casual poke restaurants are ready and waiting.
Located in a strip center, at the crossroads of Westheimer and Wilcrest, North Shore Poke Co promises a menu highlighting the elusive cuisine-defining balance of sweet, salty and a hint of sour in dishes like the spicy teri—an in-house blend of Waimea and house teriyaki—and sunset, a zippy rendition of spicy tuna with a touch of shoyu. Of course, you can also customize any selection with a build-your-own bowl, choosing sauce, rice base, fish, and add-ons like scallions, pickled ginger and masago.
What Montrose's Ono Poke lacks in parking, the restaurant more than makes up for in customizable poke bowls. Salmon, tuna, yellowtail and shrimp are all on offer, ready to be matched up with avocado, ginger, green onions or other additions. Give your mix oomph with the spicy shoyu sauce or the k-sauce—a savory "flavor bomb" of sweet, spicy and tanginess. While Ono Poke does offer indoor and patio seating, the space is intimate, so to-go service might be the safest bet.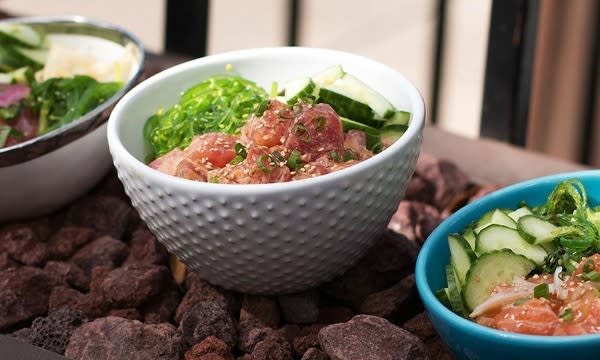 Located inside West U's Doc Holliday's, Pokeology's Executive Chef Jason Liao brings eight years of experience to Houston's sushi scene. On the menu, expect signature selections like the shaggy bowl with snow crab, shallot and honey wasabi and the tuna yuzuviche with tuna, yuzu white soy, pickled red onions and jalapeno. For a custom approach, guests can also build their own bowl, selecting everything from rice, fish, sauces and toppings.
In EaDo, Seaside Poke offers locally sourced fish from nearby Texas farms to ensure its fresh and tasty.Try their featured bowl of the month or choose from their ever popular signature bowl menu. Make sure to leave room for their Ube or Macha Rice crispy treats for dessert. The bright wall décor and cool colors inside the restaurant will have you feeling like you're dining seaside.

Sushi lovers in the city were quick to embrace Memorial's Pokii Eatery thanks, in part, to its hearty list of customizable options. While salmon, tuna, yellowtail and shrimp are on offer, Pokii raises the bar with scallops and octopus, too. Find more than two-dozen mixable additions like chili flakes, kimchi, pickled cucumber and crab meat, along with flavors like Korean pepper and sweet jalapeno.

West Coast-born Poké Bar has joined the city's poke scene, opening a restaurant in West Houston. Located at the intersection of Memorial Drive and Dairy Ashford, Poke Bar promises the classic Hawaiian cuisine with a twist.
Keep an eye out for Laki Fish, Local Poke, Poke Bowls and Rolls and Pokeworks to join Houston's brick and mortar scene in 2017.