The Menil Collection announced this week that its new $40 million, 30,000-square-foot drawing institute will open October 7, 2017. The freestanding building will feature temporary exhibitions, space for study and conservation, and storage of modern and contemporary drawings.
The Menil Drawing Institute (MDI) is the fifth building on the Menil's 30-acre art campus, along with the main museum, Cy Twombly Gallery, Byzantine Fresco Chapel, and popular Dan Flavin installation at Richmond Hall. Los Angeles-based architecture firm Johnston Marklee was selected in 2012 to design the MDI after an international competition. The building is part of a larger $115 million master plan campaign for the Menil Collection campus which includes other new buildings, green space, and other renovations.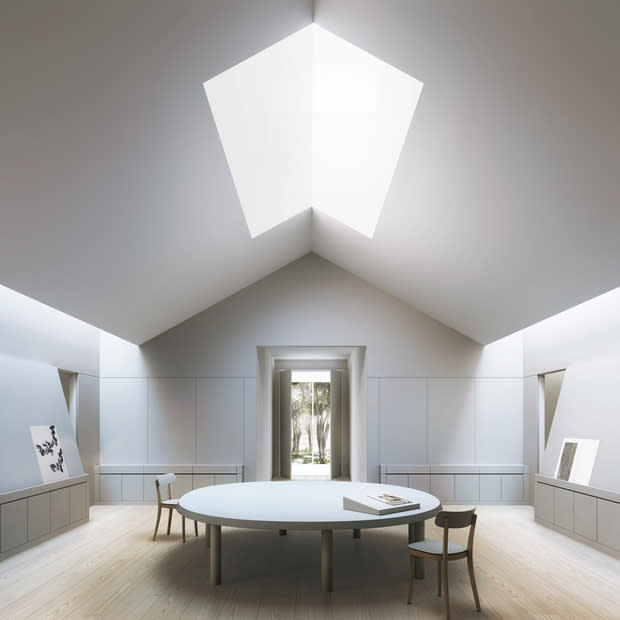 "The Menil Collection opened its greatly admired main building in 1987 with an installation of artworks that John and Dominique de Menil resolved to make accessible to the public, free of charge and in perpetuity," says Rebecca Rabinow, Director of the Menil Collection, "As we approach our 30th anniversary, it is wonderfully appropriate that we inaugurate a new building dedicated to drawing, a medium that speaks to the essence of creativity. The opening exhibition celebrates masterworks donated by three of the museum's most generous patrons."
The MDI will kick off it's inaugural year with two highly anticipated drawing exhibitions. The Beginning of Everything: Drawings from the Janie C. Lee, Louisa Stude Sarofim, and David Whitney Collections will lead up to the grand opening from February 23 to June 18, 2017 in the main museum. After 6 years of preparation, The Condition of Being Here: Drawings by Jasper Johns will open with the MDI on October 7. The exhibition will feature drawings of graphite, ink, charcoal, acrylic, and other unique techniques that span the artist's entire career.

Located in the heart of the Museum District, The Menil Collection is a free art museum that regularly features acclaimed rotating art exhibitions in addition to its signature collection of 15,000 works dating from the Paleolithic era to present day. The museum is open Wednesday through Sunday, 11am to 7pm, and charges no admission fee.