Houston is one of the fastest growing big cities in the U.S., but that doesn't mean residents can't escape city life. Houston ranks first in total park acreage among U.S. cities with more than one million residents, so rest assured you will never have to travel far within the region in search of fresh air. Here are a few ways Houstonians can enjoy the outdoors: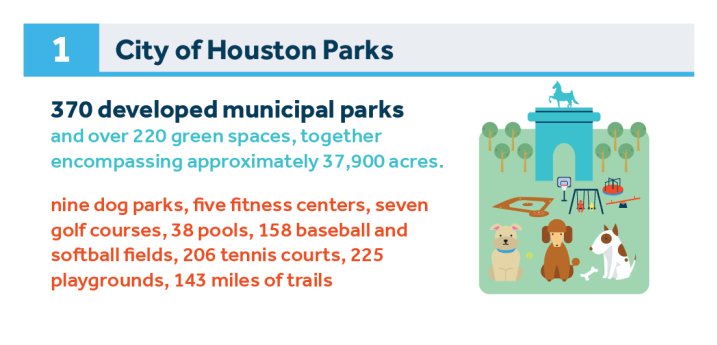 The Houston Parks and Recreation Department operates 370 developed municipal parks and over 220 green spaces, together encompassing approximately 37,900 acres. Amenities within these areas include nine dog parks, five fitness centers, seven golf courses, 38 pools, 158 baseball and softball fields, 206 tennis courts, 225 playgrounds, 143 miles of trails, and so much more. Explore Hermann Park after a day in the Museum District, or stop by Memorial Park after work to run its popular three-mile loop. Wherever you are, the city's parks provide the perfect place to exercise and reconnect with nature.

Avid cyclist? Biking options throughout the region include paved and unpaved paths, mountain bike trails, and shared-road lanes. The city also offers a more than 300-mile interconnected bikeway network spread out over 500 square miles, including bike lanes, bike routes, and signed-shared lanes and shared-use paths. Hikers can enjoy more than 128 miles of trails that loop within its parks or are linear and run along bayous and outside park boundaries. In all, Harris County offers 45 hike and bike trails which total 228.8 miles, so it's never been easier to enjoy urban life on foot or by bike!

If you enjoy camping or hiking closer to nature, Houston boasts proximity to five state parks, including Brazos Bend State Park, Galveston Island State Park, San Jacinto Battleground State Historic Park, Sheldon Lake Park and Environmental Learning Center and Stephen F. Austin State Park. Escape the bustle and traffic of city life by visiting the Sam Houston National Forest, largest of the four national forests in Texas, or W.G. Jones State Forest – both within 50 miles of the Houston area.

Headquartered in the Edith L. Moore Nature Sanctuary in West Houston, Houston Audubon is one of the largest chapters in the National Audubon Society. They have counted more than 400 bird species in the Houston region, so bird watchers and nature lovers alike will delight in visiting one of the six wildlife refuges in the area to observe wildlife in its natural habitat.

Looking for something fun to do with the kids this weekend? The Houston Zoo ranks among the most visited in the U.S., with a recorded 2.6 million visitors in 2016. The zoo seeks to provide a fun and inspirational educational experience, fostering appreciation, knowledge, and care for the natural world. Occupying 55 acres in Hermann Park, it is home to more than 6,000 exotic animals, representing more than 900 species.
For more interesting facts, check out the Greater Houston Partnership's Houston Facts publication by visiting Houston.org/houstonfacts or follow #HoustonFacts.