Buffalo Bayou Partnership is continuing work to transform the bayou on which the city was founded into an attractive destination point for both Houstonians and visitors to the city.

The 160-acre Buffalo Bayou Park project stretches from Shepherd Drive to Sabine Street. Construction on the $58 million renovation is in its second year of projects including:
New 10-foot wide trails (street and bayou side) See trail map here. New drinking fountains and benches will be located along the trails, and park users will have access to other amenities, including restrooms and a bike rental facility.

Eleanor Tinsley Park construction, including Pavilion.

Gardens and restoration of natural landscapes, including trees and native grasses.
Improvements at Eleanor Tinsley Park including the addition of a pavilion and landscaping (expected completion in April 2014).
Destinations like Lost Lake, the Water Works visitor center and a children's playground. More here.  
Dog Park near Allen Parkway and Montrose Boulevard will include two swimming ponds and additional infrastructure.
Extension of the blue lunar lighting from Sabine to Shepherd Drive.
Two pedestrian bridges at the Police Memorial and at Jackson Hill to provide greater accessibility (Now open).
Construction is expected to be complete in mid-2015. More here.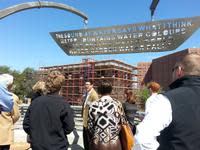 Renovation of Sunset Coffee Building began January 2014.
In downtown, Buffalo Bayou Partnership with Houston First, is working to renovate the Sunset Coffee Building at Houston's birthplace - Allen's Landing. Construction began in January 2014 on the former Sunset Coffee Building at Allen's Landing that will return the historic structure to use in hopes of bringing new life to Buffalo Bayou Downtown.

Once complete in mid-2014, the building will offer an outdoor plaza, refreshment facilities, canoe and kayak rentals and a rooftop event space among other amenities. The building will also house the offices of the Buffalo Bayou Partnership.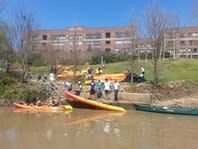 A group enjoying a kayak trip along the Bayou. Renovations will include additional boat rental facilities.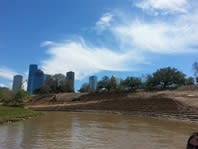 Landscaping along the bayou is intended to both improve aesthetics and protect the surrounding waterway and land.