Join the Czech Center Museum Houston for its exhibit Eugene Cernan "A Czech on the Moon" starting on Apr. 27 and running through Aug. 18, 2018. Space enthusiasts will know Cernan as commander of the 1972 Apollo 17 mission in and the last person who has walked the moon. Cernan's mother was of Czech ancestry and as such, the CCMH is delighted to tell his compelling and deeply personal experience as an astronaut. The film received the Texas Independent Film Award from Houston Film Critics Society and the Movies for Grownups Award from AARP The Magazine. To see a trailer of the video click here.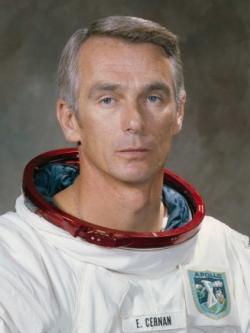 Aside from being an astronaut, Cernan was a naval aviator, electrical engineer, aeronautical engineer and fighter pilot. However, the documentary, "The Last man on the Moon", will describe Eugene Cernan's life as an astronaut. This documentary combines rare archive material, compelling visual effects, and unprecedented access to Cernan's personal life to portray an iconic historical character on the big screen. Further, Cernan's burning ambition carried him to the spectacular and hazardous environment of space and to the moon. However, there was a heavy price to pay for the fame and privilege that followed as Cernan served as an EVP of a petroleum company, news correspondent and author.
The Czech Center Museum Houston is dedicated to the exploration and preservation of Czech and Slovak heritage. There are estimated one million persons of that descent living in the state of Texas who have contributed significantly to the development of Texas and most certainly to our nation.
For more information on Eugene Cernan "A Czech on the Moon" click here.