Hispanic Heritage Month was created as a celebration to recognize the positive impact that Hispanic Americans have left on our country. This rings true when it comes to Houstonians, where they are entrenched in one of the closest cities to our southern neighbors. The roots of these artists run deeper than the river that divides the land. Their dreams become realities and their cultures transcribed into their work. The styles are different, but the messages are still identical. Now it is time to get to know these highly regarded Latino artists of H-Town!
DJ Gracie Chavez
Musician (DJ/Producer), Writer + Visionary
IG/FB/TW: @djgraciechavez 
SoundCloud: @graciechavez + @bombontexas
Website: www.graciechavez.com | www.bombontexas.com
DJ Gracie Chavez is an ambassador for the Texas music scene, pushing the crossover of music genres, playing a spectrum of sounds, and winning folks over. And this mami is the perfect act with a pedigree heavy enough to handle any party. A veteran DJ of the Lone Star State, she co-founded and leads up Bombón, one of the region's hottest tropical bass crews and record label, Bombón Music. Her sharp skills and taste-making selections have also earned her Houston's Best DJ (2016) title and influential out-of-town bookings, making her a top choice for events nationwide.
Since we're featuring Hispanic artists, could you please tell us where you and your family came from and how long you've been in Houston?
My parents are from the Monterrey area in northern Mexico. They met and married in Matamoros near the Tex-Mex border. I was born in South Texas, but my parents returned to Houston by the time I was 4 years old. I have lived here ever since, and I consider myself a true Houstonian! 
For those who aren't familiar with your work, briefly describe your art, what medium do you work with, and how you come up with your concepts & ideas?
I'm probably best known for the Latin-inspired music I play, however, it may be R&B amongst other sets lol! I've been a DJ/producer for about two decades, playing a wide range of music for an even broader audience across the Lone Star State. In 2010, I co-founded Bombón, a pioneering tropical bass party series that evolved into a DJ collective/band and record label.
Over the years, I learned to carve out time to conceptualize my ideas, just like I would for production and post-production. A lot of that downtime seems like doing nothing, but that's when I tune a lot out and just go internal. Sometimes this is when a lot of my ideas are generated. And then there are times where I'm inspired by a sound, style, artwork, surroundings, people, a vibe, or my culture. I just have to be ready to harness those new thoughts and ideas.
What message and inspiration do you incorporate with your music in order to connect with your viewers?
One of my biggest sources of inspiration comes from my culture and identity as a Latina. Our Latin culture is so colorful, vibrant, and passionate that I think these elements naturally translate through me in my music, writing, and artwork. But when I see other women of color, especially Latinas, harness creative freedom, that inspires me to unapologetically step out of the traditional supporting role sometimes we're cast in. It was a good way for me to take the lead and embrace La Mera Mera de Bombón.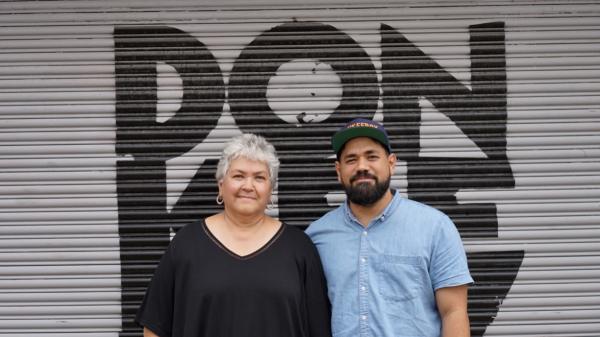 Donkeeboy & Donkeemom
Artists & Muralists
IG & Twitter: @Donkeemom
IG & Twitter: @Donkeeboy
Website: www.Donkeeboy.com 
Alex Roman Jr. ("Donkeeboy"), a visual artist based in Houston, is a remixer of pop culture. He puts his own unique spin on famous icons, creating works of art that consist of double entendre and visual puns, including signature pieces such as "PAC-asso", "Wonder Frida" and "DJ Screw" made with 4,379 screws. A Houston native, Donkeeboy moved to Mexico as a young child. Influenced by his mother, Sylvia Román, it was there that he discovered his passion for art.
Sylvia Román ("Donkeemom") was born in Chicago and raised in Mexico. She discovered her affinity for art when she was assigned to sketch at her elementary school. After she married at 19 and moved to Houston, she took a hiatus in her art career. She dedicated her time and her new life in Houston to taking care of her two sons and her husband. It wasn't until her youngest son, Alex, started following in her artistic footsteps that she was able to revisit her passion for the arts. Alex grew to become successful as Donkeeboy under her guidance. When she saw how serious her son was about the arts, the artist within her was reborn. As she began to work more closely with her son, she adopted the moniker Donkeemom in response to Alex's artist name Donkeeboy and in honor of their creative partnership. 
Could you please tell us where you and your family came from and how long you've been in Houston?
DB:  My dad was born in Mexico and my Mom in Chicago. I was born in Houston and at 40 days my Mom took me to Mexico and I was raised there until the age of 7. We came back to Houston and I have been here for about 32 years with some moves in between to LA.
For those who aren't familiar with your work, can you tell us more about your art, what medium do you work with, and how you come up with your concepts & ideas? 
DB: I consider myself a remixer of pop culture. I like to take things from my childhood and create a mash-up. I enjoy visual puns and double entendres. I mainly use house paint and spray paint as a medium. 
DM: I see myself as a traditional painter who likes to experiment with some modern concepts.  I used to use nothing but oils before and now have transitioned over to more acrylic. My ideas come from Mexican culture but I also like to experiment with new concepts. 
How did you get started with your art career and can you tell us how you came up with your artist names?
DB: My journey as an artist began at 6 years old. I grew up around my mother's art and wanted to be just like her. I won an art contest in Mexico at age 6 and that really motivated me to draw more and more. Donkeeboy came from the naysayers. There were a lot of people that never thought I could make it as an artist. I used that energy and rolled with it. Donkeys are loyal once you gain their trust, hardworking and stubborn like I was to chase my dream.
DM: I started at 9 years old, drawing at school and getting commissions from people in my town or friends of the family. I sign my painting Sylvia but I also go by Donkeemom. One day at an event, someone came up to me and asked if I was Donkeeboy's Mom.  I replied, "Yes I am Donkeemom." Since that day I have been Donkeemom.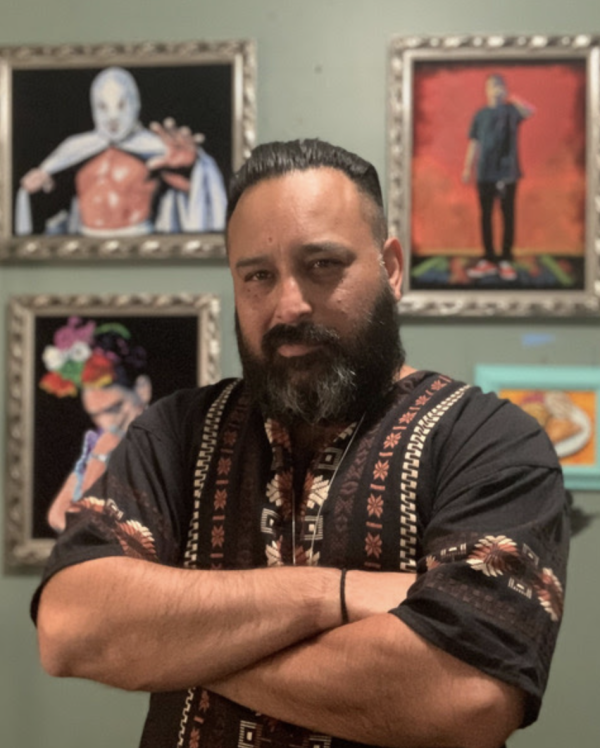 Juan Salazar 
Creative                       
FB: J.Salazar art  
IG @Jheezy4sheezy
Website: www.WarHous.com
As a child, Houston native Juan Salazar found his first artistic inspiration between the pages of comic books. He spent a decade emulating imaginary universes until a high school teacher introduced him to Van Gogh. From that point on, Juan focused more on painting and began to explore ways to utilize traditional techniques to depict subject matter that was more relevant to him. Now an inspired Mexican impressionist, Juan uses bright colors that are not only aesthetically pleasing but carry a message as well. Juan was diagnosed with bipolar disorder and tends to figuratively see the world in grays. In spite of that, he chooses to paint the world, as he would like to see it, bright and lively! Colors aren't just colors in his work, they are metaphors for hope and an invitation for the viewer to see the world differently as well.
Could you please give us a glimpse of where you and your family came from and how long you've been in Houston? 

I'm not really familiar with where my Salazar side of the family came from, my Garcia side is from the Rio Grande Valley settling there since before Texas was part of the United States so I always say the border crossed my family and not the other way around. I've lived in Houston my entire life, so 40+ years now.  Born and raised in Denver Harbor also known as BDH. I know there's a stigma to the neighborhood but I'm very proud of being from Denver Harbor. It's taught me a lot over the years. If I could sum up my neighborhood in 3 words it would be Family, community, and pride. To me, it's a special place and I'm honored to be able to call it home. 
Can you tell us more about your art, what medium do you work with, and how you come up with your concepts & ideas? 

I like the intimate connections with my clients so I'm strictly canvas, no murals yet. I work in oils and acrylics and rarely take commissions as I feel it limits me as a creative. I've been diagnosed with bipolar disorder so a lot of my concepts and ideas for my work come from me not wanting people to see the world the way I see it when I'm in the valleys of my depression.  Since I tend to see the world in grays and blues, I paint as vibrant as possible hoping that maybe I can force myself to see the color in the world.
How did you get started with your art career?
I've been fortunate in my art career, I hadn't painted in probably 15 years when I saw an opportunity to be part of the War'Hous Star Wars art show. So for the first time in 15 years I bought some canvases, an easel, brushes and paints and I painted Star Wars.  I love Star Wars and this seemed like the perfect opportunity for me, not knowing that when I went to turn in my  \art for the show that I would find a family with War'Hous, Who took me in as one of their own.  The Houston art community as a whole is very supportive of one another. I feel like if it wasn't for that I probably would've given up a long time ago and never have grown into the artist I've become now. 
How long have you been doing art professionally? Full-time or part-time? 

I've been doing art professionally for eight years now both part-time and full-time. I own a vintage toy store in the Heights called Super Happy Incredible Toys, which serves as my art studio. So I guess I would consider myself a full-time artist as of 5 years ago.
What message and inspiration do you incorporate with your art in order to connect with your viewers? 

Since my subject matter lately has tended to be landscapes and people, the message I try to convey because I paint with such bright colors now is that we can find beauty in the everyday things we overlook, if we just look for it.  I want that message not just to convey itself in art but in life. I mean we're all given situations that we have to deal with but if we dwell on the negativity of that situation instead of looking at the hopefulness and what things can come out of it we never grow as people. The thing I really try to give more than anything is hope, I want people to see that no situation is too dark because it's up to us to add color to it.
What are some of the things that you are passionate about and how can those things translate into your artwork? 

Family, wine country, culture, And nostalgia are all things I'm passionate about. Whether through the subject matter I choose or the style I use to paint, the impact on my work is significant.  One of my biggest influences though is Vincent Van Gogh. Even though it sounds corny, one of the reasons I even switched to oils is to feel closer to him as an artist. If you have ever seen any of my oil paintings I think it's pretty obvious how much my admiration for him has impacted my art.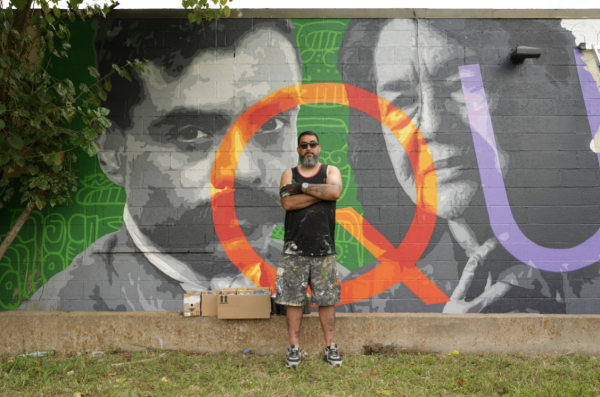 CUTTHROAT
Visual Artist
IG: @Cutthroat_since79
CUTTHROAT was born in Houston, Texas. After his family moved to Atlanta, Georgia for a few years, they relocated to Mexico. His early years were spent in Rio Verde, San Luis Potosi. There in the dusty playground of a private school, he tried to enamor his elementary sweetheart with elaborate colorings of his favorite Disney characters. As a teenager, his family returned to Houston, where like most boys from the neighborhood attached themselves to a street gang where he was quickly assigned the group's "official tagger." The rush of illegal graffiti fueled his craving for more paint assaults on the streets. He delved into the hip-hop lifestyle and sharpened his skill using the East End and the train yards as a canvas. Now, years later, CUTTHROAT's art has become a widespread in-your-face campaign fusing striking images and a monochromatic palette to invoke politically charged emotions and cultural embracement.
Where did you and your family come from and how long have you been in Houston? 
Well, like a lot of Houstonians, I have the Mexico-South Texas-Houston connections. My dad was born in rural San Luis Potosi, Mexico. My mother grew up in La Feria, TX. I was born in Houston. When I was about 6 or 7 we moved to a small town in Mexico, Rio Verde, San Luis Potosi. We moved back to Houston, in the East End. I was quickly embraced by the street culture and I haven't really looked back.
For those who aren't familiar with your work, can you tell us more about your art?
A quick trip to the border is when it sparked in my head. I saw a political banner in Reynosa, Tamaulipas that was using Emiliano Zapata's striking portrait. It was a meaningful trip with close friends and that banner would later become incorporated into my art.
How did you get started with your art career and can you tell us how you came up with your artist name? 
I was a graffiti artist just doing my usual covert activities in Houston. In the mid-2000s, I was trying a different media, stickers. I stuck my first one somewhere in the Montrose area and the next time I passed by the spot my sticker was gone. I was a bit irked by that, but it also got me thinking. Some of the graf and art magazines in my apartment featured European street artists doing stencils and I just thought it was off the wall and a perfect way to mass-produce stickers.
I did my thing all over Houston the best way I knew how. I learned and improved the technique along the way, getting into stenciling posters and wheat pasting. It was just a new medium. Not long after that an artist friend was doing art shows and invited me to take part in one of the shows. Let's just say I didn't sell as many as I wanted to, so I knew I needed to change it up. I was looking for imagery; I knew I needed impactful images. 
I was working a dead-end, 9 to 5 job in a high-rise off Allen Parkway and I was on my break, reading Reader's Digest. I read the word Cutthroat in an article. Later on the radio, someone used the word again, cutthroat. Then again on my way home, then on TV! It was just appearing to me all day. After reading the definition, I knew I could apply it to myself and that is how I chose my artist name.
What message and inspiration do you incorporate with your art in order to connect with your viewers? 
Well, the iconographies I choose in my works are typically Mexican artists, revolutionaries, and cultural standouts. I also really wanted to make sure I connected those things together. Specifically the culture, with an explosion of colors, images, and sounds. I also wanted my style to put a spotlight on it.
Gerardo Rosales
Lost Landscapes
September 18, 2021 - January 9, 2022
Paintings by Gerardo Rosales
Location: Partnership Tower, 701 Avenida de las Americas, Level 1, Lobby
Gerardo Rosales, born in Venezuela, is a multidisciplinary artist and educator who has been living and working in Houston, Texas, for 20 years. Rosales began as a self-taught artist, before attending the Armando Reverón Art Institute in Caracas, Venezuela, where he earned a B.A. in Fine Art. After graduating, he moved to London to study at Chelsea College of Art and Design, where he obtained an M.A. in Fine Art. Prior to moving to Houston, Rosales was recognized for his distinct and original work in Latin America's best known art venues. He was awarded a Support for Artists and Creative Individuals Grant from the City of Houston, through the Houston Arts Alliance in 2019. Rosales's work calls attention to issues of class, race, gender and sexuality, at times with biting humor, while other times with painful drama.
Can you describe your art and what inspires it?
These artworks are landscapes informed by nostalgia for the lost landscapes from my childhood while living in the Andean region of Venezuela.
My earliest works of art were similar to the style of "Carnival" and I used them as a chronicle of the everyday life, of a more peaceful reality, of my home city of San Cristobal. "Carnival" could be associated with paintings or souvenirs that tourists buy in Latin America; however, I am using this work to infiltrate the violence that has forced the local communities to escape their homelands looking for safe spaces to live and better opportunities.
In the other artworks for this show I build layers of imagery that expose foliage and insects that could be perceived as inviting and pleasant.  I use these natural elements as symbols that evoke the harshness and difficulties that victims of a diaspora encounter in their escape.
How has the pandemic affected your art?
"Denguerequetenge" for example was created during the COVID-19 lockdown of 2020. Through this work I wanted to bring attention to the negative impact of the dengue fever virus amongst unprivileged populations in Latin America. I felt that a parallel situation was experienced by Black and Latino people who have been disproportionately affected by the COVID-19 virus in the United States.
In conclusion I wanted to celebrate nature, but also, I want to bring attention to the fragility of the existence of human beings.