Don't call it a comeback. These days, the nail art trend of the 90s is stronger than ever. Recently, models at New York Fashion Week were seen sporting brightly-colored and intricately-designed nail art and back in H-Town, head-turning toes and finger tips are making their mark all over the city. Wondering where you can get a next-level manicure in Houston? Reserve a spot at one of these local nail salons.
It's likely that Inner Loopers haven't heard of Akyish, but westside residents know Houston's first Japanese-style nail salon is a mainstay for custom manicures. After operating as a mobile biz, the spot opened a brick and mortar outpost in 2014, where the staff offers classic Japanese nail art with 3D effects like jewels, foil overlays and illustrations. Follow them on Instagram at @akyish.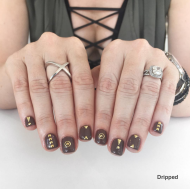 Everything about Montrose's Dripped nail salon is just cool. From the graffiti-laden exterior to its gallery-like interior. Don't expect cutesy creations here, Dripped delivers modern manicures with fashion-forward detailing. Think: Mauve nails with gold geometric accents or marble combos that blend black and white.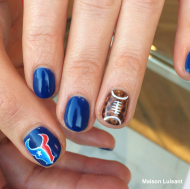 Jenya Malkin is a freehand nail art wizard. Find the creative talent working her magic at Highland Village's Maison Luisant, where she hand-paints the most intricate designs on clients' hands. Follow her on instagram at @euro_nails_tx and get an up-close look at her eye-catching work. We love her take on cableknit and buffalo plaid nails, along with her gameday-ready Texans designs.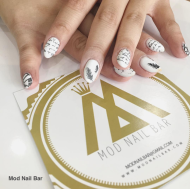 If you're looking for a hip place to grab a mani and pedi with friends, stop by Washington Avenue's Mod Nail Bar. Grab a seat in one of the black and gold throne-inspired chairs and order up a statement making colorblock manicure or ask about their delicate feather designs. If you're looking for an all-over nail effect, Mod is an expert in chrome and ombre techniques. Follow them on Instagram at @modnailbar.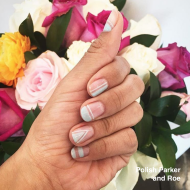 Though Polish Parker and Roe only recently opened in Houston's Sawyer Yards, it's quickly gained a following for its custom nail art services and sleek interior (it helps that one of the partners is an interior designer!). Give yourself a few extra minutes before your appointment to peruse hundreds of polish options and settle in for a one-of-a-kind manicure with hand-painted accents and shimmering details. Follow Polish on Instagram at @polish.htx.