In our fourth part of our series celebrating Women's History Month, we're showcasing women in fashion and  arts. Americans have always had a love affair with the arts, and Houstonians are no different. In our city, there are many talented, visionary women- artists and designers pushing the boundaries and  promising something fresh to discover.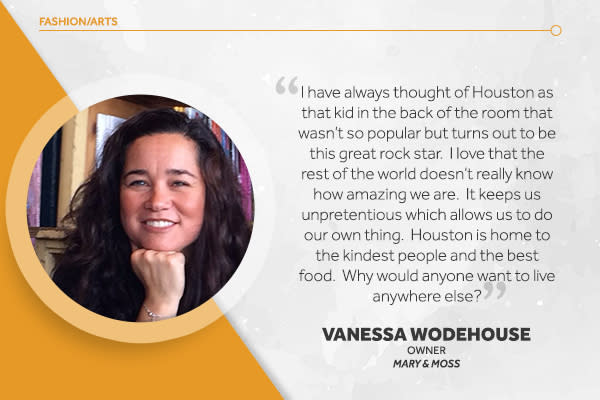 Vanessa Wodehouse is the proud owner of two specialty shops located in the Heights. Mary & Moss is a women's boutique that carries clothing, accessories, home goods, gifts and fresh flowers. It opened November, 2017. And, celebrating its fourth birthday this July is Vanessa's first store, the award-winning, neighborhood favorite Big Blue Whale toys & curiosities!

Prior to opening Big Blue Whale, Wodehouse enjoyed a twenty-year career in non-profit arts management.  She worked for Houston Grand Opera, Society for the Performing Arts, and Art League Houston. She also served on the boards of Jaguar Sun and Houston Arts Alliance.

Wodehouse is married to engineer Jim Wodehouse, is mother to two daughters, and spends much of her free time with her animal companions, mainly her beloved horses, Pancho and Cooper. Wodehouse graduated from Tulane University in 1994 with a BA in Art History.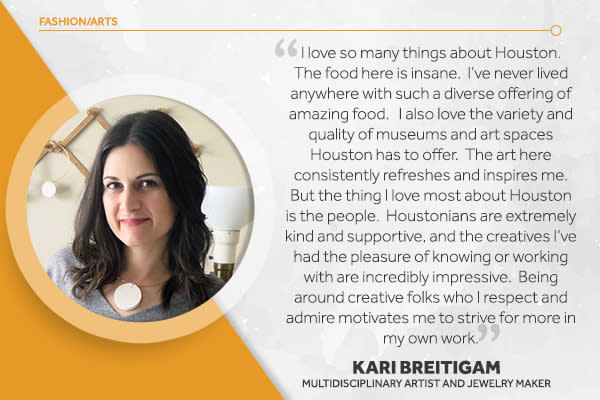 Kari Breitigam is a multidisciplinary artist and jewelry maker.  Originally from Ohio, she moved to Houston in 2012 after earning her MFA in painting from Indiana State University.  Her current studio artwork focuses on fiber techniques such as latch hook and appliqué.  Kari launched an accessories line in 2013, creating limited edition designs using fiber, clay, metal, and hand-dyed textiles, which are featured in local designer incubator LAUNCH HTX's pop-up shop and online store.

Upon further inspection, her designs embody the spirit of Houston: simple, modern lines that are handmade in small quantities, so that each has its own special look and feel, and thus, no two ever look exactly the same. Recently, Kari co-founded Pretti.Cool, a design collective that creates well-made, fun, and beautiful products for the home.  As it comes to sharing her knowledge with the next generation of creatives, Kari also chairs the Fine Arts department at Lone Star College – University Park.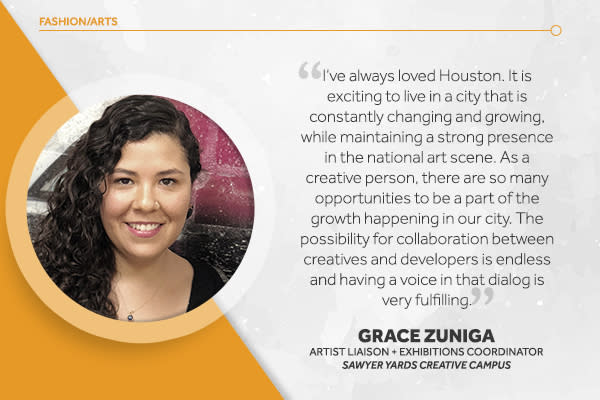 I was born and raised in Sandia, Texas but moved across the country to attend the University of Georgia, where I received my Master of Fine Arts in Studio Art from the Lamar Dodd School of Art in Athens, Georgia. A true Texan, upon graduation I immediately moved to Houston to be closer to my roots and pursue my career as an artist. I have exhibited both nationally and internationally, held a nine-month residency at the Houston Center for Contemporary Craft and continue to participate in solo and group exhibitions.

I continue my art practice while working full-time at Sawyer Yards as the Artist Liaison and Exhibitions Coordinator. Sawyer Yards is 55+ acres of industrial warehouses near downtown in Houston's Historic First Ward neighborhood, and one of the largest artist communities in the nation. As the liaison, I handle communications and logistics for over 350 tenants, organize 30+ exhibitions per year, and coordinate collaborations between the artists, regional organizations, and campus businesses.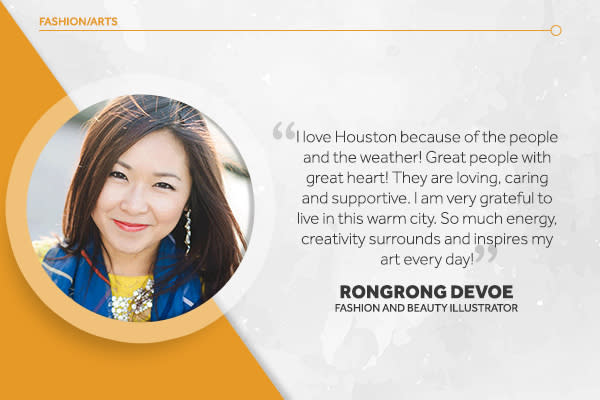 Rongrong DeVoe is an international fashion and beauty illustrator based in Houston, US. She is serving New York, LA, London, Paris and worldwide. Her fashion Illustration has been featured in Vogue, InStyle and Buzz Feed and named top fashion illustrator to follow on Instagram. Her clients include Chanel, Dior, Neiman Marcus, Target, Maybelline New York etc. 

Rongrong DeVoe originally from Qingdao, China, a former concept artist for video games lived in Shanghai until 2009 when she decided to move to NYC to pursue Masters in Illustration at the Fashion Institute of Technology. Currently, she is pursuing her dream career as a full-time fashion artist in Houston.