Chef/Owner, Sparrow Bar + Cookshop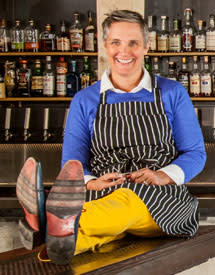 Dubbed the "Alice Waters of the Third Coast," German-born, Houston-reared chef Monica Pope has been revolutionizing Houston's culinary scene since she opened her first restaurant in 1992.
She shares her passion for connecting local farmers and consumers with weekly cooking classes, an online cookbook and Sparrow Bar + Cookshop and Beaver's restaurants. Pope has also enjoyed national recognition in the form of a James Beard award nomination and a spot competing on 2010's second season of Bravo's Top Chef Masters. She is the only Texas woman chef to be named Best New Chef by Food & Wine magazine thanks to her inventive, "eat where your food lives" cooking style.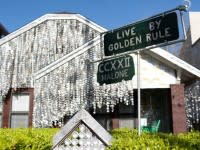 Birthplace...My dad was in the Army, so my brother and I were born in Nuremberg, Germany. But we grew up in Houston. Like our bumper sticker says: 'I wasn't born here but I got here as fast as I could."
Why I became a chef...This is all I've ever done. The only other job I have had was working for my dad in his law office for two days--which was two days too many. As a chef, I can move around and do a lot of different things and be creative. I know a lot of people who have regular office jobs that just aren't really happy. I always say that the restaurant business is the hardest way to make easy money.
Favorite type of cuisine...I think what I do is ultimately my favorite. I traveled all over the world and yet, I wanted to explore everyday foods. In the end, we call it local comfort food. I am interested in what comforts everybody wherever they are, culturally speaking. Where they grow up and what connects them with their home... I want to taste those flavors and get that feeling. It could be any kind of cuisine, it would be the same experience... but I want to connect to these nurturing kind of foods.

In one word, Houston is...creative. We have a creative community on so many different levels.
A Houston must-see...The Beer Can House or the Art Car Museum. Also Hermann Park - I don't think many people think we are as 'green' as we are. They are always struck by that. We are a very modern city, and it is interesting to take people to the extremes.
One thing in Houston I haven't experienced yet, but would like to...I recently heard that there are bike trails that go all the way to the ship channel. Supposedly, they will be the longest bike trails in the country. I thought that would be interesting since my daughter just learned how to ride a bike.
Favorite local ingredients...Too many to mention...red okra, wasabina, pinto beans.
Favorite place to shop for ingredients...I go to the farmers market twice a week. There is always something new or different.
Houston's hidden gem...I always say it's the people. I had some friends come into town and while visiting different places, we would always meet someone. Wherever I have gone in the world, it always comes down to hospitality and warmth. People are genuinely nice here. There is something that we have here... I believe it has to do with the weather; you just can't help but be warm yourself.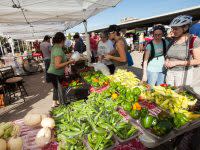 Favorite part of town...Montrose. I have lived in Montrose for many years. I always thought of it sort of as the epicenter. I love being between  downtown and Medical Center area, being around the museums, being around the arts--it's all within 5 minutes. It's like living in a small town.
Local inspiration...The local artists. I think we are all artists--we all create in different ways whether it's in food or other careers. This town allows you to think big and outside the box and be creative. I think we have this different attitude.
Inspiration for my menu...The stories behind the people/community that grow or raise the food in Houston.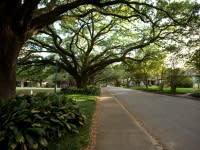 Why Houston?...When I was a teenager, somebody asked me what I was going to do and I said: "I am going to come back to Houston, open up a restaurant and change the way Houston eats."
How Houston's culinary scene stacks up to the rest of the country...I think it stacks up well beyond most cities. There is this depth and breadth, and ethnic diversity, and fun and big and flavorful. We have really good food here.
Explaining Houston to outsiders...The perception is that we all wear cowboy boots and have a cow and have a ranch and tumbleweeds. People don't realize that we're going to be the third largest city in this country, that we're so diverse, the arts, the culture. We're a big, big, dynamic city.
Always in my refrigerator at home...Green curry paste from Green Plum Kitchen.
If I weren't a chef, I'd...be a film writer.
Favorite cocktail...The Final Word at Beaver's (rye whiskey, Green Chartreuse, maraschino liqueur, lemon).