With its world-class museums, galleries, and diverse art scene, Houston is a welcoming place for artists from all over the world, offering visitors a chance to see unique art that they may not see elsewhere. To celebrate Hispanic Heritage Month, we spoke to four Latin American artists who call Houston home. 
Gerardo Rosales, Visual Artist
When Venezuelan artist Gerardo Rosales came to Houston 20 year ago, he wasn't expecting to stay long, but the city captivated him. His upcoming exhibit, Undercover, opens at the Galveston Arts Center on Oct. 12.
What led you to explore issues of class, gender and race in your art?
I've been exploring this theme since I lived in Venezuela. When I came to Houston, I was very interested in the issue of immigration because I saw that many of the people who came to the United States, especially from Latin America, looking for a better life in some ways replicated the life conditions they had in the countries they came from. So I became interested in opening up a dialogue about that reality.
I started researching the conditions of people living in extremes. I wanted to find a character who spoke to me about a privileged social group, and I thought of Marie Antoinette. I was very interested in the hairdos. The more intricate and elaborate the hairdos, the more time these people had. On the other hand, I thought of an object that connected to the less privileged and I thought of a mop and the work that many people who are less privileged come here to do. I transformed the mop, took it to the salon metaphorically, and transformed them with the hairdos of Marie Antoinette. 
There's a bit of humor there too …
Yes, there's humor there and an interest on my part for people to stop and think. The objects are curious but there are many layers of meaning in the objects with the intention of creating a type of empathy toward this social group. 
How has Houston's art scene evolved?

I think the cultural scene in Houston has grown significantly since I moved here. There are many opportunities for artists and for the general public to attend events of different calibers. The Museum of Fine Arts has been growing and it has an important research collection of Latin American art. They also host exhibits of Latin American art that I may not have access to in other cities. I've seen more art from Venezuela here than in Venezuela. 
Follow Rosales on Instagram @gerardorosalesart.
Olga Saldivar, Artist and Leatherworker
Mexican artist Olga Saldivar has called Houston home for 14 years. Inspired by fashion, her paintings mostly feature portraits of women with elements like flowers, birds and butterflies. Saldivar also has a line of leather handbags called Black Hummingbird.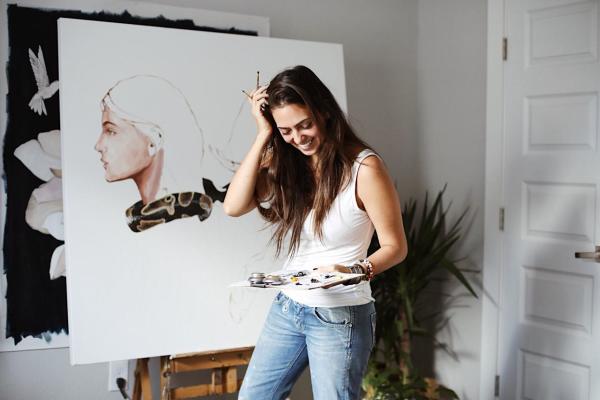 Photo by Ana Hinojosa
What made you transition to painting from fashion?
Growing up, I would draw but I never painted. I started fashion design in school and then after a year I moved to the States, and somebody asked me to make paintings for their baby's room. That's the first time I started using actual paint, so I started painting a lot and I got my first show in Austin. After that it was like, okay, I don't care about clothes anymore, this is more my thing. 
A lot of your work features portraits of women. Why?
I still love fashion, so I do get inspired a lot looking at magazines. I love photography and fashion editorials. I get super inspired by that. Looking at magazines always makes me want to draw pretty women but I think my style has a little edge so I always try to merge both, adding a little bit of surrealism.
What are some of your favorite things to do in H-Town? 
I love rollerblading in Hermann Park and Buffalo Bayou. I would go at least twice a week, and I have kids, so at least once a week we would go to the Houston Zoo or Discovery Green. I know they're some of the most common places, but I like to be outside.
Follow Saldivar on Instagram @olgasaldivarart.
Luisa Duarte, Visual Artist
An architect turned artist, Venezuelan artist Luisa Duarte, uses different mediums to show fragility as a circumstance that also shows strength. Her background in architecture informs her pieces, which lean on geometric forms. Don't miss her mural in Sawyer Yards.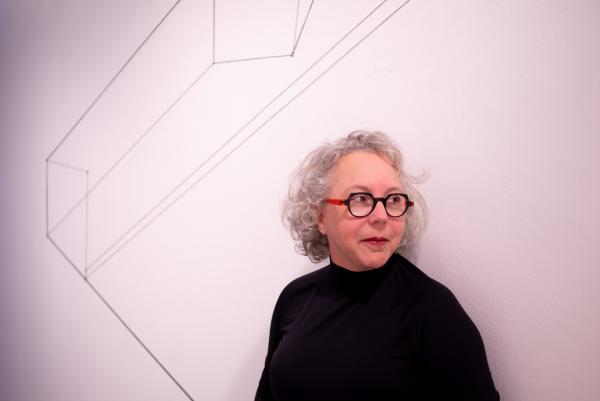 Photo by Graciela Socorro​

Tell me about your work.
My work subtly shows my experiences in a very codified way. Art for me has been a personal, interior voice that helps me channel worries, anxieties, happiness. Lately my work is focused on territoriality, not physical but emotional territoriality – that space that we need as human beings to protect ourselves, care for ourselves, have a shelter because I feel like lately there has been a bombardment of unpleasant situations in Venezuela and here. I try to show it in my work. 
What has Houston been like for you as an artist?
Houston has been so generous to me. Little by little, by being constant and having a presence in the art world here, I've created my space. I'm so grateful to this city for allowing me to develop my career and my voice. 
What do you most enjoy doing in Houston?
One of the things I most enjoy is going to Menil on Sundays with my two dogs and my husband. We bring the newspaper, some juice, some water and we spend the morning or the afternoon enjoying that peace and serenity and enjoying the sound of people also enjoying nature. I'm a fan of Menil; it's one of the most spectacular places I've visited and as an architect, it's one of the most serene and beautiful buildings. 
Follow Duarte on Instagram @luisaduarteart.
Saúl Hernández-Vargas, Visual Artist and Writer
A visual artist and writer from Oaxaca, Saúl Hernández-Vargas grew up surrounded by the drawings and wax molds of his grandfather's jewelry workshop. Through his art, he likes to question how people in power have built narratives and national histories. His upcoming exhibit, Nothing Left For Us In the Wilderness, opens on Sep. 20 at the Lawndale Art Center.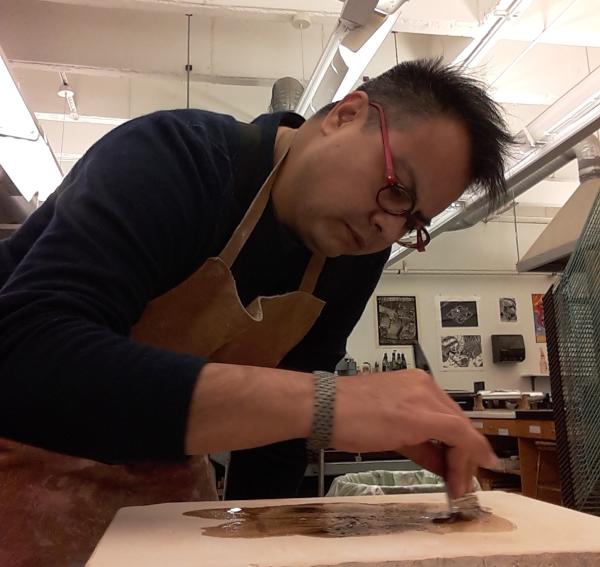 Photo by Cristina Rivera-Garza​
What is Houston like as an art city?
For me, Houston has been very stimulating. It's a vibrant city that's very interesting and is very open to Latin American artists. As you know, Houston has one of the most important archives of Latin American art at the Museum of Fine Arts. The museum usually has many exhibits of Latin American artists and Lawndale is very open to this type of work and artists from many places. I came from San Diego and that didn't happen there even though San Diego is at the border with Mexico. 
Tell me about your upcoming exhibit, Nothing Left For Us In The Wilderness
It relates to this type of questioning of official narratives, in this case the history of Mexico. It's made up primarily of three clay sculptures made of three different clays from Oaxaca and these sculptures have small objects made in wax by my maternal grandfather. In some ways, these tiny wax objects are objects that are dead, that don't have a connection with the present, and what the sculptures try to do is resurrect them and inject them with life. 
What do you love doing in Houston?
I love eating. The culinary diversity of Houston is amazing. I also love riding my bike, which may sound strange because at first glance it may seem like Houston doesn't lend itself for that, but there are many paths to travel by bike and I love to see the contrasts of the city. I also love to visit places like the Rothko Chapel. 
Follow Hernández-Vargas on Twitter @EdicionesPatito.
Interested in more local Latinx artists? Check out Manteca HTX, a directory of Greater Houston Latinx artists.