We're back, baby! For the second time in three years, Houstonians are painting the town orange in honor of the 'Stros heading to the 2019 World Series. As the baseball team takes on the Washington Nationals, there will be much to cheer for, and celebrate in Downtown Houston. Whether you're watching the game at a bar, or cheering in Minute Maid Park, here's your top 10 things to do downtown:
10. Get gear'd up
Open daily and with the second shop open three hours before game time, the Astros Team Store is your destination for post season merchandise. The Union Station Entrance can be found at the corner of Crawford and Texas, while the other location can be found near the crossing of Texas and Avenida de las Americas.  
You can also find spirit wear supporting our home team at LAUNCH. Take pride in both your home team and your community by buying handcrafted spirit wear from local Houstonian artisans and designers. Plus, their merch is pretty sweet.
9. Pre game with the hometown fans
Whether you'll be inside Minute Maid Park or not, the area around the ballpark is the place to start the home games. All around the ballpark, you'll find excited fans - head to Home Plate Bar & Grill or next door at HTX Tavern, where many locals will be watching and enjoying other Astros fans before the first pitch. If you want to stay close, head to Biggio's Sports Bar, Lucky's Pub or Little Woodrows. All within walking distance and havens for Astros fans. Get there early, they fill up quickly!

8. Stop by the Avenida for the Out of This World Series Party
Don't have a ticket to the game? No worries! You can still take part in the action and celebrate the Astros on the Plaza at Avenida Houston-- just one short block away from Minute Maid Park! Avenida will host a special Party on the Plaza for each game of the 2019 World Series starting at 3 p.m. on October 22nd, 23rd, 25th and 26th. Come stop by and cheer on the 'Stros while enjoying live music, ballpark bites and a new interactive art installation. 
7. Dine out in the city
In and around Minute Maid Park, there are excellent dining options. Find Italian cuisine at Grotto Downtown, or get the baseball feel with hot dogs and more at Biggio's Sports Bar. To be closer to the gate, check out Home Plate Bar & Grill, with drink specials and pub food that will fill you up before the action. Inside, you'll find ShakeShack and Torchy's Tacos. Try not to go into choice overload here, we know it's hard. 😉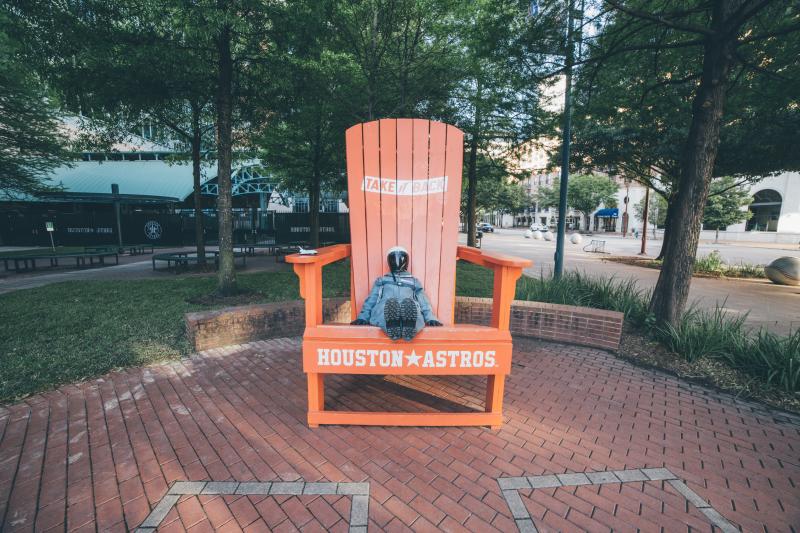 6. Snap a picture with the orange chair
With all of the celebrating, you'll probably need some down time. Take a page from Spacey Casey's book and relax in the Houston Astro's chair for a bit. Plus, it makes for a pretty sweet picture too.
5. Grab a picture with a mural
There will be plenty of photo ops and Instagram worthy shots downtown. After you're done snapping a picture in the orange chair, add one of the murals at Minute Maid to your bucketlist. Home Run Alley is prime location to get the perfect shot, with murals by artists like Franky Cardona (above) and Alex Cardona Jr., you're guaranteed to snag the perfect pic.
4. Stay downtown
With thousands of hotel rooms, make your Astros watch party or game an experience with a stay downtown. Near the ballpark, you'll find the new Marriott Marquis, where you can float in the Texas-shaped lazy river, just be steps from your seat. Be even closer at the Westin, where you can dine in luxury at Vic & Anthony's Steakhouse. Find other Downtown Houston hotels.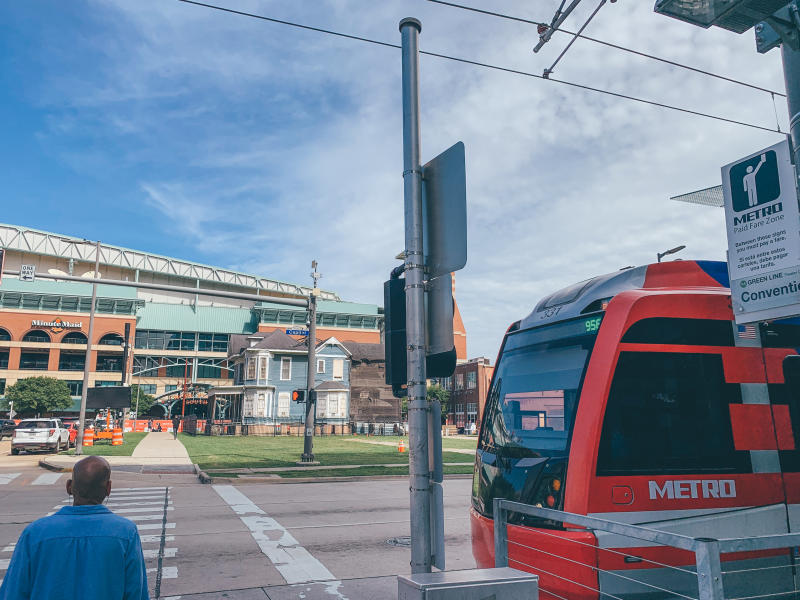 3. Light rail-travel
Whether you're staying downtown, heading into EaDo, or through Midtown to the Museum District and beyond, take a ride on the METRORail, where a $1.25 gets you a one-way ticket to your destination and you can skip all that buzz-kill traffic.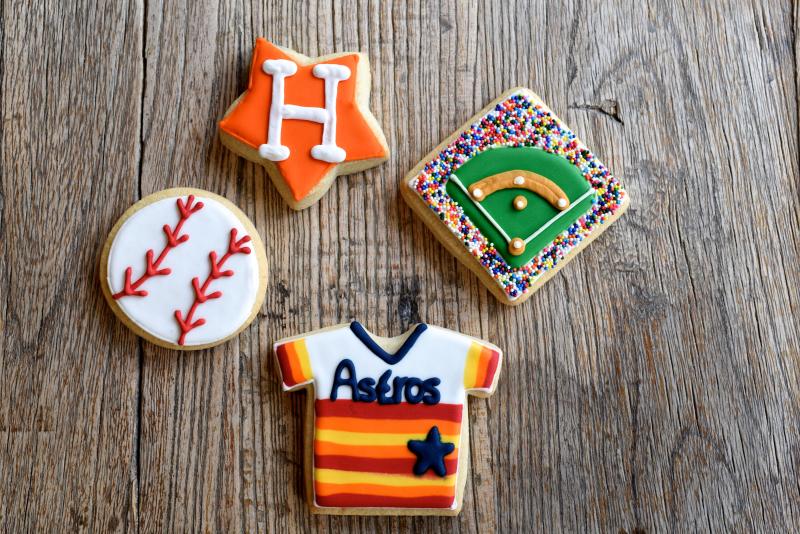 2. Get a real taste of #TakingItBack with some of the Astro's menu specials around town
All of this World Series talk has the whole city revved up, local restaurants and bars included! Enjoy major league deals and mouth-watering specials such as BCK's "All-Star Combo", or opt for something sweeter like Ooh La La's Astros shortbread cookies. 
1. Enjoy the moment
Remember, not all cities have a baseball team good enough to make it to the World Series for the 2nd time in 3 years. Some cities haven't made it to the World Series in 86 years. (Looking at you, D.C.) 😏