Photo by Jonathan Ivy at jonathanivyphoto.com
Are you looking to elevate your next date above ordering pizza and watching Netflix from your couch? Whether you're keeping an old flame alive or looking for ways to spark a new one, Houston has dozens of activities for your next romantic date out on the town. 
Catch a Show
Houston is bursting with theatrical, musical, and comedic talent. Upgrade the run-of-the-mill movie date to a more romantic showing at the Showboat Drive-in or Sundance Cinemas. If your wallet has been feeling a little thin, take your honey to a free performance at the Miller Outdoor Theatre. Laugh together at a show at Houston Improv while enjoying an intimate dinner. If live music is more what you're looking for, try any of dozens of music venues across Houston ranging in size and genre.
Cooking Classes
Houston is renowned for its food, which makes it the perfect city to learn how to cook for yourself from the best. Cooking classes across the city range in class size, theme, price, and skill level, which means no matter your style, there is a class waiting for you and your boo. Learning to cook together will be an investment in your relationship as well as your personal skill set for the rest of your life. 
Get Physical
Get your heart pumping in more way than one on your next date. Go on a kayak tour, or rent a set of stand up paddle boards for a romantic trip down Armand Bayou. One of the best ways to see Houston is by bike. Thanks to the city's B-Cycle kiosks, you'll find over 30 bike stations scattered around town. Put your relationship on the fast track at Speedsportz Racing Park @ Grand Texas. Take a short walk from the Galleria mall and shopping district to the iconic Houston Water Wall (pictured above) for a romantic stroll in the park. Other options to get going this weekend include dance lessons, horseback riding, or even a rousing game of bocce.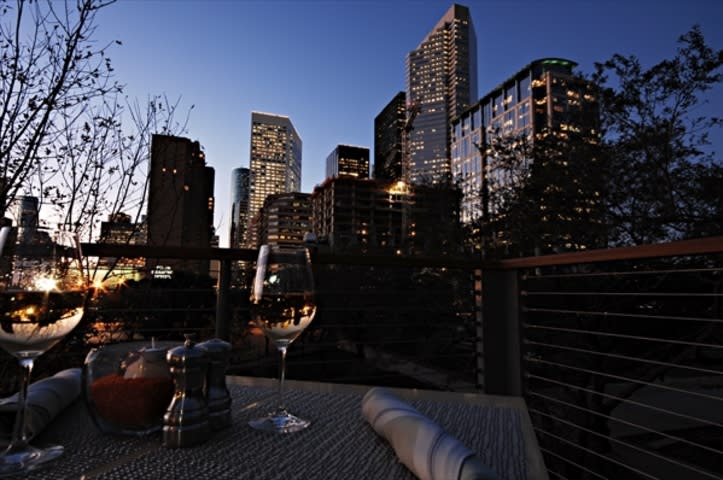 The Grove restaurant at Discovery Green Park.
Dinner for Two
A classic dinner date can be easily elevated in Houston, since there is no shortage of top-notch restaurants. Killen's Steakhouse provides the meal and the mood between Chef Killen's status as a former assistant executive chef in the White House and music from a baby grand piano in the background. Helen Greek Food & Wine is Houston's first modern Greek restaurant if you're looking to try a palate you don't get every day. Give The Grove at Discovery Green Park a try for outdoor seating with excellent views of the Houston skyline. Nothing says "romance" like a Texas pecan baklava sundae topped with chocolate cinnamon sauce. If a sweet treat is all you need, check out The Chocolate Bar at either of the Rice Village or Montrose locations.
Overnight Getaway
If you're looking to extend your date overnight, don't settle for just any hotel. One of many luxurious options includes The Lancaster, one of Houston's oldest luxury hotels, which is within walking distance of Jones Hall, the Alley Theatre, Wortham Theater Center and historic Market Square. Take advantage of their 90th anniversary by offering a $90 Sunday night guest room rate through Sunday, November 27, 2016. The Magnolia Hotel will make you feel right at home with amenities like oversized garden tubs, billiard rooms, a rooftop pool, and complimentary cookies and milk every night. If a bed and breakfast is more what you're looking for, La Maison offers a Southern-style breakfast and a beautiful view of downtown.