Chef/Owner, Gatlin's BBQ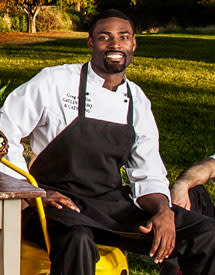 With a culinary family history, food has always played a prominent role in Greg Gatlin's life. But it took some time for the owner and pit master of Gatlin's BBQ in the Heights to discover that the restaurant business was his calling. 

The Rice University grad was a business consultant before starting a small catering company on the side. Demand for his delicious barbecue grew and when an opportunity to take over a small cottage in the Heights presented itself in 2010, Gatlin jumped. With his mom Mary's welcoming charm and family recipes in the kitchen, Gatlin has quickly become a power player in Houston's barbecue scene. In just a couple short years, the tiny restaurant has been cited by publications such as Texas Monthly and Food & Wine magazine.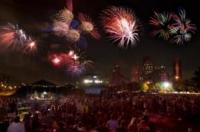 Birthplace...Houston. And I never really left it. 

Why I became a chef...Family. Everyone loves to cook, especially on my mom's side. Cooking was one of those things that brought family together, like for Sunday dinner. On my dad's side of the family his uncle actually owned a barbecue restaurant in Louisiana. So that's how a lot of the tradition came in. 

Favorite type of cuisine...Asian, Thai specifically. I just like that it brings so many different types of flavors together. That really appeals to me.
In one word, Houston is...diverse. 

A Houston must-see...Freedom over Texas, the annual Fourth of July fireworks event. It's a big deal and you really experience all these people from different backgrounds coming together to celebrate. I think it really shows what Houston is about.

One thing in Houston I haven't experienced yet, but would like to...I want to skydive. 

Favorite place to shop for ingredients...Central Market. I could spend all day there. 

Favorite part of town...For me, it's both the Galleria and the Heights/Garden Oaks. I grew up in Garden Oaks and for me that represents this laid back, quiet part of town. And then you've got the hustle and bustle of the Galleria.
Local inspiration...My mom is a big inspiration for me. She raised three boys, getting all three of us through school and giving me my passion for food. When we were developing our website, they asked me what I wanted on the front, and there was no question it was a picture of my mom. It's a tribute to her and how much hard work she put in. She's the one who greets people at the restaurant and she's a big part of our success.

Why I'm doing this in Houston...It's the largest city in Texas and I felt there was a need for more quality barbecue here. The goal was an experience of family and home through barbecue and providing that for customers from all backgrounds in a way that appealed to everyone. 

How Houston's culinary scene stacks up to the rest of the country...I think we measure up really well. I come back to the diversity of Houston and what it has to offer. There are so many different people here and that diversity translates to this fusion of food. It's sort of a microcosm of the city itself. 

Explaining Houston to outsiders...There's this perception that we're slow paced but once people get here they realize it's very metropolitan. That said, our people know how to have a good time. That mix is what's appealing to people who come here and I think it's what makes it hard for them to leave.