You will need to get set up early if you want a prime downtown spot at the finish line, which means setting that dreaded weekend alarm. But don't fret sound sleepers. No matter where you land along the race course, Houston has plenty to delight and entertain while you wait for the main attraction.  
Experience Houston (and the marathon) along the race route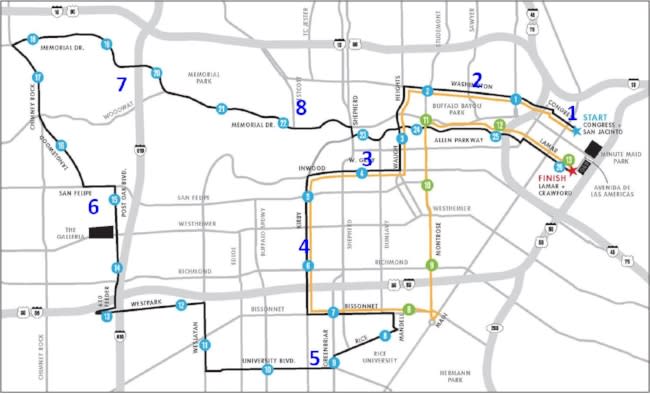 Breakfast at The Honeymoon Open at 7:00 a.m., spectators can fuel up before the big race. Their light and healthy menu will keep you feeling guilt-free with items like avocado toast and yogurt and granola.
Fuel up at Catalina Coffee It's a marathon, not a race, so you'll need to keep caffeinated. Named one of the '100 Best Places to Drink in the South,' by Imbibe magazine, Catalina Coffee is serious about its brew. The independently-owned shop offers up artistic lattes and cappuccinos, top-notch espresso, as well as pastries and light-bites.
Lunch at Brasserie 19 As the race winds on, lunch is our next stop. We recommend checking out this local favorite featuring classic French brasserie fare with modern American influences.
Treat yourself at House of Pies Because let's face it, if we're not running the race we might as well eat pie. And there's no better place to enjoy a slice than at this H-Town institution. With sugar-free sweets, classic fruit favorites and sinfully rich offerings like the multi-layered Bayou Goo and chocolate cream—all freshly baked—there's a pie for every craving.
Cheer on runners at The Ginger ManThere's always something to cheer about at this long standing neighborhood pub. A staple since 1985, this Rice Village drinkery serves up an exhaustive list of craft brews from around the world.
Dinner at Caracol With James Beard Award winner Chef Hugo Ortega at the helm, Caracol offers
Rest up at Houstonian Trellis Spa Watching others exercise can be exhausting. Kick back and let the professionals at The Houstonian's luxury spa work to relief any tense muscles, from all that clapping and cheering. You may not be running, but you may be floating to the finish line.
Sightsee at the Beer Can House Along the race route, there are plenty of awesome 
Volunteer 
You don't have to run the race to be a part of it. Volunteering is a great opportunity to join in on the excitement, and lucky for you we have all the details you'll need. The Chevron Houston Marathon weekend events depend on each individual volunteer to produce a great race. 
Besides being part of Houston's largest single-day sporting event, Race Crew volunteers receive exciting perks like race crew memorabilia, entry into RunFest festivities, and free parking. Volunteer as an individual or make it a group activity. On race weekend the Houston Marathon Committee coordinates medical coverage along the course and at the George R. Brown Convention Center. Public safety officers, EMS, and over 500 medical volunteers make this one of the safest races in the country, but only in part through the help of volunteers. Find out more here.
Course Entertainment
The Chevron Houston Marathon and Aramco Houston Half Marathon have approximately 100 HOOPLA stations every year, from cheer groups to bands to belly dancers and more. For more information on being a course entertainer, email hoopla@houstonmarathon.com.