Solange, St. Vincent, Thom Yorke and Pretty Lights all in Houston for one weekend? You're not dreaming. This amazing lineup is just one perk to attending the Day for Night festival. The festival takes place Dec. 15 – 17 at Post HTX. Along with concerts, the festival will feature 18 art installations (think LED displays that will blow your mind) and performances by internationally renowned visual artists. The festival aptly describes itself as, "a visually immersive art and music festival exploring the boundaries of light, space, and sound."
As Day for Night's popularity grows, visitors from near and far are flocking to Houston in search of a good time and a few recommendations. Visit Houston breaks down the must-stay, must-go, must-see, must-eat and must-drink venues. 
Area of Town:  Downtown
Must Stay
Houston offers ample options for lodging with short travel times to the festival. The hotels chosen are proximal to Downtown's light-rail system and to some of the best eating and nightlife the city has to offer. First, the Hilton Americas-Houston is a 24-story state-of-the-art convention hotel, located across the street from Discovery Green park, next door to the Toyota Center and two blocks from Minute Maid Park. While it clocks the farthest walk from the festival, about 30 minutes, it's a short 10-minute drive. Hotel Icon, also on our list for its incredible eats and drinks, The Lancaster, one of the Houston's oldest luxury hotels, The Magnolia Hotel Houston and The Sam Houston Hotel are all superb accommodations and average about a five-minute drive or 10-15 minute walk to Day for Night. 
Must Go
Getting from A to B can be half the battle when visiting a new city. With public transport and plenty of apps to get you where you need to go, logistics won't be an issue for festivalgoers. For $3.00/day you can get unlimited local bus and light-rail service with the METRO Day Pass. To get to the festival, hop on the METRO Light-Rail Red Line to Preston Station, walk two blocks north to Franklin, four blocks west to Smith. For the METRO Bus Service, you can take any of the following bus routes to the festival, 32 Renwick/San Felipe, 48 Market, 82 Westheimer, 85 Antoine/Washington, 160 Memorial City Express, 161 Wilcrest Express, 162 Memorial Express. 
The city's fleet of cabs and drivers are numerous and make for an easy, hassle-free trip. Use the Arro app to order a cab or use the Uber app or Lyft app for a car sharing service.
Houston also offers plenty of efficient and inexpensive transport options like Houston's bicycle share program, Bcycle. With 46 stations and over 350 bikes, Bcycle is convenient for quick trips around notable areas like Downtown and Midtown. Mobile bike checkouts are also available through the Bcycle app. Houston's GreenLink Bus Network, which runs on Compressed Natural Gas, is Downtown's local bus/shuttle option offering free rides around the area. Visitors not staying Downtown can park in a parking garage and take a GreenLink bus to their destination. 
Visit Houston has a full guide to transportation, just click here.
Must Do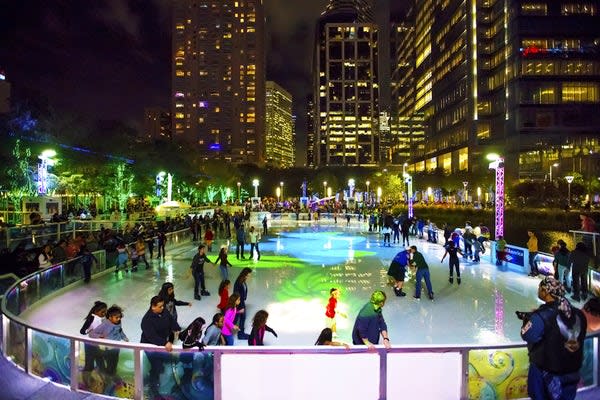 Walk, run or ride to some of the fun attractions located in and around Downtown. It's easy to find crowd-pleasing attractions in Houston. Discovery Green is an experience in and of itself. The 12-acre park hosts music, dance, film and theater activities, as well as exercise classes and children's events. Other on-site attractions include dining at The Grove and The Lake House, picnicking, a quick run on the jogging trail, bringing your dog to one of the dog runs, a playground for little ones and the Discovery Green Flea Market.
Our December weather has been known to be quite comfortable, so Bayou City Bike Tours is always an option. The three-hour ride through downtown Houston and neighboring areas, takes you on a fun, adventurous and informative tour that incorporates Bayou City history, architecture and wildlife. Another outdoor option is the Lee and Joe Jamail Skatepark, a state-of-the-art, public 30,000 square-foot in-ground facility. However, should the elements force you inside, Houston's underground Buffalo Bayou Cistern is a unique must-see. Built in 1926, an underground cistern was used for decades to hold a large portion of Houston's public drinking water. After it sprang an irreparable leak, the 85,000 square-foot public reservoir was drained and sat unused and practically forgotten about. The hypnotic beauty of the chamber is reminiscent of Istanbul's Basilica Cistern but with thin rays of light from open hatches above that illuminate the wide expanse. 
No one successfully sightsees without sampling a local brew. Saint Arnold Brewing Company, Texas' oldest craft brewing company, sits just on the edge of Downtown. Tastings are offered every Saturday at 11 a.m. and weekdays at 3 p.m. For seven dollars, attendees receive a logo-encrusted tasting glass, a guided tour of the facility, a history of American brewing and details on the process that turns grain into beer.
Must Eat and Drink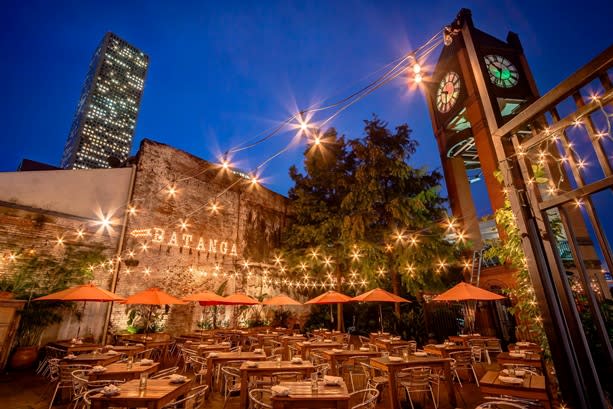 This is Texas; we go big on all things, especially food and drink. There is no shortage of amazing cuisine and libations in our city, but here are a few places to stop. Just off of Market Square is La Carafe, the oldest bar in Houston, and The Big Casino Kitchen + Bar where customers can order American food, watch a big game and enjoy the vibrant patio scene.
What's a trip to Houston with out some outstanding Tex-Mex? Owned by the Laurenzo family, El Tiempo Cantina on Navigation is as authentic as Tex-Mex gets. Mama Ninfa Laurenzo, is credited with introducing fajitas as we know them, so be sure to order a sizzling plate of fajitas and indulge in a deliciously potent margarita…or two.
After a dinner, grab a libation at Captain Foxheart's Bad News Bar & Spirit Lodge. You might feel like you're walking into a law firm, but through an unassuming door and small staircase, you'll find this tucked away treasure. Funny name, but serious drinks and an inviting atmosphere. 
After a long night of live music and a few drinks, perk up at The Honeymoon Café and Bar. Get your caffeine fix with a Toddy mocha or drip coffee, and then move on to aperol spritz coupled with a jambalaya risotto. Open for brunch and dinner on the weekends, this quaint café makes you feel like you're enjoying a meal in Paris. 
Looking to indulge in some true Texas Cuisine? Head over to Line & Lariat located inside the Hotel Icon. Line & Lariat's menu is sourced from Texas' coast, waterways, farms and ranches and it doesn't hurt that the accompanying L&L Bar serves inspired craft cocktails, regional draught beers and fine wines.
Click here for our full list of restaurants, attractions, and shopping Downtown.
Must Bring
Winter in Texas can mean 80 degrees, but be prepared with a jacket, scarf, gloves, beanies, etc. All bags will be searched prior to entering Day for Night. Choose a bag that is secure, and keep track of your belongings. Cameras are allowed at the festival, and the rule prohibiting detachable lenses has been lifted for 2017. However, the promoters reserve the right to use photographs taken at the event in promotional materials. You'll want some space to spread out, so bring a towel or blanket for sitting on the ground. Cash will be accepted for food, drinks and memorabilia, and in some locations credit cards will be accepted. There is no need to purchase food/drink tickets first. ATMs will be available throughout the festival grounds. If you're bringing children, ear protection is highly recommended. 
Must Not Bring
Day for Night is not a pet-friendly event; so kindly leave your furbaby at home. No motorized vehicles will be allowed at the festival. No coolers or ice chests are allowed, but plenty of refreshments will be on hand for purchase. The City of Houston does not allow any water, liquid or food to be brought onto the premises. Tents, canopies or large obstructions are not permitted. Weapons are also prohibited. Lastly, no professional photography, video or audio recording equipment will be allowed. As previously mentioned, detachable lenses are okay, but images taken at the festival may be used for festival promotional purposes.