Don't want to do all the cooking this Thanksgiving? Houston restaurants are ready to lend a hand with Thanksgiving to-go menus ranging from complete meal packages to appealing sides and desserts. Because, hey, you deserve to rest a little. Read on to find out where to stock up on Thanksgiving provisions and make sure to order early since most places have deadlines as early as Nov. 14.
George Ranch Historical Park's old-fashioned cobblers have built a loyal following in town. Prepared by in-house chef Nick Castelberg, and available in peach, apple and blackberry flavors, the cobblers are sold frozen so all you have to do is pop them in the oven at home.
Deadline: Order by Nov. 14. Pick up on Nov. 18, 21, and 22 at the park. A half-tray that feeds 8-10 people is $25.
Houston's New York-style deli, Kenny & Ziggy's, offers a variety of appetizers including franks in a blanket and mini knishes, as well as sides, salads and meats for Thanksgiving Day. But if you truly want to make things easy, opt for their complete Thanksgiving meal, which includes a 20-lb whole turkey, wild mushroom and chestnut stuffing, apple pie and cranberry-pineapple-nut relish, plus two sides of your choosing.
Deadline: Order by Nov. 15. Pick-up at the Post Oak location only on Nov. 22.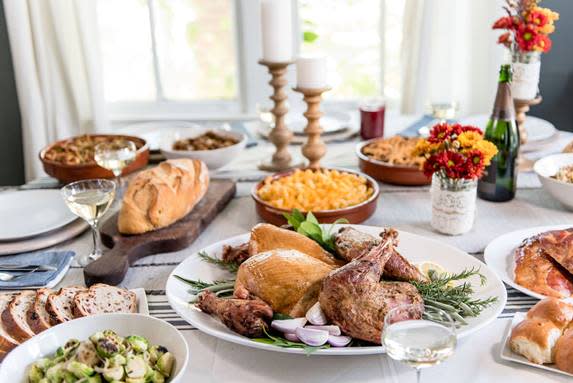 Get as much or as little help as you need at Revival Market. The Heights restaurant's Thanksgiving menu includes a variety of meats (from good old-fashioned turkey to duck), sides, including mac and cheese and green bean casserole, desserts, and "cooking aides," such as housemade stocks and pie shells to help out in the cooking process.
Deadline: Order online by 4 p.m. on Friday, Nov. 17.
Take care of the turkey and Backstreet Cafe covers the rest with their Thanksgiving menu of soups, sides and desserts. From cauliflower chowder to savory bread pudding with spinach, pine nuts and mushrooms, for Thanksgiving the restaurant makes customers' favorite items to go.
Deadline: Order by Nov. 20 for pickup on Nov. 22.
Bring the flavors of Hugo's authentic regional Mexican cuisine to your Thanksgiving table. From ceviches and campechanas, to tamales, enchiladas, and mole cornbread, the menu offerings at this award-winning restaurant are sure to wow your guests.
Deadline: Order online or by phone by November 20 for pick-up on November 22.  
Good with the sides but don't want the stress of cooking the bird? Pick up a moist, slow-smoked turkey at Goode Co. BBQ's various Houston locations and you're set. The 10-pound turkeys cost $75 and feeds from 8 to 10 people.
Deadline: Order by Nov. 21 for pick-up at any of their locations on Nov. 21 or Nov. 22.
Ever heard of turducken? Herbert's Specialty Meats carries this deboned turkey stuffed with a boneless duck and chicken. The layers of poultry are separated by cornbread dressing and pork stuffing.
Deadline: While supplies last. Make sure to call early.
"You relax, we'll cook!" says the historic, award-winning Rainbow Lodge's holiday to-go menu. We can get on board with that idea. The menu offers a wide range of choices, from turkey to a whole roasted suckling pig and what they call "lodge classics," which include the restaurant's buffalo and black bean chili, and smoked duck gumbo. The restaurant also offers Thanksgiving late-night snack packs for those dining in so you can take home some leftovers for your sandwiches.
Deadline: Order 24 hours in advance.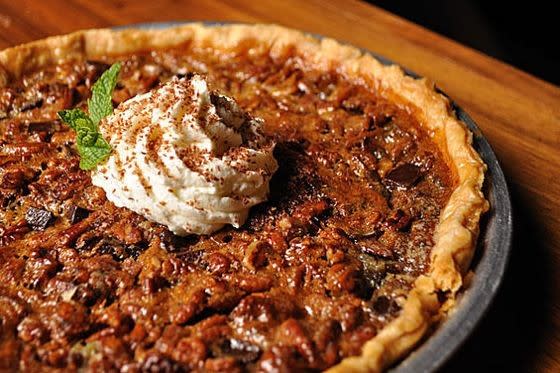 Benjy's on Washington's Thanksgiving On The Run menu offers a variety of sides and starters, protein choices including herb-roasted turkey breast with cranberry sauce or a pork rack with quince-orange marmalade, and desserts including pecan pie and sweet potato pie. The restaurant is open on Thanksgiving day as well so you can pick up the food you order that same day.
Deadline: Order by Nov. 20. Pick-up the morning of Thanksgiving Day, Nov. 23
Add a little French twist to your Thanksgiving menu with Etoile Cuisine et Bar's holiday offerings. Chef Philippe Verpiand has created a menu with options such as mushroom, leek and potato soup, foie gras au torchon, oven-roasted turkey with stuffing, vegetable casserole and brandy gravy, and pecan vanilla bourbon pie. Verpiand's downtown restaurant, Brasserie du Parc, is offering a similar to-go menu, including turkey with all the fixings, mashed potatoes, butternut squash and carrot-orange soup, and pecan vanilla bourbon pie.
Deadline: Nov. 20 for both restaurants.
Tamales are the name of the game at Sylvia's Enchilada Kitchen. Order pork or chicken tamales for your holiday table for just $20 per dozen. Order 5 dozen and receive one free. If you want something other than tamales, pick up some of Sylvia's famous enchiladas or fajitas.
Deadline: Order three days in advance at either the Woodway or Eldridge location.
Enjoy chef Chris Shepherd's food at home by ordering from Underbelly's Thanksgiving to-go menu. Choose from options such as Shepherd family's rum sausage, honey cured ham ribs, redneck mac n' cheese, and vinegar pie. Add a gallon of day after gumbo to enjoy with leftover turkey the next day and you're good to go.
Deadline: Order by Nov. 19 and pick up at Underbelly on Nov. 22 between 11am and 3pm.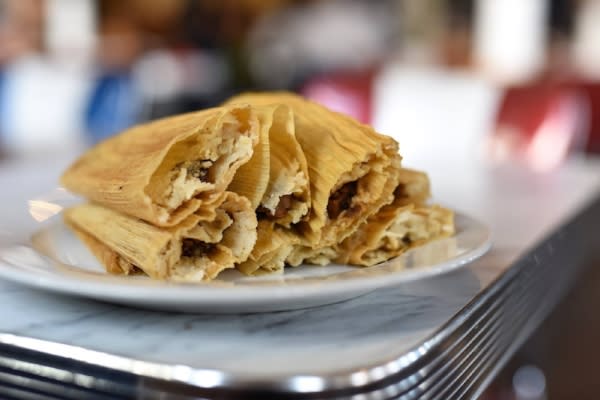 Add some Texas flair to your holiday table with Killen's Barbecue's brisket tamales. Prepared with housemade masa and stuffed with Snake River Farms chopped brisket, these tamales will be the talk of the meal. At $20 per dozen, the tamales are available for pick-up the Tuesday and Wednesday before Thanksgiving and throughout the holidays from Thursday to Saturday until supplies run out.
 
Deadline: Pick-ups are first-come, first served. Pre-orders for at least 25 pounds of meat are accepted 48 hour in advance.
 
Looking for a dessert to serve at your dinner party or to bring to one? Ooh La La Dessert Boutique has plenty to choose from. Their selection of fruit pies, cobblers, nut and cream pies, as well as cookies and pumpkin cheesecake make their locations a good place to pick up that Thanksgiving dessert you need. Bonus: the Cinco Ranch location has a drive-thru, making pick-up in an already busy time a breeze.
 
Deadline: Order at least 48 hours in advance.
 
Vegans will find plenty of tasty options in Sinful Bakery's Thanksgiving Menu. From "can't believe it's vegan cornbread" to vegan pot pie and mushroom gravy, you'll find dishes for you or your vegan guests. Also on the menu are an array of pies, kolaches, and cinnamon rolls.
 
Deadline: Nov. 19. Pick up Nov. 22 from 9 a.m. to 3 p.m.