Murals in Houston
Looking for a place to snap that perfect shot while exploring Houston? With its many green spaces, museums, sculptures and street art, you don't have to look too hard to find an interesting backdrop for your photos and selfies. Read on to discover some of the coolest spots to take pictures.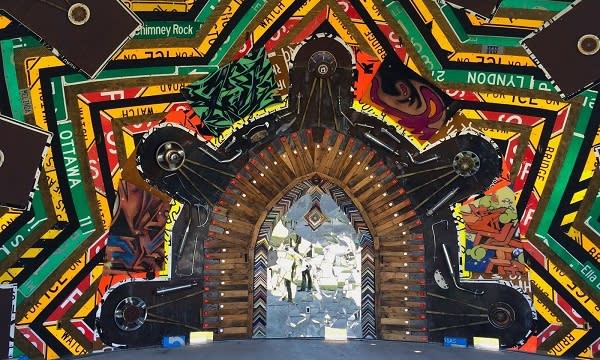 This Instagram-worthy Smither Park in south Houston is covered in fun and colorful mosaic art. The park's Lindley Fish Amphitheater, created by Nashville artist Matt Gifford using street signs, scraps of metal, and a giant disco ball, is just one of the whimsical structures you won't resist taking a shot of. You'll also find a rocket ship, octopus, and a goldfish among the park's hundreds of mosaics. learn more
Houston Is Inspired Mural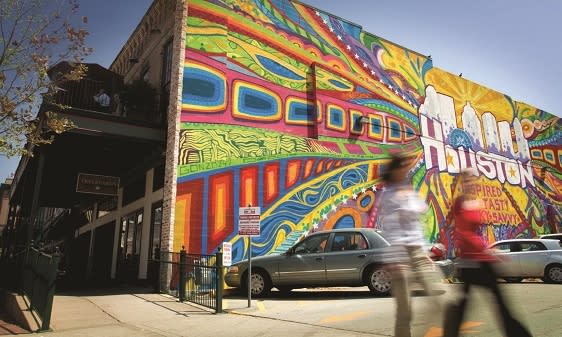 The popular mural created by graffiti artist Mario E. Figueroa, Jr., aka GONZO247, is a must for pictures if you're visiting downtown. Located on the corner of Preston and Travis, across from Market Square at the beloved Treebeards restaurant, the mural was unveiled in 2013 and shows the Houston skyline amidst a colorful background. learn more
Montrose Paint Wall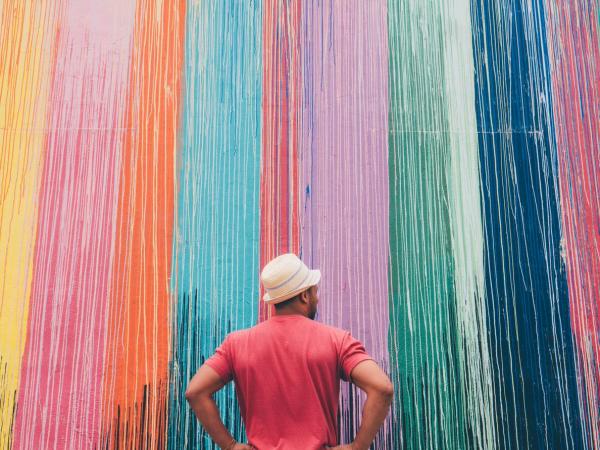 Designed by French, Houston-based artist Sebastien "Mr. D" Boileau, the Montrose Paint Wall can be found alongside the parking lot of Biscuit Home, a home goods store in the heart of Montrose. The colorful wall (1435 Westheimer Road) debuted in 2014 and was clearly meant to be photographed. As the #MontrosePaintWall hashtag imprinted on the awning above the door will remind you, make sure to tag your pics.  
2102 LEELAND STREET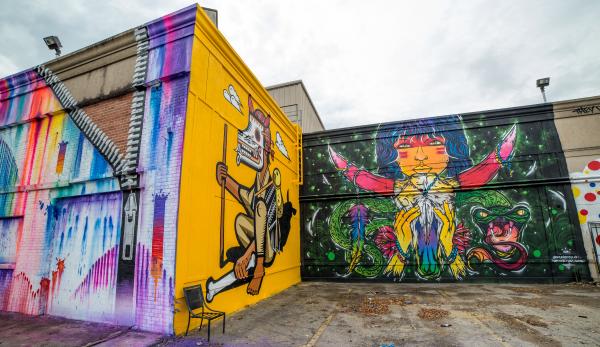 You won't see this park on any official map, and there's no sign announcing it's presence — but you'll know it when you see it. For a few blocks in Houston's East End, nearly every square inch of building is covered in colorful street art. Many of the works painted here were created as part of the Houston Urban Experience (HUE) Mural Festival, an annual gathering of artists launched in 2015. Affectionately dubbed "graffiti park" by locals, this sampling of murals is just the latest of a citywide effort to embrace the genre and add color and beauty to Houston's downtown.
420 TRAVIS STREET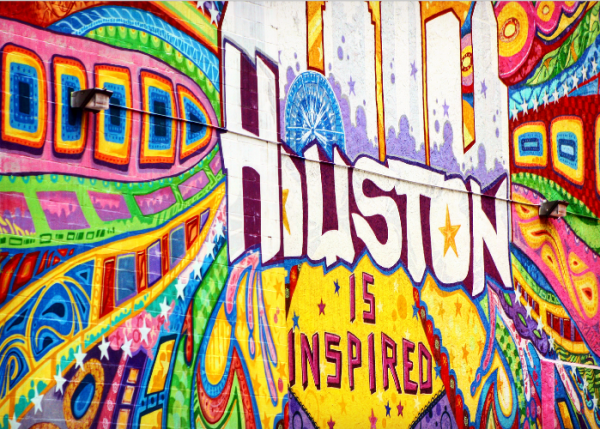 The colorful mural touts "Houston Is Inspired". Created by acclaimed graffiti artist GONZO247, the mural is located on the side of an historic building that currently houses Treebeard's restaurant, just across from Market Square Park.
2800 SAN JACINTO STREET

Standing more than 60 feet tall and 180 feet wide, Artist Sebastien "Mr. D" Boileau took his vision for the mural, titled "Preservons La Creation" (Let's Preserve the Creation), to 2800 San Jacinto Street. There, he created Houston's largest mural to date. The result is a staggering portrait of God, arms outstretched, spray paint can in hand, along 8,000 square feet.
424 W. 19TH STREET

The locally owned T-shirt printing and design company welcomes guests with bright animals on the building's side. The colorful mural was created by local artist Beans Barton in 2008.
3601 WHITE OAK DRIVE

Grab a scoop at Gelazzi and enjoy this 1970s style postcard mural by Houston artist Daniel Anguilu. Greetings from Houston sums up the Bayou City with colorful iconic images.
3825 FANNIN STREET

Collaboration with French Artist Kazyusclef and Houston artist Daniel Anguilu.
1701 COMMONWEALTH

The Flat is a much-loved neighborhood lounge that's popular with the inner-loop's laid-back, alternative crowd. But before you head inside, take a look at this mural by Houston artist Daniel Anguilu.