HelmsBriscoe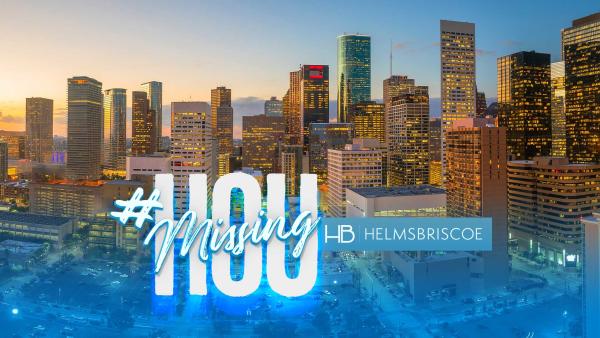 2019 ABC Photo & Video Gallery
Thank you to our wonderful partners at HelmsBriscoe for the honor of hosting the 2019 Annual Business Conference.
For those who attended, we hope you had a great experience and have a new-found appreciation for what our city is all about. For those that missed it, please let us know if your travels bring you to Houston so we can make sure you have an incredible experience.
Check out some of the sites and sounds from the conference, as well as some of the areas you might have missed:
HOU for YOU
As destination experts, we save you valuable time and money by acting as an extension of your organization. We work with you every step of the way from the initial consultation and needs assessment to providing you with area specific information such as meeting and event venue options, hotel, restaurant, nightlife, shopping, area attraction and transportation related information. We collect hotel responses, follow-up on your behalf, coordinate site visits to include scheduling, itinerary development and distribution, airport pick-ups, transportation, city tours, offsite tours, hotel tours and meal arrangements.
WHERE TO GO.WHAT TO DO.
Like many major cities, Houston's charm lies in its distinct neighborhoods. Click on the highlighted areas on the map below for more info about some of the city's most-loved areas.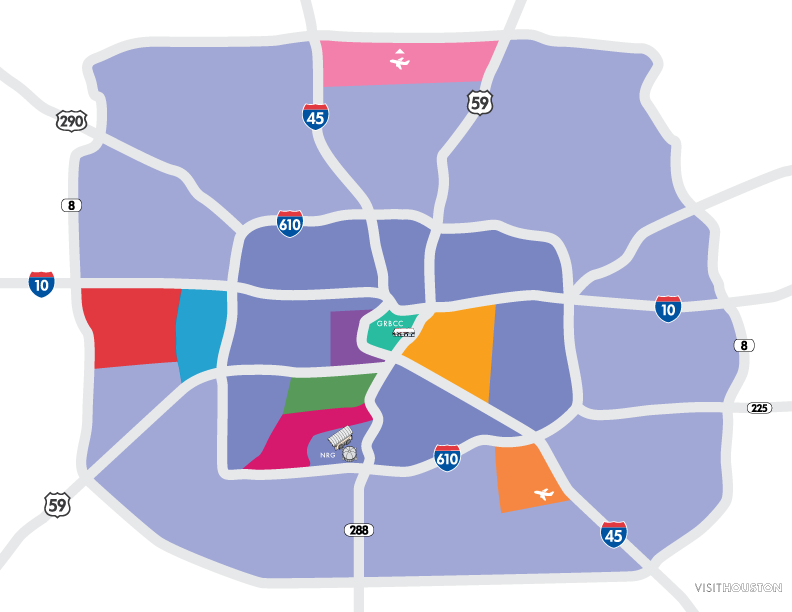 East Downtown
East Downtown, or EaDo, is a walkable area with unique offsite event venues, entertainment venues, breweries, restaurants, bars, live music, and nightclubs
Walking distance from the convention center
BBVA Compass Stadium (MLS Soccer – Houston Dynamo)
Truck Yard – an adult playground with live music, food trucks, ferris wheel and games
Pitch 25 – over 45 screens, multiple bars, patio games, hammocks and even a miniature indoor soccer
8th Wonder Brewery
Diverse mix of ethnic grocery marts, restaurants, bars, nightclubs and art galleries
Testimonials
Love Houston! I have had the pleasure of working with the Houston CVB and Hilton Americas Hotel on two 2020 programs. Both the CVB and the hotel were very comfortable to work with, they met all of our needs as a city and with the hotel contract, it has been an amazing experience! I was also very fortunate enough to attend a meeting in Houston and stayed at the Hilton Americas while the meeting took place at the convention center. The walk from the hotel to the center was flawless and the venues around the center were amazing! They even shut the street down for an outside evening event with music, food stations, bars and ample seating! Everyone at the hotel was hospitable, friendly, they had a lot of local fares in the lobby as we walked and were welcomed Texas style. My room was comfortable, nice size, clean and fresh. I would recommend Houston as a destination to not only my clients but my friends and family! Love Houston!

I want to shout out to all of HB how GREAT it is to work with Visit Houston and the Houston Hotels. Because the Hilton and the Marriott are connected on both sides of the Convention Center it makes a perfect fit for my group. My Annual has never met at a Convention Center and we were looking for a city/center/and hotel package that would make the shock of going from a one hotel show to a convention center show seamless for the attendees. Houston has the perfect situation; the downtown area is close to the Convention Center and Hotels are safe and has a lot to offer in the way of restaurants, shopping, and walking. The Visit Houston Sales Staff has pulled out all the stops to book my piece of business and has bent over backwards to make sure we knew they wanted the business. They were eager to work with us to provide us with options to make sure our needs were met. I would highly recommend you getting a bid from Houston whether you are looking for a venue for a city wide using the Convention Center or a one hotel meeting site. I was AMAZED just how much Houston has to offer. With the numerous flights into the city, the layout of the Convention Center and Hotels, and the walkable, clean, safe downtown area of the city…. you can't go wrong.

Houston is such a wonderful city with lots of hotel options to fit every program's needs. Fabulous 5 Star to Economical 3 Star. Houston has also become a Foodie Mecca and being such a compact city, you can easily find what you want within a short walk. The nightlife scene has also exploded and meets every desire from the just 21 attendee to the seasonally mature. You cannot go wrong when you bring a program to Houston.

From the time I began my RFP process to the end of the site visit, Juan was always there to answer my questions. He was patient and thorough and ensured I understood what hotels were the best fit for my client. He followed through quickly with email and phone calls as needed. Juan was very knowledgeable about both the hotels and the city of Houston. After just 2 days of site touring in Houston, I have a wealth of information for my clients and also understand how to sell Houston as a destination. My client especially appreciated the support of the CVB and she has learned to value the CVB's as much as I do. I can't thank you enough and I know my success is a reflection of all you have done for me.

Houston is a great destination for great meetings and events! A world class city with awesome restaurants for those foodie lovers, a world class city for shopping for the shopper alcoholics, and a world class city for sport lovers of all kind. Anything you need for your meeting, this city has it all.

From the very beginning of the RFP search, Visit Houston immediately became the front runner for our 2019 Annual Business Conference. Continuing through the site inspection process to the final negotiations, Visit Houston was creative, supportive, and provided one of the best conference planning experiences HelmsBriscoe has had. The campus of the Hilton, Marriott, and George R. Brown Convention Center, coupled with the enthusiasm and professionalism of Visit Houston, is second to none.
Need Advice?
Have questions about Houston neighborhoods, hotels, venues, attractions, nightlife, services we offer, or need help with an upcoming or existing RFP?