What's New in Houston
HOUSTON -- Development never stops in Houston. Consider this your go-to guide for staying in the know on the nation's fourth largest city.

For a comprehensive list of all recent Houston openings, please click here. For images associated with any of these projects, reach out to the PR team directly.
Major Projects · Parks and Green Spaces · Hotels
  Restaurants  · Arts & Music · Shops · Nightlife · Sports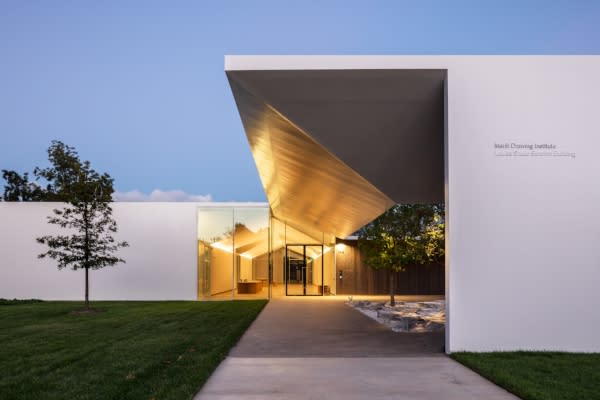 The Museum of Fine Arts, Houston, Campus Expansion - November 2020
Encompassing 14 acres in the heart of Houston's Museum District, the MFAH campus-redevelopment project, to be complete in 2020, is a major contribution to the city's efforts to improve the pedestrian experience of Houston. The expansion, which is the largest cultural project under way in North America, includes an array of public plazas, reflecting pools, and gardens, as well as improved sidewalks, street lighting, and way-finding. In 2018, the MFAH opened the Glassell School of Art, The Brown Foundation, Inc. Plaza, and The Sarah Campbell Blaffer Foundation Center for Conservation. In 2020, the project will conclude with the opening of The Nancy and Rich Kinder Building, featuring two floors of gallery exhibition space, a theater, cafe, and a restaurant.
The Menil Drawing Institute - Completed November 2018
The Menil Drawing Institute is the first freestanding facility dedicated entirely to the acquisition, study, exhibition, conservation, and storage of modern and contemporary drawings.
Holocaust Museum Houston Expansion - Completed May 2019
In October 2017, construction will begin on a $33.8 million project that will more than double the size of Holocaust Museum Houston. The new Lester and Sue Smith Campus of the museum will span 57,000 square feet and make HMH the fourth-largest Holocaust museum in the nation. The expanded museum will include a new 200-seat theater that can accommodate professional performances, an expansion of the "Bearing Witness" permanent exhibit that includes testimony and artifacts from Houston-area survivors, new exhibit space for the German World War II railcar and Danish rescue boat and a new library and classroom space among other improvements. More...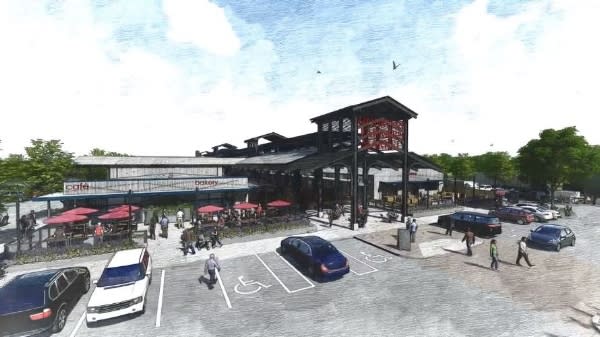 Airline Farmers Market - Opening 2020
Developing over the next three years, the beloved Houston Farmer's Market will transform into an 18-acre destination for locals and visitors. Bringing together food purveyors and unique retail vendors, the space will continue to serve as a community hub with programming and events. To help achieve this goal, James Beard Award-winning chef Chris Shepherd and his business partner Kevin Floyd have been tapped to serve as food and beverage consultants for the project. More...
Railway Heights - Opening 2020
Similar to Reading Terminal Market in Philadelphia and Chelsea Market in New York City, the 3.6-acre Railway Heights Market will be located at 8200 Washington Avenue near the western edge of the 610 Loop. Silent Theatre Group, the restauranteurs behind Bravery Cheff Hall and Conservatory, are leading the charge on this venture. The 22,860 square foot space will house a grocery store, beer garden, container farm and farmer's market with at least 25 food vendors. More...
Space Center Houston - Completed July 2019
The visitors center  is currently restoring the historic Mission Control Center, also known as the Mission Operations Control Room or MOCR, to reflect the authentic look and feel of the Apollo 11 mission. The $5 million project began in July 2017. Among the many improvements, Space Center Houston and its partners are even working with NASA historians to collect furnishings, books, notes and coffee mugs to replicate the atmosphere in 1969. More...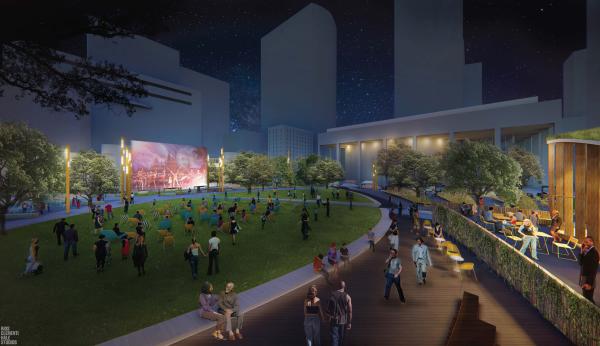 Lynn Wyatt Square for the Performing Arts - Renovation Expected Summer 2021
The former Jones Plaza, considered the "center stage" for the Theater District downtown, will undergo a major transformation and unveil as Lynn Wyatt Square For The Performing Arts in summer 2021. The $29 million capital campaign will include a performance lawn with flexible infrastructure for concerts and other free programs, a cascading water feature, trees and gardens for aesthetics and shade, a street theater, and a restaurant. Programming will reflect the Theater District's indoor performance spaces, providing an accessible new place to engage the public. More...
Astrodome Renovation - Completion Expected in Early 2020
Plans to move forward with the final design and construction of a $105 million project to transform the Astrodome into an event center have been approved. The Astrodome was the world's first multi-purpose, domed sports stadium and known as the Eighth Wonder of the World. After opening in 1965, the stadium also become the first major sports venue to install artificial turf, hence the name AstroTurf (after the stadium's tentants, the Houston Astros). More...
Memorial Park Golf Course - Renovation Expected in Early 2020
A $13.5 Million renovation is underway at Memorial Park Golf Course, funded by the the Astros Golf Foundation and supported by the Memorial Park Conservancy. Following it's reopening, the City of Houston aims to bring the Houston Open back within city limits to the newly renovated Memorial course. More...

PARKS AND GREEN SPACES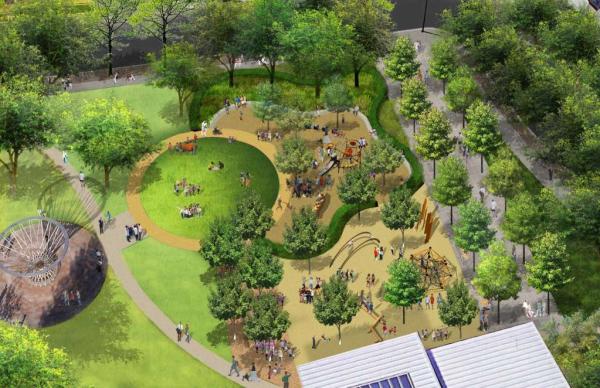 Discovery Green Renovation - Completion Expected Fall 2019
Park officials have begun a $12 million improvement project in the northeast corner of the 12-acre downtown park, Discovery Green. The renovations will include an expansion of the play structures from 10 to 20, with designated areas for kids aged two-five and five-12. In addition to new playscapes, there will be a new gateway, more lighting, new landscaping, and the women's restroom will be expanded. More...
Grand Texas Theme Park - Completed March 2019
Grand Texas Sports and Entertainment District will open its long-awaited water and adventure parks in New Caney this summer. Big Rivers Waterpark and Gator Bayou Adventure Park will open their gates June 2018. Plans for the water park include a lazy river, interactive play structure, wave pool, waterslides and other activities. The adventure park, meanwhile, is expected to have zip lines, challenge courses, nature trails, a seven-story free-fall tower, petting zoo, maze and more. Both parks will be a total of 80 acres on the 630-acre venue and will include educational aspects to help guests learn about Texas rivers and wildlife. More...

Southern Downtown park  - Completion Expected Fall 2020
A new park is expected to open in downtown Houston in 2020. It will occupy three-fourths of a block about three blocks northwest of the Toyota Center and two blocks southwest of the mixed-used development GreenStreet. More...
Texas Medical Center Research Campus - Opening 2022 
The Texas Medical Center Corp., which operates the largest medical center in the world, has unveiled a potential $1.5 billion expansion for its newest campus called TMC3. The centerpiece, resembling the double helix shape of a DNA strand, will be a multi-story building across most of the 30-acre area. The structure is expected to feature core laboratories, restaurants, retail and commercial space. More...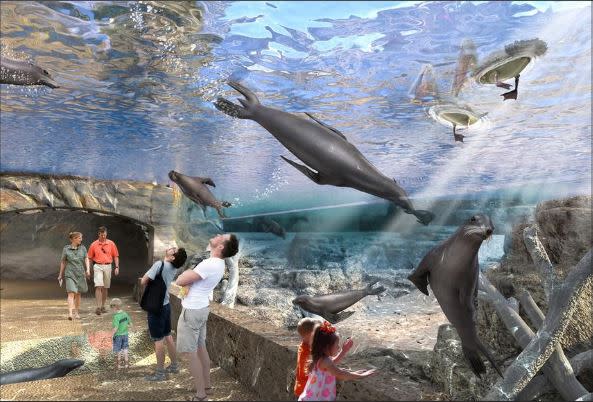 The Houston Zoo - Phase 1 Expected 2022
In 2022, the Houston Zoo will celebrate its 100th anniversary by completing the most dramatic transformation in its history. The $150 Million capital campaign includes plans to redevelop nearly half of the Houston Zoo's acreage with multi-species habitats, with additional funds allocated for conservation projects. More...
Memorial Park Master Plan - Ongoing through 2025
A new master plan could bring more than $200 million in renovations to Houston's largest park. The 1,500-acre Memorial Park near the Galleria district will soon see an update to its 3-mile jogging trail. But more long-term plans call for a land bridge over Memorial Drive, an indoor swimming pool, additional bike and pedestrian trails and a rugby pitch, just to name a few elements. Once it's approved, the master plan could take up to 10 years to completely realize. More...

Houston Botanic Garden - Ongoing
In early 2015, the Houston City Council approved a contract with the nonprofit group "Houston Botanic Garden" to take over an aging golf course in Southeast Houston. The group has until the end of 2017 to raise $20 million that will allow them to take control of the property and begin developing a major botanic garden on the site. Altogether, the first phase of the project is expected to cost $40 million and take several years to construct. The group continues to fundraise and is in the process of hiring a firm to develop a master plan for the site. More...

HOTELS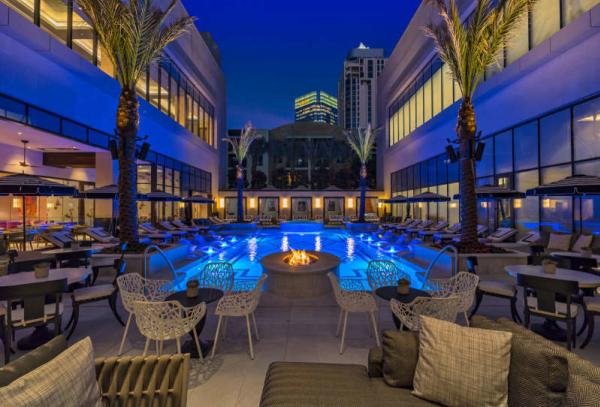 InterContinental Houston - Medical Center
InterContinental Houston - Medical Center brings modern luxury to the Texas Medical Center. The 22-story, 354-room hotel opened at the beginning of 2019. Travelers looking for a modern retreat next to the world's largest medical complex can look no further. As the first full-service luxury hotel for the area in decades, the hotel is also conveniently located in Central Houston within close proximity of the city's Museum District, Houston Zoo, Hermann Park and several other attractions.

Omni Houston Hotel  - Reopened November 2018
Omni Houston Hotel is undergoing a $30 million renovation process to  transform the 378-room hotel located in the Galleria-area of Houston. The inspiration draws from an authentic local aesthetic that will include leathers, bronze, brass and lush greens, providing a new take on a "modern Texas." The urban oasis will welcome natural light throughout with floor-to-ceiling windows, open communal spaces and the idea of bringing the outdoors inside. More...

The Lancaster - Reopened Fall 2018
Houston's Lancaster Hotel, which opened in 1926 and is registered as a Texas Historic Landmark, is undergoing a multimillion-dollar renovation after flooding significantly during Hurrican Harvey. The renovated hotel will boast a redesigned lobby, guest rooms, a new restaurant and bar, an outdoor mezzanine, an espresso bar and a new cardio fitness studio. Additionally, the hotel will soon be a haven for art lovers, with the work of more than 60 artists displayed throughout the hotel, and a TV channel dedicated to art. More...
The Post Oak Hotel at Uptown Houston- Opened March 2018
In March 2018, The Post Oak Hotel at Uptown Houston opened as Houston's newest luxury destination. The 10-acre development boasts a 38-story tower with 250 guestrooms and suites; 20 executive residences; and 35,000-square-foot conference facility. Unique amenities include a two-story Rolls-Royce showroom and on-site Bentley and Bugatti Post Oak Motors dealership, as well as signature restaurants including Texas' first Mastro's Steakhouse and the new Willie G's Seafood. More...
AC Hotel By Marriott - Opened July 2019
Downtown's century-old Houston Bar Center will soon be transformed into an AC Hotel by Marriott. The $44 million European-style project will be located at 723 Main and bring 185 new rooms to the area. More...
C. Baldwin Hotel - Opened October 2019
C. Baldwin is a high end and hyper-localized, independent hotel slated for a summer 2019 debut – inspired by the Bayou City's unsung hero, Charlotte Baldwin Allen, who used her inheritance to finance the City of Houston. From stylishly inspired guestrooms, stunning common areas and a signature restaurant – also named after a groundbreaking woman – to a luxury nail salon, curated local retailers, activated green space and 14,000 square feet of state-of-the-art meeting and event offerings, C. Baldwin is assuredly upping the ante in Houston's hospitality landscape. More...
Coming Soon
Thompson Hotel Houston - Opening 2019
Denver-based Two Roads Hospitality announced plans this week to open a Thompson Houston hotel along Allen Parkway about halfway between downtown and River Oaks. The proposed project, on a 6-acre site next to the Federal Reserve Bank building and across from Buffalo Bayou Park, is envisioned as a mixed-use development that would include the hotel along with residences, shops and offices. More...
Hyatt Place Hotel - Opening 2019
The former Southwestern Bell Telephone Company building in downtown will soon be the location of the new Hyatt Place Hotel. This $22.8 million project will transform the 16-story building into a full-service hotel complete with 150 guestrooms, ground-level dining, rooftop cocktail bar, indoor pool, and fitness center. More...

The Houstonian Hotel, Club & Spa - Reconstruction begins late 2019
The Houstonian Hotel, Club & Spa will soon begin work on its new master plan, just in time for the venue's 40th anniversary.  Overall, the project is expected to cost $45 million. The Houstonian sits on 27 acres at 111 N. Post Oak Lane in the Uptown/Galleria area. Plans for the hotel include completely remodeling guest rooms and suites, creating "an enhanced arrival experience," updating the hotel's Great Room lobby, adding a new deck overlooking Buffalo Bayou, a new indoor-outdoor restaurant overlooking the pool areas plus redesigning and expanding multiple club studios and childcare areas, a rooftop event space will be added for movies, entertainment and gatherings.Trellis Spa will be completely refurbished, and plans include a luxury outdoor water experience. More...
RESTAURANTS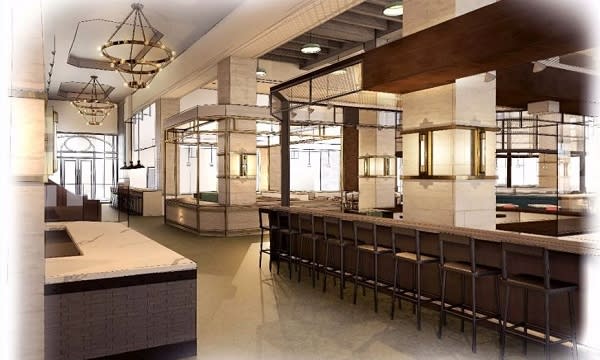 Bravery Chef Hall - Opened February 2019
Bravery Chef Hall will open with five restaurant concepts under one roof. Along with independent chef-driven concepts, the hall will feature a molecular cocktail bar and an expansive patio in the expansive 9,000 square foot space.
Understory at Capitol Tower - Opened Summer 2019
The 35,000-square-foot project inside Capitol Tower's two-story atrium at 800 Capitol Street downtown will house a full-service restaurant, seven chef-driven market concepts and a cocktail bar. The hall will connect to Houston's famous 7-mile underground tunnel system, with five points of access as well as street access via the "Great Steps", a 30-foot-wide staircase. The interior design plans are just as grand. Murals will don the walls, while white marble, natural wood and copper finishings complete the look. 
Bellaire Food Street - Completed Summer 2019
Houston developer Kevin Kan wants to simplify the process of exploring Houston's Chinatown district and the diversity of the area, while showing the best of what Asia has to offer. Poised to become one of 2019's most exciting new dining destinations, the Bellaire Food Street project will feature 13 restaurants and a 200-plus car parking garage. Many are international brands making their Houston or Texas debut, but a couple are locally-owned.
Montrose Cheese and Wine - Completed July 2019
This 760-square-foot retail shop focuses on small producers—in its rotating selection of 12-15 cheeses, the 75 wines that emphasize (but aren't exclusive to) organic, biodynamic and natural production, and the small selection of beer and cider. The team from Biscuit Home has curated food and wine-related gifts, along with tools and accessories frequently used by partners Master Sommelier David Keck and Chef Felipe Riccio. 

Rosie Cannonball - Completed July 2019
Rosie Cannonball will bring the spirit of casual European dining to the heart of the Montrose neighborhood. Expect a menu centered around a wood-burning grill and oven, with a dedicated bread and pizza program and carefully sourced products. Rosie Cannonball will have an expansive list of affordable and delicious wines—Beaujolais, Loire Valley and progressive New World producers—with a well-curated cocktail program. 

Lyric Market -  Opening Fall 2019
Located in the heart of Houston's Theater District, Lyric Market will be a fully immersive experience filled with chefs, artisans and purveyors from around the globe. A 4,000-square-foot rooftop deck, al fresco dining terraces, and lively plazas will showcase Houston's downtown views. Highlight: the underground speakeasy! More...
Politan Row - Fall 2019
Located in the Rice Village shopping center, Politan Row will debut in a 7,350-square-foot space, featuring mid-century modern design, and hosting 12 restaurants concepts. This new addition is part of a multimillion-dollar transformation over the past few years.

March - Opening Fall 2019 
March, an intimate, 28-seat restaurant, will push the boundaries of fine dining in Houston. Chef Felipe Riccio's study on Mediterranean cuisine—an area where multiple territories, cultures, languages and ideas converge—is inspired by the tension and richness of the region.  It's thoughtful, purposeful, personal—from the standard of service to the extensive wine list that reflects the knowledge and passion of Master Sommelier David Keck.
Airline Farmers Market - Opening 2020
Developing over the next three years, the beloved Houston Farmer's Market will transform into an 18-acre destination for locals and visitors. Bringing together food purveyors and unique retail vendors, the space will continue to serve as a community hub with programming and events. To help achieve this goal, James Beard Award-winning chef Chris Shepherd and his business partner Kevin Floyd have been tapped to serve as food and beverage consultants for the project. More...

Railway Heights - Opening 2020
Similar to Reading Terminal Market in Philadelphia and Chelsea Market in New York City, the 3.6-acre Railway Heights Market will be located at 8200 Washington Avenue near the western edge of the 610 Loop. Silent Theatre Group, the restauranteurs behind Bravery Chef Hall and Conservatory, are leading the charge on this venture. The 22,860 square foot space will house a grocery store, beer garden, container farm and farmer's market with at least 25 food vendors. More...
ARTS & MUSIC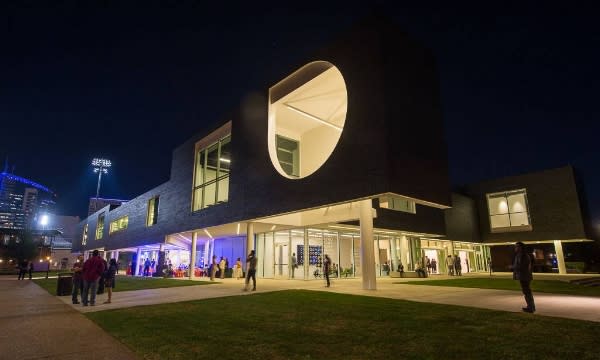 Houston School for the Performing and Visual Arts New Campus - Opened Fall 2018
Houston's High School for the Performing and Visual Arts, the first in the nation to marry academics with a concentrated training in the arts, is building a new 168,000-square-foot building Downtown. The massive new structure will relocate the school that inspired the musical Fame from its current Montrose campus into the center of Downtown adjacent to the Theater District. The five-level building will include an 800-seat main theater with a balcony, dance and music studios, and art galleries. Plans also call for a modern outdoor dining area on the first level and outdoor roof terrace located near the library.

The Menil Collection Drawing Institute - Opened November 2018
The Menil Collection has appointed Michael Van Valkenburgh Associates (MVVA) to enhance and expand the landscape design of the institution's 30-acre campus. The appointment signaled of implementation of the Menil's master plan for its urban "neighborhood of art," as the enclave of museum buildings, green spaces, and bungalows has been called. The Menil's project, undertaken on the basis of a master site plan by David Chipperfield Architects, calls for the creation of additional green space and walkways, new visitor amenities such as the now-open Bistro Menil and new buildings. The first new art building on campus will be the Menil Drawing Institute, a freestanding center for the exhibition, collection, conservation and study of modern and contemporary drawings, to be designed by the Los Angeles-based firm Johnston Marklee. 
Moody Center for the Arts at Rice University - Opened February 2017
Designed by acclaimed Los Angeles-based architect Michael Maltzan to bring together the Rice community and the Houston public and enable innovative artistic work to flourish, the $30 million, 50,000-square-foot Moody will serve as an experimental platform for creating and presenting works in all disciplines, a flexible teaching space and a forum for creative partnerships with visiting national and international artists. Open and accessible to the public, the Moody is dedicated to trans-disciplinary collaboration in the arts, sciences, and humanities, and will establish a new arts district on the campus, close by the distinguished Shepherd School of Music and the permanent James Turrell Twilight Epiphany Skyspace. The Moody will provide facilities including art gallery space, a 150-seat black box theater, a gallery for experimental performance and a café. Its defining feature is the light-flooded, interdisciplinary maker lab at its core: an atrium with immediate access to surrounding resources that include a wood shop, metal shop, paint booth, rapid prototyping areas, studio classrooms, technology lending library and audiovisual editing booths. 
White Oak Music Hall - Opened May 2016
White Oak Music Hall is one of the premier live music venues in Houston. Just minutes from downtown, The 8,000 square foot live music entertainment complex features multiple indoor and outdoor stages along with the Raven Tower ice house. The Lawn stage regularly hosts big-name concerts each weekend like The Lumineers, The Flaming Lips, Shovels & Rope, and Okkervil River.

Buffalo Bayou Cistern - Opened May 2016
Built in 1926, an underground cistern was used for decades to hold a large portion of Houston's public drinking water. After it sprang an irreparable leak, the 85,000 square-foot public reservoir was drained and sat unused and practically forgotten about. The hypnotic beauty of the chamber is reminiscent of Istanbul's Basilica Cistern but with thin rays of light from open hatches above that illuminate the wide expanse. 
Coming Soon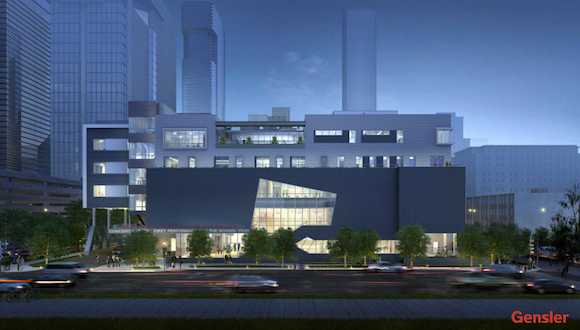 Stages Repertory Theatre - Completion Expected in Fall 2019
Founded in 1978, the theater will soon undergo a $30.5 million expansion including three new theaters and a four-story parking garage. The new space will be located across the street from its current two-theater campus located along Buffalo Bayou near downtown. The new campus is expected to be called The Gordy and will double the theater's square footage to 66,850 square feet from 32,091 square feet. Total seats will also increase to about 618 from 403. Groundbreaking is planned for summer 2018 and The Gordy is expected to open for the 2019-2020 season. More... 
SHOPS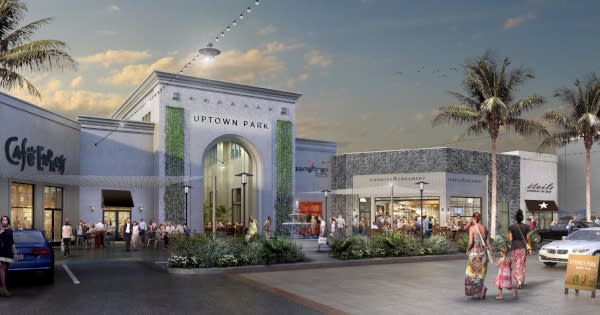 Galleria - Redevelopment and Expansion - Completed 2016
Work has begun on a $250 million redevelopment initiative that will bring more high-end retail to Houston's famed Galleria. Galleria III is being demolished to make room for a new, more pedestrian-friendly space that will front Westheimer and provide room for about 35 new luxury stores including The Webster and Celine as well as a brand new Saks. The redevelopment is slated for completion in mid to late 2015. More...

New Downtown Retail Corridor - Ongoing 
The Downtown Redevelopment Authority is vetting proposals to redevelop the former Sakowitz department store building at Main and Dallas streets. The project could include as much as 90,000 square feet of retail space. More broadly, the authority is looking at options to bring a total of up to 400,000 square feet of retail to the Dallas Street corridor. More...

NIGHTLIFE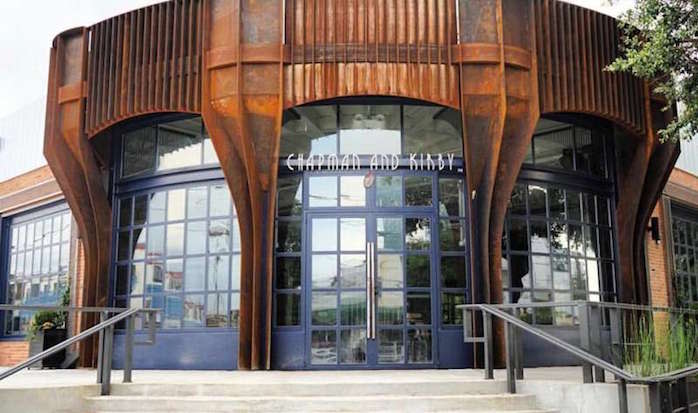 A'Bouzy - Opened August 2017
The former managing partner of River Oak's Brasserie 19, Shawn Virene, returned with more sparkle and bubbly for H-Town. Virene brings the best of France's Champagne region and Bouzy village with the opening of champagne-fueled concept restaurant, a'Bouzy. More...
Chapman & Kirby - Opened June 2017
Chapman & Kirby, an upscale "gastro-lounge", is the latest addition to EaDo's rapidly growing dining and entertainment scene. Described as "steampunk industrial," the large 9,000 square foot space offers a sophisticated yet cool vibe with unique touches like antique mirrors, dark leather, gold accents, brick, and Edison light bulbs.More...
Better Luck Tomorrow - Opened May 2017
Better Luck Tomorrow, the "neighborhood bar with food" concept recently opened by acclaimed chef Justin Yu and prolific bar operator Bobby Heugel, features a series of easygoing cocktails and a smart selection of dishes far above typical bar fare.More...
Bayou and Bottle - Opened January 2017
The first Texas venture for Richard Sandoval Restaurants is a chic bourbon concept dubbed Bayou & Bottle, set in the lobby of Four Seasons Houston. Created by celebrity chef and restaurateur Richard Sandoval, the lively bar serves more than 100 varieties of bourbons and whiskeys, along with a well-edited menu of New American fare.More...
SPORTS
 
TRANSPORTATION & TOURS
B-Cycle Expands Across Central Houston - Expansion through 2018
The city's B-Cycle program kicked into high gear in 2014, expanding from a pilot phase of just three bike racks around Downtown to nearly 30 stations stretching from Montrose to the Museum District. Plans call for continued expansion in 2016 and beyond. The system currently includes 31 stations and 225 bikes but will add another 71 stations and 568 bikes with money from a federal grant. B-Cycle will move into areas like the city's major university campuses, the Med Center and other areas inside the 610 Loop that have not yet benefited from bike share. The bike-share program allows member users to check-out cruiser-style bikes free of charge for up to an hour and just $2 for each additional ½ hour. More...
 
Leah Shah
Public Relations Director
Visit Houston
713-853-8313
lshah@visithouston.com