Houston's Top Steakhouses
The places to go for the perfect cut
 
In the catalog of iconic Texas images, nothing captures the history and culture of the Lone Star State quite like the roping cowboy. Cattle have been a part of Texas life since the foundation of the Republic, and while steel and glass skyscrapers and modern industry have largely replaced agrarian life here, one thing remains true: Texans love their beef.
It's little wonder then that Houston is home to some of the finest steakhouses in the country. From Vic & Anthony's Downtown to the historic Brenner's on Katy Freeway these are the places recognized for exceptional service, atmosphere and cuts of beef. As for steakhouses elsewhere? Well, let's just say they're all hat, no cattle.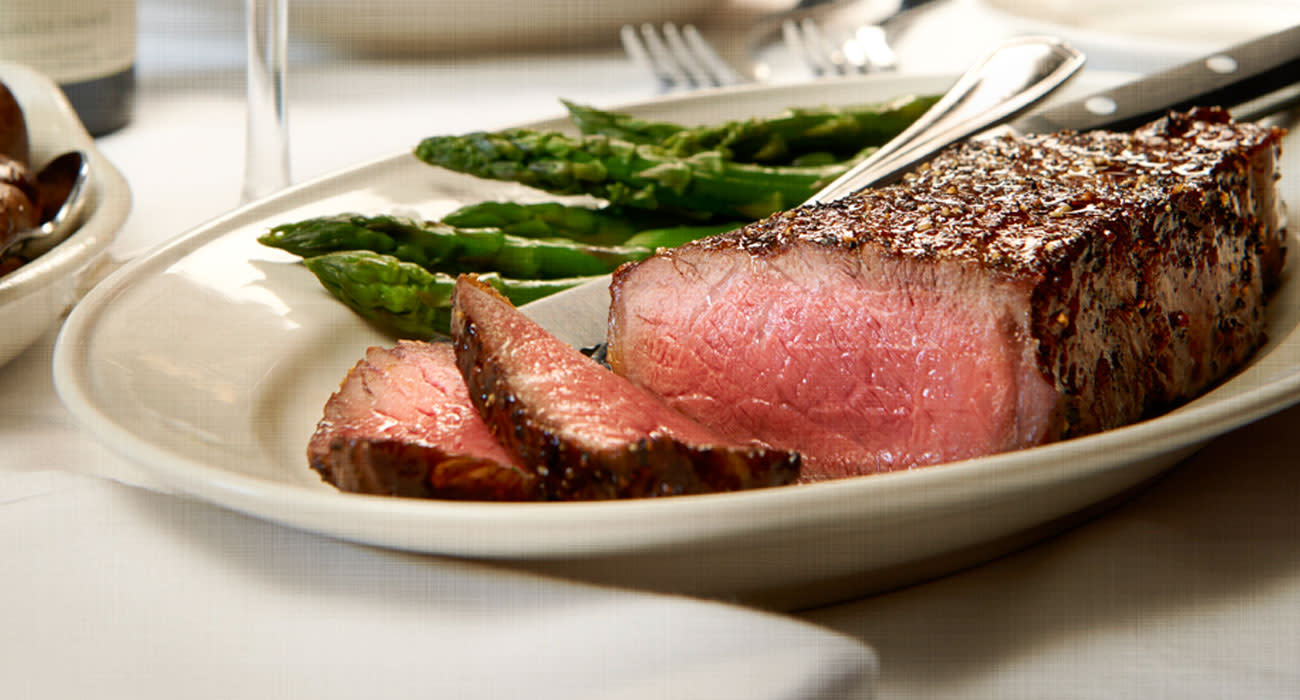 Pappas Bros. Steakhouse is undoubtedly the crown jewel in the Pappas family's collection of restaurants. Known for providing the kind of quality service reminiscent of a bygone era, this steakhouse is fine dining all the way. More than 2,300 wines are available to complement your meal and you'll want to sip a cocktail in the lounge before dinner.
Don't be disillusioned by the "barbecue shack" exterior--Killen's is white-tablecloth dining at its finest. A subtle Western theme permeates this restaurant, with carefully chosen art, dark woods and ironwork accents. The atmosphere is crisp but casual as tables of regulars enjoy a visit from the owner and Executive Chef Ronnie Killen.
Owners Edd and Nina Hendee opened Taste of Texas in 1977 and over the last three decades, the restaurant has become a favorite destination for those seeking a traditional, old-school steakhouse experience in Houston. Beyond steak you'll find pecan crusted chicken, jalapeño stuffed shrimp and of course cold water lobster tail.
Mastro's Steakhouse offers a wide array of the highest quality USDA Prime steaks, with 16 different cuts of mean, a special selection of seafood and raw bar offerings, creative sushi selections developed by internationally-famed sushi chef Angel Carbajal of Cabo San Lucas' Niksan, and new dishes exclusively featured at its location in AAA Five Diamond-rated Post Oak Hotel at Uptown Park. The restaurant's Paino Lounge has become a prime spot where live Top 40 entertainment is performed nightly and guests enjoy such drinks as the restaurant's signature smoking lemon drop and cosmo martinis. 
Vic & Anthony's is the flagship restaurant of the Landry's empire. And as such, no corners were cut in this two-story, standalone homage to Texas. An impressive 1,000-plus bottle wine list, extraordinary service and a prime Downtown location make this a popular spot for making deals.
Known nationwide as a stalwart in the steak arena, Smith & Wollensky brings urbane elegance to the shops at Highland Village. The restaurant offers dry-aged USDA Prime beef, fresh seafood and an award winning wine list. This location features balcony dining and a Kitchen Table--a private room featuring floor to ceiling glass windows that offer a view into the action of the kitchen.
With its dark wood details, celebrity photos and tuxedo-clad waiters, Morton's, The Steakhouse has the air of a posh men's club. Service is professional and discreet and here the bartenders make a mean martini. Houston diners can choose from the Downtown location on McKinney St. or the Galleria area location.
Located in a sweeping, two-story space inside the Galleria complex, Del Frisco's offers a dramatic dining experience and a straightforward menu. Steak is center stage here and it's offered with decadent sides such as jalapeno bacon macaroni and cheese and king crab gnocchi.
At the swanky Uptown location of The Capital Grille, choose from critically acclaimed dry aged steaks, hand-carved and grilled to perfection, a variety of seafood flown in fresh from the coast and unique daily specials. Try the lobster and crab cakes for an appetizer and the sumptuous lobster mac and cheese or creamed corn with smoked bacon as a side.
Whether it's the original location on Katy Freeway and the Beltway or the picturesque spot on Buffalo Bayou, Brenner's knows how to make an impression. Enjoy steakhouse classics like beefsteak tomato salad with homemade Roquefort, French onion soup and expertly prepared filets and ribeyes. Definitely try the crunchy German potatoes and apple strudel.
The Houston Pavilions added III Forks steakhouse to its restaurant collection in 2009. The spacious 11,000-square-foot street-level space boasts 20-foot ceilings and brass bead chandeliers and is accented in warm mahogany and marble. Dinners begin with a waiter-driven cart laden with fresh vegetables, live lobster and cuts of steak; customers choose from porterhouse, rib-eye, bone-in prime rib and more. 
Perry's Steakhouse & Grille has earned a faithful following by perfecting prime since it began as a butcher shop in 1979. With an award-winning menu, engaging ambiance and impeccable service, Perry's provides a Rare and Well Done® dining experience at seven Houston-area locations. Remaining true to its roots with butcher-fresh USDA Prime beef, tableside carvings, and signature selections, Perry's is also famous for its seven-finger-high pork chop as well as flaming desserts and vibrant Bar 79.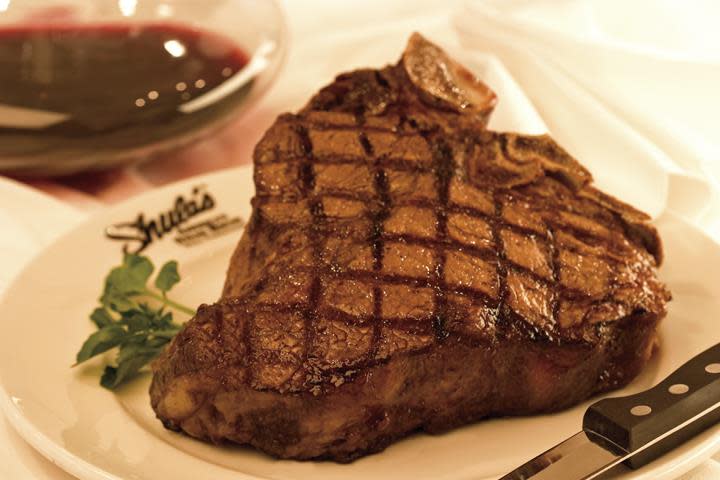 Don Shula, the ex-coach of the Miami Dolphins, opened his first Shula's Steakhouse in Texas in the Hyatt Regency Downtown. Themed after the 1972 Miami Dolphin's undefeated season, the steakhouse prides itself on the Shula Cut, a steak that's more selective than USDA Prime or Choice, known for its marbling, maturity and tenderness. Shula's invokes a casual stadium atmosphere by combining dark wood floors with a riot of colorful sports memorabilia on the walls - and menus that are hand painted on official NFL footballs.